Session 7
I didn't think that I should have to tell you not to lie on your medical school application, but apparently I do. Let me do it one more time—don't lie on your med school application.
I'm part of a prehealth advisor's email list. And there was an email saying that they came across a student who wasn't being very honest. They were exaggerating stories and marking off minority statuses when they weren't really a minority. They were filling the disadvantaged statements when they weren't disadvantaged.
First off, the episodes in this podcast are recordings of our Facebook Live that we do at 3pm Eastern on most weekdays. Check out our Facebook page and like the page to be notified. Also, listen to our other podcasts on Meded Media.
[00:57] Don't Lie in Your Application
It would be a huge red flag if you get caught lying in your application. This will likely get you kicked out of medical school. You're not going to get acceptance. You're not going to get interviews.
This student submitted the application the way it was. And what the advisor could do is to put on the letter of recommendation that they have serious issues in terms of fabricating. So they recommended that the admissions committee carefully look through their application and verify.
[02:10] You May Get an Interview, But They Will Soon Find Out
The school is getting a letter from the advisor saying not to interview or accept the person. Interestingly, a lot school still invited the student for interviews. One of the medical schools chimed in saying they're glad this was brought to their attention. And they expressed their standpoint that as a medical school they received 10,000 applications. On average, each application comes with three letters of recommendation. That's 30,000 letters of recommendation that schools have to go through.
It depends on their specific process where they review those letters. Whether they review it upfront, post-interview, or in between interview invite and the interview. Every school is going to be different.
While you may sneak through the cracks if you're fabricating on your application, you may get that school invite. Because the schools are not going to look at those letters of recommendation until later.
But trust me, it will catch up to you. And as soon as it does, you're in a world of hurt because that school is going to tell everybody else out there. You're going to fall flat on your face. You waste all of that money applying and all that money traveling for interviews. At the end of the day, you're probably not going to get in. In fact, I hope you don't get in if you're fabricating stuff in your application.
You're entering a career field where you are supposed to be honest. This bears repeating. Do not fabricate anything in your application.
Links:
Medical School HQ Facebook page
Medical School HQ YouTube channel
Get the Podcast Free!
Listen to Other Shows
Leave us a Review and Rating!
Just like Yelp reviews or IMDB ratings help you choose your next restaurant or movie, leaving a 5 star rating and/or a written review is very valuable to The Premed Years. It allows us to be able to share our information with more people than ever before.
I am so incredibly thankful to those who have recently gone into our listing in iTunes to provide a five start rating and a written review of The Premed Years.
Subscribe and Download
iOS/Mac/Windows – You can subscribe to the show in iTunes. Or you could manually add the RSS feed to your aggregator.
Android/Mac/Windows – You can download DoubleTwist and use that to manage all of our past and future episodes.
Please help us spread the word!
If you like the show, will you please take a moment to leave a comment on iTunes? This really helps us get the word out!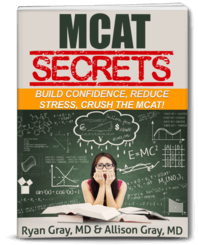 DOWNLOAD FREE - Crush the MCAT with our MCAT Secrets eBook