Session 242
Once you submit your primary application, the work isn't over. Secondary essays are still a huge part of your medical school application.
On this podcast, I've covered a lot of different topics related to the application process including personal statements, application in general, interview prep, etc., but I've never actually talked specifically about writing your secondaries and so I want to touch on this topic today. Specifically, we'll discuss the most common mistakes students make when it comes to secondary essays.
[01:22] First Biggest Mistake: Not Writing Them Sooner
One of the biggest mistakes students make is waiting for the request for secondary essays to come before they start working on it. If you're in the middle of the application season and you've submitted your primary application, if you're not writing your secondary essays, you're behind.
Some schools will monitor how long it takes you to send a secondary back and they will use this as a gauge on your interest to get into their school. When it took you three weeks to respond – while their average response time is a week and a half – chances are, you could be put lower down the list. Remember that the medical school admissions process is a rolling admissions process, which means that as soon as applications open, the clock is ticking. This is different than applying to college which is a deadline-driven process. As long as your application is in by the deadline, you're just as good as everybody else that applied. This is not the same with medical schools. So the earlier you turn in your primary application and the sooner you're done with your secondary essays, the sooner your MCAT score is in, the sooner your letters of recommendation are in, the sooner your application is complete, then the schools will look at your application and determine whether or not they want to give you an interview.
If you're asking how to pre-write your essays if the schools haven't sent them to you yet, the good news is most schools don't change their essays from year to year. There are a few exceptions, but most schools don't. You can go to Student Doctor Network as well as some other websites out there that have a list of secondary essays.
You will find that writing secondary essays gets easier and easier over time because a lot of them are around the same theme.
[05:22] Second Biggest Mistake: Letting Them Sit or Unopened
The second biggest mistake students make with secondaries is letting them sit on your desk or unopened in the mailbox. Let's say you scheduled a vacation in the middle of application season for some reason and your secondaries are just sitting there for a couple of weeks while you're traveling. You can't do this.
[06:18] A Deep Dive into the Essays
You will find out that a lot of the questions are very similar from school to school. A lot of them are going to ask about diversity questions or why a DO school so you need to be prepared to answer those. Some students will try to answer types of questions, like a diversity questions or "what will I bring to class" type of questions. Don't try to answer question batches. Just answer a school and finish the secondary for that school and then move on to the next school. Don't try to work outside of a school framework.
[07:25] Third Biggest Mistake: Not Answering the Question
One common feedback I give to students I work with is that they're not answering the question. They told a beautiful narrative about this patient they saved but they didn't answer the question the school was looking for. You have to answer the questions.
Most of the questions are asking you something very specific so keep that in mind and make sure you're answering the question. I recommend you get feedback from somebody. Ask them to review whether or not you're answering the question asked.
[08:49] Fourth Biggest Mistake: Too Generic
A common question that comes in from a school on the secondary is what is it about their school that makes you want to go there. A lot of students can get so generic here that I can just copy and paste it from secondary to secondary for every school that asks the same question. You need to say something specific about the school. You need to draw up and do some research and come up with a list of programs at each of the medical schools or student organizations at each of the medical schools. If you want to join a specific program in that school because it can help make a big difference, talk about that. Mention the program by name. Mention very specific types of things or types of research. Mention the mission statement or the vision statement. Do your research. A lot of them may look alike after a while, but do your research and see if there's anything specific that you can draw out of those things to help you write your secondaries.
[11:02] Fifth Biggest Mistake: Repeating the Same Story
Students tend to repeat the same stories from their primary application on their secondary. Don't tell the same story. Even if, say they're asking for your most meaningful clinical experience, you can talk about the same experience, but don't tell the same story. Don't repeat it verbatim.
Some essays will also specifically tell you not to repeat anything that's in your primary application. If that is the case, then you can't even talk about the same experience. You have to figure something else out. It can be frustrating when schools do that, especially when they ask about your most meaningful clinical experience when it's what you put in your primary application too.
Additionally, some schools will ask for a list of extracurricular activities. Just copy and paste from whatever list you created for your primary application. You don't need to re-work everything and re-frame things and tell new stories. Just copy and paste it. Some schools just want it in their secondary form and not in the primary application.
[13:03] Sixth Biggest Mistake: Copying and Pasting Without Editing
Do not get caught copying and pasting without editing. You don't want to be that student who sends a secondary essay to NYU that says you would love to be part of Columbia Medical School next year. Be sure to edit it and have somebody look over your stuff. Copy and paste all you want. Put it aside for the day, then go back and check the next day. Make sure all of the names have been changed and everything is up to date for you to send off.
Links:
Subscribe for Free
Listen to Other Episodes
Leave us a Review and Rating!
Just like Yelp reviews or IMDB ratings help you choose your next restaurant or movie, leaving a 5 star rating and/or a written review is very valuable to The Premed Years. It allows us to be able to share our information with more people than ever before.
I am so incredibly thankful to those who have recently gone into our listing in iTunes to provide a five start rating and a written review of The Premed Years.
Subscribe and Download
iOS/Mac/Windows – You can subscribe to the show in iTunes. Or you could manually add the RSS feed to your aggregator.
Android/Mac/Windows – You can download DoubleTwist and use that to manage all of our past and future episodes
Please help us spread the word!
If you like the show, will you please take a moment to leave a comment on iTunes? This really helps us get the word out!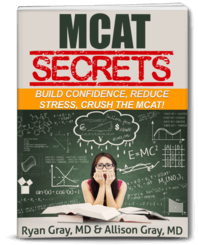 Crush the MCAT with our
MCAT Secrets eBook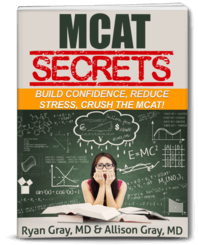 DOWNLOAD FREE - Crush the MCAT with our MCAT Secrets eBook