Session 247
Dr. Maureen Leonard discusses her journey to medicine and her life as a physician scientist, working 70-80% of her time doing research with "just" an MD. Find out why she thinks you don't need to have a dual degree to do a lot of research as a physician.
First off, I will be in Tampa on November 4 and we'll be doing a meetup on the 3rd or 4th for the AMSA PremedFest. The event will be held on November 4-5 at the University of South Florida. Join hundreds of students as well as subject matter experts about what matters most on your journey to medical school. Get tips not only on how to get into medical school but also how to stay healthy once you're there. Explore the unique emerging specialties. Get practice in squinting and suturing. Register now and save some money using the promo code MSHQ17. Also check out all our other podcasts on MedEd Media Network.
Back to our episode today, Dr. Maureen Leonard talks about being "just" an MD and being a researcher. A lot of students question about the dual degree programs like MD/PhD or DO/PhD. And they think that because they want to do research, they need to get an MD/PhD or a DO/PhD. Maureen is "just" an MD and now has a Master's. Her job is about 70-80% research as "just" an MD. We talk about her journey into medicine and the advice she got when doing research as an undergrad with a PhD advisor. She also discuss the things she's been doing throughout her career as a premed, as a medical student, and now as a physician scientist. If you're thinking about doing that dual degree, listen to this episode and maybe you'll change your mind.
[05:45] Her Interest in Medicine and Her Premed Journey
Maureen knew she wanted to be a doctor when she was senior year in high school. Initially wanting to be a dancer, she thought it wasn't going to work out. But she realized she likes people and science so she decided to go down the medicine path. In figuring out it's what she really wanted to do, she did volunteer work at a neighboring hospital throughout high school. She also did part time job doing filing in Boston Children's Hospital.
The hardest part of being premed for Maureen is the ton load of work. She wanted to make sure she had a lot of experience so she can be ready to go to medical school. So she spent a fair amount of time doing research in her free time. Her major was psychobiology, which has been renamed as neuroscience. She did different research projects with rats throughout her time in college. Like many people, she got her EMT license. She was shadowing and volunteering.
She was basically the typical premed when she was in college. She got advice from her premed advisor. Although her psychology advisor thought research would be helpful, she was also interested in doing research. So she was encouraged to do both research and clinical experience.
[08:40] Research Experience Tickling Rats
Her major required them to do some research for the psychology degree and a thesis for the biology degree. They had a small class and her mentor at that time did a lot of research. So she got invited to do research with her and tried it out. She ended up really liking it. She likes the ability to ask questions and design how to answer that question and watch it all unfold.
The first research she did was identifying what the vocalization in rats meant. Maureen reveals that their research suggests that rats made a 55 kilohertz ultrasonic vocalization for laughter. You can elicit this vocalization if you tickle the rats. So she spent hours a day tickling rats to be able to elicit vocalization. They eventually did place preference studies to confirm that these vocalizations meant that they were happy. They didn't get the cute rats but the old, grumpy rats which they tickled morning, noon, and night. She obviously put this on her application and it did come up during her interviews.
[12:05] Her Thought Process for Not Choosing the MD/PhD Path
Her psychology advisor throughout her entire college experience was very adamant that she should do MD/PhD. Of the four people they worked with, two of them went to medical school and one did the MD/PhD. Maureen did not. She was told she should do the MD/PhD. She made it clear that she would be making a huge mistake if she didn't apply. Her advisor thought she could do more with the MD/PhD and since she was interested in research, it could open so many doors.
But Maureen decided not to go that route. She wanted to learn more about research being a new thing in college. She also felt she needed to go to medical school later than other people. She had to change her major when she got into college just so she could be premed. So she took a gap year before applying and did basic science research with mice.
She hoped research was going to be part of her life but at that time, she didn't know what she wanted to specialize in. She couldn't imagine agreeing to a seven or nine-year program when she didn't even know what her focus in medicine was going to be.
Part of her thought process was that in doing the PhD, you'd be delving into a specific question you have for three or four years. But she didn't have any question yet because she didn't know what she was going to specialize in. For her to be excited about spending so much time on a project, she knew she had to feel passionate about it. Until she knew what she wanted to specialize in medicine, she couldn't commit to something for that long without having any passion behind it.
[17:15] Taking a Gap Year and Global Health Trips
At the point she had spent doing a full year doing research and she wasn't sure. She thought research might be a part of it. But she spent the extra time they had in medical school not doing research. Instead, they were doing global health work. It was that one summer where they had time off between first year and second year. Instead of doing research electives, she did global health trips. She did this out of curiosity and not knowing what she wanted her life as a doctor to look like. It was something she wanted to experience. She wanted to spend her time in medical school examining whether it was something she was interested in the long term. She wanted to see what felt right to her.
During medical school, research stayed on the shelf. She went to internship and pediatric residency  at Tufts University in Boston. She still liked global health and research. At this point, she put both back into her mix. She felt so busy as a premed that in medical school, she decided to focus on the work and global health. She had to kick it in a notch again in internship in residency. She tried to do both to help her make an informed decision about how to spend her time as a doctor.
So she spent time on her rotations that did not require hundred hours a week. In her internship year in the first year of residency, she did retrospective chart review with pediatric gastroenterologist. She felt it was what she wanted to get into. Then on the second two years of residency, her program allowed her to spend a month each year in Haiti. She was doing global health work related to cholera and general pediatric medicine.
[21:44] Fellowship and Mentorship
As a pediatric gastroenterologist now, Maureen got involved in studying coeliac and all the gut microbiome involved with that. She got interested in studying autoimmune disease during medical school. She did a lot of reading about autoimmune disease. She read about how many people thought that the gut is a very important organ in the development of autoimmune disease.
Her reading during medical school and her experience in internship in residency was where her research interest was. Applying for fellowships, she looked into different programs that had either mucosal immunology or some sort of autoimmune group within their GI group. This is how she landed at Massachusetts General Hospital because they had a mucosal immunology and biology research center. Nevertheless, Maureen accounts luck for ending up being able to to do exactly what she wanted. Her mentor came six months after she started.
When she was applying for fellowship, Maureen was reading all of her mentor's research which she found very interesting. She didn't reach out to him until he moved to Massachusetts General Hospital. So he sort of became her virtual mentor at that time.
[25:10] She's "Just" an MD
Maureen says that 70% to 80% of her week is dedicated towards research which means three and a half to four days a week. So she's doing research and not doing patient interaction. She sees patients one day a week.
When she was focusing on research, she applied for a master's in clinical and translational investigation. She had some training in statistics and clinical trial design. But because in pediatric gastroenterology they had two years to focus on research, that's what she did. She had a lot of experience during those two years. She wrote papers. She has a mentor in line with the projects. He gives her a lot of opportunities which she takes. So she has been able to become a translational investigator.
What she can do is really go to the clinic, see patients, identify clinical problems. She's able to obtain clinical samples from patients and then collaborate with the lab guys. She does some work on her own to and answers questions which she finds clinically interesting. She basically wanted to get down to this physiologic or pathophysiologic level.
Maureen didn't feel that having just her MD didn't hold her back. Because she did the specialty training where she had time to focus on research, she had an advantage. At this point, Maureen can see that she can continue down this academic physician scientist path. It was her plan in the first place and she loves doing it. She likes that she gets to see patients, do research, collaborate with so many people, and everyday is different. On the other hand, she has the opportunity that if she decides to make a change she can become a full time clinician. So she thinks the Master's degree has helped her as well. She can go to a pharmaceutical or a device-manufacturing industry and be a medical director. She can also become a translational scientist at a startup up company in Boston.
[29:10] What It Would Have Been If She Did MD/PhD
Maureen thinks that if she did the MD/PhD route, it would look similar and she would look a little bit older. When you do the MD/PhD route, there's a balance either way. It works for her because everything she does is based on Coeliac disease and gluten-related disorders. So she's able to see patients one day a week. The she gets to do the research. She adds that all the patients she sees could possibly be research subjects or inspire research questions. She's extremely focused which allows her to see patients and do research.
Additionally, Maureen doesn't want to give up skills so she does an extra half day every other week doing procedures. She could do less clinic and do more research. But she doesn't want to give up seeing patients because she likes it and they help her with all of her research. So if you go the MD/PhD route, you still have to make choices on how much time do you want to spend being a clinician or being a scientist. Nevertheless, she doesn't think it would be any different because she couldn't see doing less clinical work than she's doing now.
Maureen has gotten to where she is now not because of the letters after her name. She made the decision based on her interests. She was also being very intentional with the life and the practice and the setting she wanted to create. She adds that you're going to have questions and you're going to need to answer them. You will find a way and the success will come. So she never regretted doing the MD/PhD route.
[32:22] Research Grants and Awards
Maureen currently has an award from NIH and a grant from NIH. Because she does more than 50% research, she is eligible to apply for the NIH Loan Repayment Program. As long as you are doing more than 50% research and you have a research project in line with the NIH, you can write a grant and be awarded up to $35,000 a year for two years. That money goes straight to your loans. They also pay some federal taxes on that. Just this past week, Maureen received her third and fourth year of that award. This means over $140,000 straight to her loans. It's basically free money. Maureen stresses how helpful this is.
Another thing is that NIH is paying a fair amount of her salary through a mentored research grant called an NRSA for F (Individual Research Fellowships) grant. She didn't initially about all these grants. And as a physician scientist, there are different grants you can apply for. This is a mentored grant so she has this grant for three years. She has already completed the first year of the grant. She is trying to publish some papers and she's now beginning to apply for the next NIH grant. It's a K award, a five-year grant that pays 75% of your salary. Sometimes, you may even need to do a little bit less clinical work to really focus during that mentored career award.
In order to be awarded a mentored grant, you need a mentor who's going to oversee all of your work and supporting you with the rest of the salary the NIH isn't covering. So basically, she's not an independent researcher at this point in the NIH's eyes. But rather she's a mentored grantee. Then the K is you're developing your own independent projects and the R is an independent investigator award.
Maureen says she likes to stay in research. Although the funding environment is very difficult, she's been very lucky. But she has also worked hard. She has gotten several grants but applied to many more than she received. Say, out of fifteen, she only got three. So a lot of times is spent on writing and it's difficult. Maureen is realistic and she loves what she does. She wants to keep doing this. Her goal is to continue and she's writing another grant. She's always writing grants and she's going to continue to do that. And as long as she has funding, she's going to stay whether that be on the academic path through the pharmaceutical industry. She basically feels good about her options.
[38:10] The Nuts and Bolts of Writing Grants
Maureen explains that writing grants varies. Some grants will ask for letters of intent. You can write a two or three-paged letter about what you want to do. Then they'll invite you to write a full grant. For others, no letter is needed and you just need to write a full grant. The grant means that you are writing your summary of what you're going to do.
Usually in a page, you're writing about your specific aim which is what you're exactly going to do. Then have another five to six pages containing support information about why you're going after those research aims and how you're going to do it. A lot more goes into it including your file sketch that contains about five pages of your background and your contributions to science. They want your publications and awards. You may provide bio sketches for anybody supporting you in this grant. It can be your mentor or anybody you're going to work with. Or it's anybody who's going to train you if you need to learn certain techniques to complete the grant. You also need to provide letters of recommendation from one person or they could require up to three or four people. You also have to give details of your budget. How much you're going to spend, where, and when. You need to provide a timeline for when you're going to do all of this. In general, Maureen does pilot funding. A pilot grant might be 20-30 pages in total. The NRSA grant was closer to 60 pages because a lot of documents need to be included. It includes what you're going to say to the IRB and how many people you plan on enrolling.
Writing a grant can take a long time. It can take months before someone can come back to give you feedback. But for the NIH grants, the loan repayment program award and the NSA grant took months. It took her a month to write it and then she got a lot of feedback. the more people you can send it to, the more feedback you can get. She usually gives herself a couple of months including the K award.
[41:42] Recommended Classes for Premed Students to Become a Better Researcher
Maureen recommends trying to take some basic statistics courses which can be very helpful. She doesn't do statistics frequently so she gets help with it. But taking those courses has helped her understand how to plan a study and what kind of analysis she can do. She thinks it's great to have a better understanding of how research works. Understanding clinical trial design is a good class to take as well. Ultimately, try to read research in the area you're interested in and get into what people are doing. For premed students interested in research, try to check out PubMed or Google Scholar. And just start searching keywords.
If you're trying to decide on whether a single degree or dual degree is right for you, Maureen says that you can really accomplish your goals with an MD. If you find that you needed the PhD for some reason, that's an option. You can do that after your MD. There are other degrees like a Master's that might help you if you need to have more training or you feel you want more training. She thinks it's certainly possible to have a career focused on research with just an MD. Her mentor has a very productive lab and he's just an MD. So it's definitely possible. Either way, you're going to have to determine how you're going to spend your time. There are only so many hours in a week.
[44:55] Time Management
Maureen says it's hard to figure out how to manage your time when you're doing research and being a clinician. It's hard especially when you're so passionate about a project. There's always more grants to write. There's always papers to write or a chapter to write. So she had to really actively try to manage her time and take time off. She's still working on this. She's trying to determine which grants make the most sense to apply to and what papers must be written. She has been able to manage her time a little bit better now that she has grants. She can now take her time in writing other grants. But in research, you can always keep writing and reading so you have to draw some lines in the sand for yourself.
Maureen wishes to tell premeds out there that it's so worth it. She gets to manage  her time the way she wants right now. The premed years where you're trying to reach your goals are the hardest years. But she loves her job and the balance she has. She loves doing procedures and seeing patients. She loves being able to answer questions she finds so interesting. So it's totally worth it. Keep it up.
[46:55] Final Thoughts
As Maureen has said, you don't need to have a dual degree to do a lot of research as a physician. If you want to do research as a physician, you can do research. You don't need the PhD to do it. Not having a PhD doesn't hold you back. Dr. Leonard is at one of the top academic medical and research institutions in the country. She has"just" and MD and her mentor has "just" an MD and they're out there doing amazing things. They're doing a ton of research and are successful at it. They were not being held back by not having a PhD. But if you're that student who loves research and can't see yourself doing anything else, go ahead and get that PhD if that's what you like. If not, now you know that you don't have to and that is okay.
Again, check out these final announcements:
October 14, 2017 – UC Davis Pre-Health Conference
November 4, 2017 –  AMSA PremedFest (Use the promo code MSHQ17.)
February 17, 2018 – UCF Medical School Admissions Symposium
I will be at those said events and I would love to see you there. More awesome things to come! Thanks for joining me.
Links:
UC Davis Pre-Health Conference
UCF Medical School Admissions Symposium
Subscribe for Free
Listen to Other Episodes
Leave us a Review and Rating!
Just like Yelp reviews or IMDB ratings help you choose your next restaurant or movie, leaving a 5 star rating and/or a written review is very valuable to The Premed Years. It allows us to be able to share our information with more people than ever before.
I am so incredibly thankful to those who have recently gone into our listing in iTunes to provide a five start rating and a written review of The Premed Years.
Subscribe and Download
iOS/Mac/Windows – You can subscribe to the show in iTunes. Or you could manually add the RSS feed to your aggregator.
Android/Mac/Windows – You can download DoubleTwist and use that to manage all of our past and future episodes
Please help us spread the word!
If you like the show, will you please take a moment to leave a comment on iTunes? This really helps us get the word out!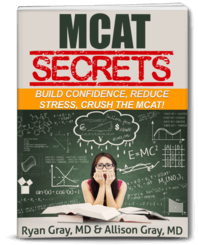 Crush the MCAT with our
MCAT Secrets eBook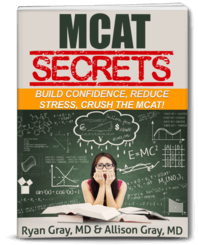 DOWNLOAD FREE - Crush the MCAT with our MCAT Secrets eBook