Session 67
In today's episode, Ryan talks with Dr. Jose Cavazos, the Assistant Dean of the MD/PhD Program at The University of Texas Health Science Center, San Antonio. He is also the Program Director for Clinical Neurophysiology (a fellowship of neurology).
Listen in as we show you what premed life is like as a possible MD/PhD student, what a successful applicant looks like to a medical admissions committee member, MD/PhD programs and funding, and life after medical school for the MD/PhD graduate.
Here are the highlights of the conversation with Jose:
Jose's journey along the MD/PhD path:
Starting with an MD and wanting to pursue more research
Pushing for a PhD and doing his residency
Starting faculty after residency
Being an international graduate at a 7-year program in Mexico (Premedical undergrad + medical program)
Challenges coming back to the states to practice:
More paperwork
Questions as to the depth of his knowledge (which pushed him to be on the top 5-10% of his specialty)
Considerations in going to an MD/PhD program:
If you have the fascination at the specific resource and willingness to contribute as to why certain pathological processes happen
If you can sustain research experience for several years
What is a wet lab experience?
There is a typical, premedical, basic science of medicine that individuals will eventually get PhD's on (ex. chemistry, genetics, molecular biology, physiology, pharmacology, neuroscience, etc.). Wet lab means you do medical research in a laboratory where experiments are taking place, mixing wet solutions. What they're looking for is a research that can assess fundamental questions about the biology of what's going on.
Do you have to major in Chemistry or Biology?
No. It's possible to be on the Humanities track and the like and do a 1 to 2-year post bac program that involves research experience.
Research immersion during the gap year?
5-6 days a week type of immersion for an individual with 2-3 years of research experience from college (full time 10 weeks during the summer and 10-15 hours a week in the semesters)
Getting into MD/PhD programs and funding:
Going through a series of interviews (invest $5,000-$6,000 for interviews, applications)
Entire tuition fees are entirely paid plus a pre-doctoral student stipend ($22,000-$32,000)
45 programs receive NIH funding in a training award called the Medical Scientist Training Program (MSTP)
Other NIH awards are individual awards obtained by MD/PhD students
Mega-programs have 25 positions per year
Medium-sized programs have over 13 positions per year
Most programs have 5-10 positions per year
The advantages of an MD/PhD student:
Don't accumulate debt during their MD/PhD or even after they become residents
Having the ability to use the NIH long repayment program where undergrad loans are paid back
A mechanism that allows you not to think about financial considerations
Other opportunities for an MD/PhD graduate:
On the clinical side, you're still able to see patients and still do research
You're able to bridge the gap between publications and discoveries
Joining pharmaceutical industries where you're able to translate bringing research discoveries into clinical platforms (doing clinical trials, phase I and II studies)
A strong candidate for an MD/PhD program:
In-depth research
Letters of recommendation from research advisors
Shadowing
Volunteering
Research, research, quality research
Getting the good stuff when volunteering:
You have to earn your stripes.
Own some aspects of the research and make it known to the PI's
Links and Other Resources:
School of Medicine – The University of Texas Health Science Center, San Antonio
Check out the NIH Postbaccalaureate Research Training Award
If you need any help with the medical school interview, go to medschoolinterviewbook.com. Sign up and you will receive parts of the book so you can help shape the future of the book. This book will include over 500 questions that may be asked during interview day as well as real-life questions, answers, and feedback from all of the mock interviews Ryan has been doing with students.
Are you a nontraditional student? Go check out oldpremeds.org.
For more great content, check out www.mededmedia.com for more of the shows produced by the Medical School Headquarters including the OldPremeds Podcast and watch out for more shows in the future!
Free MCAT Gift: Free 30+ page guide with tips to help you maximize your MCAT score and which includes discount codes for MCAT prep as well.
Hang out with us over at medicalschoolhq.net/group. Click join and we'll add you up to our private Facebook group. Share your successes and miseries with the rest of us.
Check out our partner magazine, www.premedlife.com to learn more about awesome premed information.
Next Step Test Prep: Get one-on-one tutoring for the MCAT and maximize your score. Get $50 off their tutoring program when you mention that you heard about this on the podcast or through the MSHQ website.
Listen to our podcast for free at iTunes: medicalschoolhq.net/itunes and leave us a review there!
Email Ryan at ryan@medicalschoolhq.net or connect with him on Twitter @medicalschoolhq
Subscribe for Free
Listen to Other Episodes
Leave us a Review and Rating!
Just like Yelp reviews or IMDB ratings help you choose your next restaurant or movie, leaving a 5 star rating and/or a written review is very valuable to The Premed Years. It allows us to be able to share our information with more people than ever before.
I am so incredibly thankful to those who have recently gone into our listing in iTunes to provide a five start rating and a written review of The Premed Years.
Subscribe and Download
iOS/Mac/Windows – You can subscribe to the show in iTunes. Or you could manually add the RSS feed to your aggregator.
Android/Mac/Windows – You can download DoubleTwist and use that to manage all of our past and future episodes
Please help us spread the word!
If you like the show, will you please take a moment to leave a comment on iTunes? This really helps us get the word out!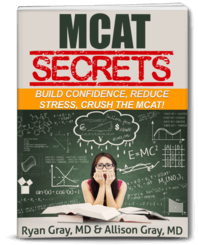 Crush the MCAT with our
MCAT Secrets eBook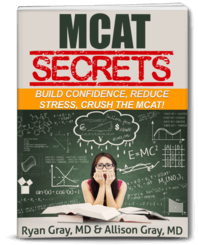 DOWNLOAD FREE - Crush the MCAT with our MCAT Secrets eBook