Session 252
The Premed Years Podcast is part of the MedEd Media Network, where you'll find all our other podcasts to help you on your medical school journey.
Please come out to the UC Davis Pre-Health Conference on October 14, 2017. I will be speaking there and have a table set up. I'll be giving away tons of stuff. The event is expected to have 4,500 students this year. This is the perfect avenue for you to network and meet a lot of the other premed students who believe in collaboration, not competition. I'll also hold a meetup in Davis, California so I can hang out and chat with students. I'm looking forward to meeting you there!
Back to the episode today, David is part of our Facebook Hangout Group. He's happy to share with us his struggles in getting into medical school.
David is a former member of the military and current med student. We discuss his journey with ADHD, PTSD and what made him successful getting into med school. He talks about what he did for his personal statement and what's he's doing now in medical school to make sure he's succeeding.
[02:20] His Interest in Becoming a Doctor
Although he already thought about it when he was younger, he really didn't take it seriously until college. He accounts his military experience for it that he wanted to do something different and something good.
His role in Baghdad was nothing medical. Then he saw their medical team helping Iraqi women whose kids have spina bifida get assessed and referred to clinics in the U.S. and Europe. And after seeing the reaction of the mothers getting help for the first time in there life, he knew he wanted to be a part of it.
Although he already had it growing up, it wasn't until he got into the U.S. Army that he got diagnosed for it. But he still thinks he was a horrible student. Then he got out of the army and went to college. He worked for the VA in mental health clinic. But he was doing support roles. So he decided to go back to school and get his postbac for the prereqs for medical school.
[06:30] His Learning Styles while Struggling with ADHD
He knew he was intelligent but it was hard for him to just put a book down and read. It was a struggle for him. Besides medication, the military helped him acquire the discipline he needed. But again, it wasn't until he went to college after the military that he realized how good he can do.
Procrastination is not an option for David. He found it so much easier to be very detail-oriented considering people with ADHD are not very organized to begin with.
Aside from medication, the other ways that he tries to handle ADHD while in college was talking to his wife or his dogs. Then he would teach them and explain to them the process how things are related. This makes it easier for him to remember things.
Whether you have ADHD or not, I can't stress enough the importance of teaching. This is actually why study groups are great. Especially when studying for the MCAT, building that network of students is important. One excel student may excel in one section while you struggle and you might excel in another section while another student struggles with it. So you just have everybody teaching each other.
Being a non trad and older than his peers because he's doing it as a postbac, he would have a random study group every now and then. But for the most part, he'd do it at home (with is dogs and wife). Teaching greatly helped him for subjects like Microbiology and stuff. But for psychology, he would just go on walks and listen to Khan Academy videos. He'd download videos onto his phone and listen to them over and over again.
Different learning styles work for different people. For David, it's a little bit of everything. For socio/psych, audio was great but not for most biochem stuff or orgo or gen chem. For biochem, he would just write everything down. So how learns depends on the topic. David says teaching is good for life. But there may be times when you may not have enough time .
[14:40] Should You Talk About ADHD in Your Personal Statement and Interviews?
Davide also got diagnosed for PTSD from his experience in Iraq. He thought it was a crucial part of his narrative. Otherwise it would have been weird to explain in his personal statement of how he ended up on this path. that said, he felt it he had to do it. He thought talking about ADHD and PTSD might be a risky endeavor. So he decided to not say he had PTSD verbatim.He just mentioned dealing with the loss of some of his comrades and how that affected him. But he definitely mentioned how he overcame his ADHD in his personal statement. However, PTSD is still unknown in terms of how it affects people. David has made a good decision here.
In terms of his interview, David describes being horrible at his interviews. His anxiety went through the roof. Although he prepared for it and did mock interviews, once interview day came, he did really bad. He was mumbling which was the feedback he got. David's advice is to do professional rehearsals especially if you have anxiety or talk to your healthcare provider if you have any issues. It wasn't until his interview that David realized there are some medication he could get on that would help in those kinds of social events.
Having gone through war and all the crazy stuff, David thought it was going to be okay. But the importance of the event hit him and he didn't expect him it would hit him hard. He didn't know how to prepare for it.
David admits having minimal experience with doctors. He had one shadowing experience and worked with a couple doctors at the mental health clinic. So he didn't really know too many doctors. It wasn't until later in the interview season that he started shadowing again. He started really feeling comfortable around that.
[19:47] the Thought Process Behind Which Medical Schools to Apply To
David actually got accepted the first time but not until later in the cycle. He didn't risk it so he started the re-application process. He started shadowing and volunteering more.
He went to school at University of Alabama at Birmingham. He is from Alabama and has lived there for a long time. In choosing schools to apply to, David says he didn't apply to as many schools as he probably should have. For instate applicants in Alabama, they had a pretty good chance if you're decent enough as opposed to other states that are more competitive.
David didn't apply to DO the first time around because for him, he didn't shadow DO's. But in hindsight, he considers this as a huge mistake. So when he started his reapplication process, he had already shadowed DO's and applied to about 16 programs.
Basically, he applied to certain MD programs based on his MCAT score and the instates. All in all, he applied to six programs total. The average is about fourteen or fifteen so six is definitely way below average.
[22:53] Huge Mistake: Applying Based Off Your MCAT Score
David actually got a score of 505 on the MCAT, which is pretty decent. And so I think David has made a mistake that a lot of students make is they look at that median number. And that median number doesn't tell you anything other than 50% of the students got higher than that score while the other 50% got lower than than score. That's the only thing that number tells you. It doesn't tell you whether or not you'd be competitive at that school.
[24:15] The Agony of Being on the Waitlist
When David got interviewed at South Alabama, he wasn't accepted until the end of June. During that interim, they put him on the hold status until the end of the interview season. And at the end of the interview season, he was put on the waitlist. So from March until the end of June, he was in limbo the whole time. And as soon as he was put on the waitlist, he tried to reach out to them. He was trying to get some feedback thinking he wasn't going to make it. For David, it was a very confusing time.
So during this interim, he already applied again. He got the Fee Assistance Program or MD and DO this time. He was basically already doing all the right things that he didn't do the first time around. The second time around, he just felt more confident that he would be getting in.
In fact, at the time he got accepted, he was so happy. And he found out he got accepted because he called them and asked to speak with the Dean. The school was going to start by end of July so he had to be prepared. He wanted to know if he had to make a move or not or to already start scouting. He was put in hold first and then he got accepted anyway.
When he was on the waitlist, he'd check in with the school about once a month after the interview season ended. He was talking with the Dean at that point and he asked for feedback from him. He got told that he would have been in already had he not interviewed so poorly. This actually made him feel good because at that time, he was already enrolled to retake the MCAT. When he got accepted, it was a no-brainer for him to take that acceptance. And even if he wasn't accepted he, he thinks he would still be fine. He was just so confident the second time around that time.
[31:20] College vs. Medical School: How Different Is It for Someone with ADHD?
David describes the metaphor of the fire hydrant. A ton of information coming at you and take in as much information as you can process. And everyone in medical school feels like they have ADHD as they're not able to process everything. But for someone with ADHD, David says a lot of the tools he has used to focus still work although the specific studying techniques have to be adjusted. A lot of the tools that he has used to focus still work. It's just  that the specific studying techniques have to be adjusted.
[32:43] David's Final Words of Wisdom
If you're struggling with ADHD or whatever it is that is making you doubt whether you're smart or good enough to get into medical school, David says it's just a diagnosis. And that success in any academic level is a function of your effort. If you want to do it and you put forth the effort, you can make it happen. Doctors are not perfect. Anyone could make it happen. You just have to put forth the effort.
David is one of those students that show you that whatever is in your path, you can overcome it as long as you figure out how to do it. Get the support behind you to do it. And first and foremost, believe in yourself.
Links:
UC Davis Pre-Health Conference
Subscribe for Free
Listen to Other Episodes
Leave us a Review and Rating!
Just like Yelp reviews or IMDB ratings help you choose your next restaurant or movie, leaving a 5 star rating and/or a written review is very valuable to The Premed Years. It allows us to be able to share our information with more people than ever before.
I am so incredibly thankful to those who have recently gone into our listing in iTunes to provide a five start rating and a written review of The Premed Years.
Subscribe and Download
iOS/Mac/Windows – You can subscribe to the show in iTunes. Or you could manually add the RSS feed to your aggregator.
Android/Mac/Windows – You can download DoubleTwist and use that to manage all of our past and future episodes
Please help us spread the word!
If you like the show, will you please take a moment to leave a comment on iTunes? This really helps us get the word out!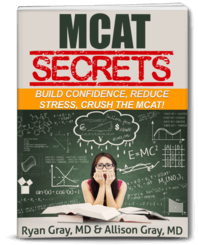 DOWNLOAD FREE - Crush the MCAT with our MCAT Secrets eBook