Session 171
In this episode, Ryan talks with Christine Crispen, the former Dean of Admissions at UC Irvine School of Medicine and is currently the Director, Office of Curriculum at the Keck School of Medicine of USC.
Ryan and Christine talk about reapplying to medical school through the eyes of someone who has been on the Admissions Committee. They also discuss the biggest reason applicants don't get into medical school and what you as an applicant should be thinking about when you need to reapply to medical school.
You have to realize that applying to medical school is a numbers game. There are good applicants that sadly don't get in the first time around because there are more applicants than there are spots. Out of thousands of applicants, only the top 8-10% will get the chance to be interviewed. Because applying to medical school is very expensive, not to mention all the hard work that goes along with it, you therefore need to put your best application the first time.
Here are the highlights of the conversation with Christine:
The number one mistake student make when they apply to medical school is having not enough clinical exposure or clinical experience.
Start with shadowing in your Freshman year of college and get more experience than just shadowing such as:
What you need to do to prepare yourself to reapply:
Assess your application.
Go from top to bottom.
Start off with your academics.
Are you within the averages that are posted on the website?
Next is your clinical exposure.
Make sure to have some longevity in clinical exposure, doing it for a few years if possible. Have leadership experience within that exposure. Grow within the role.
For research-intensive schools, do you have research exposure? Do you have research experience or publications?
What else do you have in your application?
Extracurriculars
Work
Other activities that demonstrated who you are and what's the altruism that you're dedicating your life to
What did you write in your personal statement?
What did you say? How did you say it? Were there typos or anything missing that you didn't answer something? How did you write your secondaries? Did you answer the questions thoroughly?
Seek advice from the premed office of the medical school you're interested in.
Ask somebody else to read your application. If you know a physician or someone on the admissions committee who has done this before, ask if they could review your application and see what areas can be improved upon.
If you know your academics is strong, when in doubt, always focus on the clinical area.
Why you need to take a year off and fix whatever is wrong before you reapply:
Applying to medical school is very expensive.
If you just jump back in with the same application, why would you expect a different result?
A re-applicant in the eyes of the admissions committee (in Christine's case):
They look at your academics and wonder what the issues are for not getting in the first time.
They look at your activities. They look at whether you've made some improvements within the last year or year and a half.
They look at you with a fresh set of eyes to see how you're performing and whether you're a good fit based on the school's admission standards.
They want to see your GROWTH from the prior application to the current application.
Different schools view different applications differently.
To retake or not to retake the MCAT?
Look at your current score.
If you're within the 95th percentile of the school's MCAT range of what they accept, do not take the MCAT again. It's a high risk with not a great reward especially if your score drops.
If you're below the MCAT averages of the school you're applying to, consider retaking the MCAT. But take time to study first. Know what your weaknesses are in the exam. And only take the exam when you're ready.
Quality vs. Quantity
A passive event doesn't have much weight
Quality of the experience is very significant
They weigh it based on the activity versus time.
There must be other things in the resume to help support your activities.
Are new letters of recommendation needed for re-applicants?
Who are your letters from?
Meet the recommendation requirement of the school.
Keep in contact (to some degree) with your letter writers
Earn new experiences to get additional letters or newer letters.
Have a current letter, research, or something current to show them that you have contributed new experiences.
Mentioning in personal statements that you didn't get in:
Personal statements are valuable real estate.
A brief, few sentences explaining how you've grown from the experience
Don't dwell on it. Don't make it a negative.
Use it as a learning experience and explain how you learned
The biggest mistake re-applicants make when submitting their applications again:
Submitting the exact same application from the year before with no improvement or no change.
Some pieces of advice for premed students:
Have faith. If you know you've done everything you can, have faith that it's going to come through for you.
Don't allow rejection to crush you. Take a step back. Start thinking about the areas you need to improve upon.
[box type="whitestroke" pb_margin_bottom="no" width="1/1″ el_position="first last"]
Elite Medical Scribes – Show Sponsor
As mentioned by our guest today, being a scribe is a great way to get significant clinical experience that you need for your medical school application.
Listen to Bailey, a medical scribe recruiter, as she shares about the many different opportunities for students matching their interests with over 26 specialties available.
The benefits of being a scribe:
An opportunity for relationship-building with the physicians you're working with
Gets your foot in the door to medical experience
You're part of a medical team while building those relationships
Head to Elite Medical Scribes now to see what they have to offer in your area!
[/box]
Links and Other Resources:
If you need any help with the medical school interview, go to medschoolinterviewbook.com. Sign up and you will receive parts of the book so you can help shape the future of the book. This book will include over 500 questions that may be asked during interview day as well as real-life questions, answers, and feedback from all of the mock interviews Ryan has been doing with students.
Are you a nontraditional student? Go check out oldpremeds.org.
For more great content, check out www.mededmedia.com for more of the shows produced by the Medical School Headquarters including the OldPremeds Podcast and watch out for more shows in the future!
Free MCAT Gift: Free 30+ page guide with tips to help you maximize your MCAT score and which includes discount codes for MCAT prep as well.
Hang out with us over at medicalschoolhq.net/group. Click join and we'll add you up to our private Facebook group. Share your successes and miseries with the rest of us.
Check out our partner magazine, www.premedlife.com to learn more about awesome premed information.
Next Step Test Prep: Get one-on-one tutoring for the MCAT and maximize your score. Get $50 off their tutoring program when you mention that you heard about this on the podcast or through the MSHQ website.
Listen to our podcast for free at iTunes: medicalschoolhq.net/itunes and leave us a review there!
Email Ryan at [email protected] or connect with him on Twitter @medicalschoolhq
Subscribe for Free
Listen to Other Episodes
Leave us a Review and Rating!
Just like Yelp reviews or IMDB ratings help you choose your next restaurant or movie, leaving a 5 star rating and/or a written review is very valuable to The Premed Years. It allows us to be able to share our information with more people than ever before.
I am so incredibly thankful to those who have recently gone into our listing in iTunes to provide a five start rating and a written review of The Premed Years.
Subscribe and Download
iOS/Mac/Windows – You can subscribe to the show in iTunes. Or you could manually add the RSS feed to your aggregator.
Android/Mac/Windows – You can download DoubleTwist and use that to manage all of our past and future episodes
Please help us spread the word!
If you like the show, will you please take a moment to leave a comment on iTunes? This really helps us get the word out!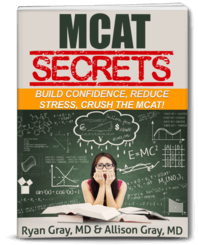 DOWNLOAD FREE - Crush the MCAT with our MCAT Secrets eBook