Apple Podcasts | Google Podcasts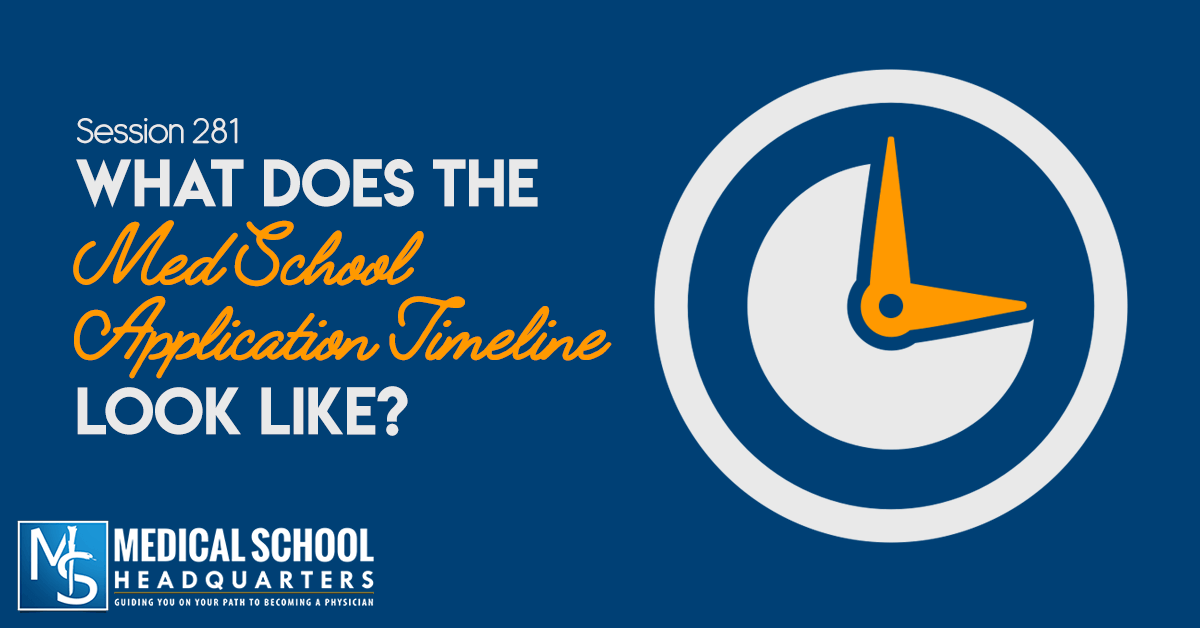 Session 281
As a premed student, when should you start writing your personal statement, taking the MCAT, and asking for letters of recommendation?
I get a lot of questions about application timing. What does the med school application timeline look like? If you delay your MCAT, would it affect your application? How will it affect your application? Listen in to this week's episode, and I'll address all of these things.
[02:31] The General Med School ApplicationTimeline
Really, the MCAT is the biggest variable that determines everything else in this process. However, let's discuss the general timeline first.
First, remember there are three different application services out there—TMDSAS (for Texas medical schools), AMCAS (for MD schools), and AACOMAS (for DO schools). These three roughly follow the same timeline. For this year (2018), TMDSAS opens on May 1, AMCAS opens on May 2, and AACOMAS opens on May 3.
For TMDSAS and AACOMAS, you can submit your application immediately. As soon as you've entered your information and you've checked it multiple times, you can submit it right then and there. With AMCAS, however, there's a delay between when the application opens up and when you can actually submit. This year (2018), it's May 31st.
Medical Schools Don't Receive Your Application Immediately
Another interesting thing students don't know about AMCAS and AACOMAS is that once you submit your application, that doesn't mean schools are getting it immediately. Your application and transcripts need to go through a verification process, which is done manually.
After this, there's still that delay for when the first applications go out to medical schools. For AMCAS, it's June 29 when they send the first wave of verified applications to medical schools. So until then, medical schools won't find out that you have applied to them through the AMCAS service. Meanwhile, AACOMAS is sending out the application by June 15. TMDSAS doesn't give the information about when they send it.
After the first wave of applications go out, then the data becomes available for any medical school anytime they want to pull it from the application service.
[08:05] When is the Best Time to Take the MCAT?
The ideal time to take the MCAT is March or April.
Click To Tweet
The ideal time to take the MCAT is March or April. That way, you get your score back before you submit your application. It takes about a month before your MCAT score comes back.
Taking the MCAT early in March or April allows a little bit of extra time afterward to solely focus on the application. So after you finish the MCAT, focus on your personal statement and extracurriculars. Get those letters of recommendation in. Continue to shadow and do extracurricular activities. Continue to do your classes.
There are so many moving pieces through this application process that sometimes your head starts to spin.
A common question coming from students on the Premed Hangout (our Facebook group) or the Medical School HQ Forums is whether to push back taking the MCAT. So my question right back is, What's going to change between now and then, to warrant pushing your MCAT back a month?
Taking the MCAT in June: Is It Too Late?
And what happens when you take the MCAT in late June? Late June is about the latest that I recommend taking the MCAT if you're applying that same year. And even that late can be a disadvantage.
Late June is about the latest that I recommend taking the MCAT if you're applying that same year. And even that late can be a disadvantage.
Click To Tweet
It takes a month to get your MCAT score back, so if you take the MCAT in late June, your score won't hit the medical schools until late July. It's generally going to be a lot harder to get accepted when you're applying later.
[Related episode: Should I Give Up on MD Dream If I Apply Late in the Cycle?]
If you're retaking the MCAT, when you register for a new MCAT, that new test date will go into your application. So don't be afraid to apply with a bad MCAT score from a past year if you're registered to take the MCAT again. Medical schools will see that you have a pending date and a pending new score. That being said, they're going to wait to review your application until that score comes back.
[11:44] Writing Your Secondary Essays
Then June 15, AACOMAS says to medical schools: These students have applied to your school. And if you're in that first wave of applications, you're going to start getting secondary essays from the schools. For MD medical schools, it's going to be June 29 that the same thing happens.
When you apply to medical schools on time or early (end of May, beginning of June), and you're taking a late MCAT, you are hindering your ability to pre-write your secondaries. Or if you do pre-write them, you're taking away time from studying for the MCAT. So if you're planning on pushing back your MCAT into the summer, you need to factor in all of these other pieces to the puzzle.
A general rule of thumb is that you should turn around your secondary applications within about two weeks.
Click To Tweet
I highly recommend that you follow the general rule of thumb that you should turn around your secondary applications within about two weeks. If you don't, it's not going to destroy your application. But there are medical schools out there that track how long it takes you to turn around your secondary essays. If you take longer, they might assume you're less interested in going to that medical school, and they might not interview you because of that.
Writing Secondary Essays Takes a Lot of Time
But they go faster the more you do since they can get somewhat repetitive. But they're very time-consuming. When you apply to 20 medical schools and your applications all go out at the same time, all of those medical schools are going to send you secondary essays, even without your MCAT score.
[Related episode: Secondary Essay Common Mistakes and How to Avoid Them]
Most schools don't screen to determine whether or not you're actually qualified to be a medical student at their school. They just send you a secondary application so you need to submit it and pay the fee.
Click To Tweet
[14:57] Understanding Rolling Admissions at Medical Schools
Applying to medical school is like a game of musical chairs. Your chances of getting a seat becomes slimmer as the application cycle goes on. But it's actually worse than musical chairs because, with medical school, there's an increasing number of students applying as the application cycle goes on.
So as you get later in the cycle, there's a decreasing number of seats available and an increasing number of applicants in the pool. This is why you need to apply early and understand how putting off the MCAT can affect you.
Medical schools have rolling admissions. This means that the longer you wait in the application cycle, the less chance you have of getting into medical school.
Click To Tweet
[16:24] Pushing the MCAT Past July? Just Apply Next Next Year.
If you need to push your MCAT test date back past July, then don't even bother applying this application cycle. Put it off until the next year. Stop stressing about writing your personal statement, extracurriculars, prepping for the MCAT, doing your classes, etc. Take a deep breath, and start over with next year as your goal. This is totally okay.
In fact, this is much better than taking the MCAT very late in the application cycle and submitting your application very late. You're likely just wasting an application cycle, along with wasting all the money on medical school applications.
[Related tool: Medical School Applications Cost Estimator]
[17:51] First Things to Do When the Application Services Opens Up
As soon as the application cycle opens up, print out the transcript request forms and send them to all of the institutions that you went to, so your official transcripts will be sent to the application services. This is the first thing you should be doing as soon as those application services open up in the beginning of May.
By end of April, you should be working on your school list. Think about the schools you want to go to, locations you want to go, class sizes that fit your style and curriculum, etc. Then consider MCAT and GPA averages for each school.
When to Write Your Personal Statement and Get Your Letters of Rec
Your personal statement should be written early, I would say in January. It takes a long time to write. Check my book, The Premed Playbook; Guide to the Medical School Personal Statement for more advice on the personal statement. While you're still writing your personal statement, you should also be writing about your extracurriculars (January-February).
Then from January to March, work on your letters of recommendations from professors, PI's, supervisors at work or volunteering positions, etc. Set up an Interfolio account since you can't do anything about the letters until the application cycle opens up for that year. With that account, you can have those letters sent immediately as soon as the writers are done with them. And as soon as the application service opens up, Interfolio sends those letters of recommendation to the application service.
[20:35] As Soon As You Hit Submit: Pre-Writing Your Secondaries
So, you've finished your application and pressed "submit." But you're not done.
The next thing you should do is turn around and find all of the secondary essays available for that school. We are working on a database of secondary essay prompts, where we are collecting information on what each school asks for in their secondary essays. Check that out here.
As soon as you click submit on your application, go and start pre-writing your secondary essays.
Click To Tweet
If you've already pre-written your secondaries, then when all the medical schools send back secondary-essay requests to you, you already have them done. Just do a quick triple check, and submit it within a couple of hours or a couple of days.
In case the questions have changed, then just scramble and rewrite an answer. It's better than writing answers fresh for the first time for all ten of those secondary requests coming in on the same day.
[Related episode: Does It Matter How Fast I Turn Around My Secondary Essays?]
If you have any more questions about the medical school application timeline, please feel free to join the Premed Hangout (Facebook group) and ask questions there!
Links and Other Resources: