Loyola University Chicago Stritch Secondary Essay Prompts
(If you have updated prompts, please submit them at updatesecondaries.com)
These prompts are from the 2019 Application Cycle. 
All prompts have a 500-word limit. 
Prompts
Becoming a person for others is a core Jesuit value. What does this Jesuit ideal mean to you?
SSOM seeks students who are resourceful and lifelong learners who are both self-aware and adaptable. Please describe a personal or professional challenge or conflict that you have experienced. How did you resolve it? What skills, resources and/or strategies did you employ? DO NOT write about the MCAT, a course, or an academic issue.
SSOM is a Jesuit institution that integrates values and delivers a mission-centric education. We seek to uphold and increase social justice, we value all people, and have a strong focus on caring for the underserved. How will you contribute to the diversity of the Stritch student body and community? Specifically, what unique traits, identities, experiences, skills and perspectives will you contribute?
Please use this space to bring the information in your AMCAS application up-to-date. Please indicate additional grades earned, alterations in your proposed coursework or graduation date, address changes, additions to your list of activities, and anything else you feel we should know. If you have not been enrolled in coursework, please let us know what you have been doing since coursework ended.
SSOM follows a comprehensive process of holistic review. The committee works to ensure every applicant receives a full review of their academic and personal preparation.Please use the space below to further explain anything in your application that may help us in our review of your candidacy-gaps or delays in education, academic missteps, or personal challenges not listed elsewhere, etc. (Optional, please limit to 1500 characters).
Have you applied to Loyola Stritch School of Medicine prior to this application? If so, please list the years of your previous application submissions to Loyola SSOM.
Have you applied to any medical school prior to this year's application? If so, please list the years of your previous application submissions to AMCAS. Please also tell us how your application has improved since your previous application.
---
Secondary Deadline: December 14, 2018
Secondary Fee: $95
FAP Waiver: Full Fee Waived
CASPer Required: No
Screens Applications: No
Accepts Application Updates: Yes/Portal
---
Loyola University Chicago Stritch School of Medicine Mission:
Loyola University Chicago Stritch School of Medicine (SSOM) is committed to scholarship and the education of medical professionals and biomedical scientists. Our school, including its faculty, trainees, and staff are called to go beyond facts, experimentation, and treatment of disease to prepare people to lead extraordinary lives and treat the human spirit in an environment that encourages innovation, embraces diversity, respects life, and values human dignity.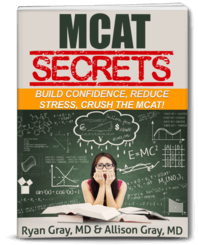 DOWNLOAD FREE - Crush the MCAT with our MCAT Secrets eBook