University of Pittsburgh Secondary Essay Prompts
(If you have updated prompts, please submit them at updatesecondaries.com)
These prompts are from the 2019 Application Cycle. 
Prompts:
MD Program Prompts have a 250-word limit.
Tell us about a challenging problem you faced and how you resolved it.
UPSOM is a culturally diverse and talented community. How would you enrich/enliven the UPSOM community? The essay should discuss material that is not included in the rest of your application.
Is there anything additional that you would like to address that is not already reflected in your application?
MSTP
Choose current graduate program of interest, choose 3 faculty from a given list, provide up to 2 additional faculty you could see yourself working with in graduate school, and then:
Briefly describe what appeals to you about the faculty member(s) in your selection, and how the selected graduate program and our MSTP match your interests.
---
Secondary Deadline: November 15, 2018
Secondary Fee: $100
FAP Waiver: Full Fee Waived
CASPer Required: No
Screens Applications: No
Accepts Application Updates: Yes/Email
---
University of Pittsburgh School of Medicine Mission:
The mission of the University of Pittsburgh School of Medicine is to improve the health and well-being of individuals and populations through cutting-edge biomedical research, innovative educational programs in medicine and biomedical science, and leadership in academic medicine. We strive to implement this mission with the highest professional and ethical standards, in a culture of diversity and inclusiveness, and in an environment that enables all students, faculty, and staff to develop to their fullest potential.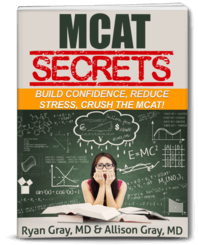 DOWNLOAD FREE - Crush the MCAT with our MCAT Secrets eBook