Session 105
There are no typical days in radiology. Dr. Anjali Malik joins me to talk about breast imaging, guided biopsy, and what it means to develop a diagnostic "eye."
For more resources, check out all our other great podcasts on Meded Media.
Listen to this podcast episode with the player above, or keep reading for the highlights and takeaway points.
[01:25] Interest in Radiology and Breast Imaging Radiology
Anjali's interest in Radiology and Breast Imaging Radiology happened at the same time during her internal medicine rotation. After reading the book, Felson's Primer for Chest Radiology, this made her realize that the whole science of imaging was far more interesting than she knew it could be.
'I thought radiology was just sitting in a dark room and seemed really boring.'
Click To Tweet
Immediately after internal medicine rotation, she worked with a breast surgeon in a community setting, particularly in New Orleans (prior to Hurricane Katrina). Post-Hurricane Katrina, he came to Tulane University and tried to recreate the heavy breast surgery practice. She had seen a lot more breast surgeries than an average surgery medical student did.
That being said, she was exposed to the breast surgery population. She likes the pathology, the patients, and procedures. However, she didn't want surgery or do 5 years of general surgery to go on to breast surgery. So her mentor pointed her to the direction of breast imaging radiology at Tulane.
Anjali also has a background in public health and did her BA in Public Health at Johns Hopkins. She feels every part of the field spoke to her.
[Related episode: Interventional Radiology: Community Doc Shares Story]
[05:25] Traits that Lead to Becoming a Good Breast Imaging Radiologist
Anjali points out that to be a good breast imaging radiologist, you have to be cerebral and have problem-solving skills and spatial awareness. You have to be patient and observant. Having a good eye is also helpful.
'What's wrong with this picture or these two do not match – those things are what every radiologist do every single day.'
Click To Tweet
As much as pattern recognition is important, you should also be patient, thorough, and be able to direct a surgeon on they should approach the case.
[Related episode: Community Breast Oncologist and Researcher Shares Her Career]
[06:30] Types of Cases
In breast imaging radiology, you're screening for breast cancer. Possible cases include invasive, ductal or ductal carcinoma in situ, or lobular carcinoma, papillary carcinoma, and the occasional medullary or mucinous carcinoma.
They basically diagnose all sorts of system and processes within the breast. They regularly diagnose lymphoma via the axillary lymph nodes seen on screening mammograms.
Sometimes, within the breast, they see an enlarged lymph node and are able to provide a primary diagnosis on something not known.
Other cases they diagnose include tuberculosis, sarcoidosis, and amyloidosis. They also deal with the more benign things that happen within the breast like fibroadenomas in young, reproductive-aged females. Lactating females can get lactational adenomas, galactocoele, mastitis, etc.
'Cysts are very common in women. Not every new thing in the breast is a cancer. But my job is to look for anything they were different.'
Click To Tweet
Outside of being breast imaging radiologist, Anjali practices general radiology. She's doing body ultrasound on a daily basis. Some cases she sees are nodules, ovarian cysts, fibroids, and cancer of all of the above organs.
For her, being able to use imaging as a tool has shaped medicine and she's excited to see more of what will come.
[08:30] Typical Day
Anjali describes having no typical day as it varies day-to-day. Even if she does the same thing in theory everyday, every patient presents something new and different.
She could do biopsies or ultrasound and mammogram-guided biopsies of the breast. There are also some days she's doing MRI-guided biopsies or ultrasound-guided fine-needle aspirations of the thyroid or lymph nodes. She may also be reading screening mammograms and 3-D mammography.
'The evaluation of the breast has really improved the detection of breast cancers and decreased any false-positive callbacks.'
Click To Tweet
In between, she does radiographs and bone densities. She could be calling patients with results or calling doctors with findings. There are also days when she does diagnostic mammography. This covers any woman that has been called back from a screening examination.
There are also some women that come to her with clinical concerns of their own. For instance, they're feeling a lump or breast pain, or noticing changes to the skin or nipple discharge.
Women who have a personal history of breast cancer or have a particularly strong family history or a known genetic mutation, those women are seen on diagnostic thoughts. There are breast MRI slots as well.
On an ultrasound day, it can vary from doing fibroid fine-needle aspirations to ultrasounds of the thyroid, carotid, liver, pelvis, etc. Anything and everything can come in on an ultrasound day.
[11:12] Handling Procedures
For students out there thinking about this field, Anjali explains that there's an entirely separate track. Classically, you would do one year of internship and four years of radiology. Then you'd do one to two years of fellowship in interventional radiology.
Today, there are completely separate training pathways. There are still some programs with the classic spots reserved. But medical students now have the opportunity to apply to programs where they are completely integrated from the start. For example, there's diagnostic radiology/interventional radiology and those spots can be competitive.
Anjali did breast imaging where they do a lot of procedures. Her practice is completely outpatient. For those radiologists both diagnostic and interventional who are in inpatient settings, they can expect to be exposed to a lot of procedures.
'A lot of the body imaging fellowship-trained radiologists do CT-guided procedures in hospitals.'
Click To Tweet
[13:10] Taking Calls and Work-Life Balance
Anjali doesn't take calls now as she is doing outpatient care. But she has had her own share of taking calls during her first private practice and throughout the residency.
Anjali describes the call for radiologists is brutal. It is non-stop. Unlike some of their clinical colleagues that get home calls and get called multiple times a night, radiology call is the entire shift. Sometimes, you do not leave your seat or call room.
When she was in private practice, she did eight-hour shifts two times a weekend. She was reading around 180 to 200 studies. This is a combination of plain film, ultrasounds, fluoroscopy, CT. It was non-stop.
She had a similar experience during residency where she got to cover interventional as a senior resident. She trained at a level 1 trauma center where she dealt with gunshot or vehicle collision victims.
Anjali recommends training for a level 1 training center but it's going to be a very intense experience.
In terms of work-life balance, although it was challenged during residency, she feels like she has it as an outpatient radiologist. That said, her work isn't easy. She's up at 5:15 am everyday. She comes in at 7:30 am and is out at 5 pm. She goes to bed at 9 pm.
'There are days when you feel like you're cramming your real life in, but that's the case for anyone these days. You just have to make it work.'
Click To Tweet
[17:10] The Training Path
Training for breast imaging radiology involves one year of internship, four years of diagnostic radiology residency, and then one year of breast imaging fellowship.
Breast imaging is a matched fellowship. At the time of her training, one can get a spot outside of the match. In her case, she contacted someone she knew since she had a relationship with that person and did an away rotation with her. There's also the formal match system which happens on your fourth year of being a resident and on your third year of being a radiology resident.
The match is decently competitive. You're obviously competing for spots at the better programs. But she didn't go through the proper and formal match process.
Some radiologists come across breast imaging during their time as radiologists. Usually, they realize it's amenable to an outpatient lifestyle or no calls on the weekend. Plus, they can get a job almost anywhere.
Anjali explains that groups are always looking for radiologists for three reasons. First is the volume. Women are always going to need mammograms.
Second, women get their first screening mammogram and find an imaging center. They then go on to utilize that imaging center heavily. So having a fellowship-trained breast imaging radiologist is a plus for a group.
Thirdly, some diagnostic radiologists don't want to touch mammography. Aside from the fact that it requires full attention to detail that is sometimes difficult to meet, there's also malpractice associated with it.
'You'll find groups that are really eager to hire fellowship-trained breast imaging radiologists.'
Click To Tweet
Right now, there is a huge supply of jobs in radiology and not necessarily a supply of residents. When Anjali was still applying for hobs, it was the other way around. There were very few postings and there were a lot of them looking for jobs. Now is a good time to be looking for a job as a radiologist, specifically as a breast imaging radiologist.
[21:11] Subspecialty Opportunities
Anjali doesn't think there's anything further than breast imaging. But there are other opportunities pertaining to business, public health, and consulting. There are different ways you could use your breast imaging fellowship to create and mold it to the career that you want. But nothing more specialized for that matter.
[22:05] Message to Osteopathic Students
Anjali thinks that in order for osteopathic students to be competitive, basically, they would have to do the same.
Have research and be motivated. She sees more and more of residents who have these dual degrees like MPH and MBA. Certainly, these would have a place in any radiology group. That being said, you don't need those for getting a breast imaging fellowship.
[23:30] Working with Primary Care Providers and Other Specialties
Anjali wishes primary care providers know that any woman over the age of 30 has to get a mammogram. A lot of primary care providers and OB/GYN will only do an ultrasound.
But based on the American College of Radiology standards, they image in a certain way. So this is one of the biggest battles she has to fight every day. Someone at the age of 30 with nipple symptom or they feel lumps and they're not expecting to possible get a mammogram.
'I wish everyone would just join us in trying to decrease patient anxiety.'
Click To Tweet
On another note, Anjali doesn't think patient anxiety is a reason to get less mammograms. Instead, it provides an opportunity for them to work on their education and advocacy. They have to learn how to empower their patients.
On average, she talks to a lot of primary care providers and OB/GYN. For cancer patients, she talks with breast surgeons, oncologists, radiation oncologists. In her general radiology role, she speaks with endocrinologists, OB/GYN, and primary care physicians.
[26:10] What She Knows Now That She Wished She Knew
One of the things she finds most challenging about a breast imager is the emotional burden of patient anxiety, more so the general emotions surrounding breast cancer among women.
She thinks the whole pink ribbon and breast cancer awareness has gone awry. It was meant to create awareness so women can go for screening. But it went from that to pinkwashing everything. This resulted in women getting terrified that they might be getting breast cancer.
'I see women who are nervous wrecks everyday. It's a lot to manage when I try to help patients work through their feelings or overcome their fears on a daily basis.'
Click To Tweet
When she went into radiology, she just didn't realize she was going to also be like a psychologist or psychiatrist sometimes. In fact, her colleague calls their specialty a "mammochiatry." Because of this, she's actually gauging her patients when it comes to something concerning the breasts.
The same thing with cancer diagnosis where she has to shift her delivery per patient. She has those skill sets now but she admits those took time to acquire. It's a real art as part of breast imaging.
[28:35] Most and Least Liked About the Specialty
Anjali enjoys the patient interaction, something she has always liked about medicine. She also likes doing the procedures. She enjoys working with her hands.
On the flip side, what she likes the least is the emotional toll on patients. Even though you're managing the patients' emotions, it can be hard to compartmentalize that. She feels it makes the days longer sometimes.
[30:20] Her Thoughts on Machine Learning
Anjali says we've had a computer-aided detection for a decade now and she thinks it's terrible. She goes on to say that any academic of fellowship-trained radiologist will tell you that.
'Computer-aided detection had been shown to only be helpful to those general radiologists out in the community for the interpretation of mammography.'
Click To Tweet
That being said, machine learning has advanced and there are several studies showing how it could be useful in mammography.
But she still thinks that at the end of the day, there are a lot of factors you need to take into account. For instance, you have to do callbacks and recommending biopsies. You still need that human touch. Rather, it will only enhance what they do – but not replace them.
'Even if AI or machine learning were to speed up the interpretation of mammography, I don't think it will ever replace me in doing so.'
Click To Tweet
[31:47] Would She Have Done It All Over Again?
If she had to do it all over again, picking the same specialty would be a yes and no for her. She wonders if she could have just gone for breast surgery for two reasons.
First, she likes procedures more than she actually realized. Second is because of where the field of radiology is going right now in terms of corporatization and lack of autonomy. Autonomy is something she would have enjoyed.
So the only time she would only say she should have gone for breast surgery is when she thinks about two factors.
'Realizing where medicine is today, the corporatization of medicine and often a loss of autonomy, I think it's really important for medical students to be aware of that.'
Click To Tweet
That said, Anjali is very happy with her current job. But she's just wondering what it would be like to be her own boss.
[35:05] Final Words of Wisdom
Radiology plays a big part in medicine today. It's important for medical students to pay their due attention. And you may realize you like it more than you thought. She thought radiology was boring and she was just going to sit in the darkroom, which turned out otherwise.
If you're interested in it, try all of the parts out. Look into interventional radiology as they have a different approach. For breast imaging, have that advocacy, education, and outreach.
Links:
Listen to Other Episodes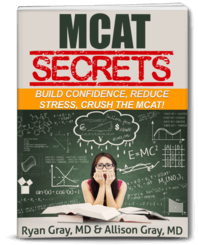 DOWNLOAD FREE - Crush the MCAT with our MCAT Secrets eBook