Session 67
Dr. Elaine Reno is an academic Emergency Medicine physician in Denver. She talks about why she choose academics, her work-life balance and more.
First off, check out all our other podcasts on MedEd Media. If you're a premed student, be sure to take a listen to The Premed Years podcast, covering test prep, applications, essay writing and personal statement writing, interview prep and so much more. And if you have a suggestion for a guest here on the podcast, kindly shoot me an email at [email protected].
Back to today's guest, Elaine has a subspecialty in Wilderness Medicine, which is really not that big of a practice. Rather, today we focus on academic emergency medicine and why Elaine chose this.
Back in Session 2, we covered emergency medicine from a community perspective. In that podcast, we had Dr. Freess talking about community-based emergency medicine. This week, Elaine talks about being an academic emergency medicine, why she chose it, and much more.
[02:10] An Interest in Emergency Medicine
As a medical student, she did all the rotations but two things drew her which were Emergency Medicine and OB/GYN. She thinks they're both pretty similar being 90% routine and 10% acute crisis. Until she realized she likes the variety of Emergency Medicine. She also didn't like the operating room very much.
If you think Emergency Medicine is all about gunshot wounds and adrenalin rush, Elaine says that most chest pains are not heart attacks or that in most car accidents, the people are fine. Or that most weakness or tingling sensation is not a stroke.
[04:05] Traits that Make a Good Emergency Medicine Doctor
Elaine explains that you're always going to need help, you're always going to need to talk to your specialty consultants. So you have to be a good communicator, and you have to be able to work with your specialty consultants. That being said, Elaine says how Emergency Medicine is like a team game where you have to be able to work in a team, with physicians, nurses, etc.
[06:00] Types of Patients and Typical Week
They see anything and everything on a day to day basis. The common things they see are flu, respiratory illness, chest pain, abdominal pain, headaches – the bread and butter of emergency medicine. People come in with symptoms rather than diseases and it's your job to figure out what's going on and what you need to do to manage it.
A typical week for them basically varies and she likes the variety of it even if other people hate that. Every week, her schedule is different and she likes it a lot. As an ER doctor, she mans the doors of the emergency room so she deals with everything that rolls in whatever it is during her shift. They do an extreme variety of cases everyday from chest pains coming from heart attacks and strokes from trauma patients, to cancer patients with infections or miscarriages or broken bones.
[08:05] Academic vs. Community-Based or Private Practice
What she likes about the Academics is primarily the teaching aspect of it. She likes working with the residents and teaching class for undergrad students. She likes teaching the course. She also describes the residents as very smart and if you can't keep up with them, you'd be on your toes. Nevertheless, she likes the learning and education that come with academics.
[09:20] Is Emergency Medicine a Good Fit for You?
Elaine explains that they do a lot of procedures. They're not surgeons but more of like intensivists in the level of procedures they do. Although gastroenterologists and cardiologists  do more procedures than them. Family medicine doctors do less. But they do central lines and arterial lines. Occasionally, they also do intubation. That said, if you hated procedures, Elaine doesn't think emergency medicine is the specialty for you.
[10:20] Taking Calls and Work-Life Balance
Although they sometimes cover for doctors who call in sick, they don't really have to take calls outside of shift. No one calls them about patient care duty. And she likes the aspect of this a lot.
When it comes to shifts, she explains it's different for every doctor in every clinical practice. They work a certain number of shifts whether they work full time and whether they need to do other things like research or education so you would have to do less clinical shifts. This is a huge part of emergency medicine but specifically for academic emergency medicine and if you're interested in doing research, you can just work less clinical shifts. Having no patient population like a primary care doctor, you're able to do this.
Elaine just had a baby and when she was pregnant, she was forced to stop a little bit after having a difficult pregnancy. So she feels she has enough time with him on a day to day basis. She'd also do a whole day where she doesn't see him and then he'd have the next day off so she can spend time with him.
Nevertheless, Elaine thinks Emergency Medicine is very conducive towards a family life as long as you're creative. And if you feel like if you're working too much and that you're not having enough time with family, then you can always just step down and not work full time. In terms of making quality time, it's about making that quality time. She will always work nights, weekends, or holidays. Someone has to be on the ER on Christmas and Thanksgiving or New Years. This will be a part of her job for the rest of her life. And she's okay with it. But by the time she's with her family, they turn off their phones and prioritize being together.
[14:14] The Residency Path to Become an Academic EM Doctor
Elaine explains that EM is a three-year or four-year residency depending on where you go. Most of them are becoming four-year residencies. And most of those going into academics go through a four-year residency.
During your first year, you rotate through different specialties. You learn a little bit of everything and then spend more and more time in the emergency room as you progress through residency training.
She also describes the training as getting more and more competitive due mainly to it being conducive for having a good quality of life and having other interests. So she thinks it's getting more and more competitive every year.
Having been involved in the admissions side of things for the emergency medicine residency, Elaine's advice for students to be competitive to match into EM is about having that whole package.
You want to be getting good grades and excel in your clerkships. Do well not just in the one subspecialty you want to go into but in all of your clerkships. They also look at your extracurriculars, research, letters of recommendation, etc.
[16:18] Bias Towards DOs and Special Opportunities
Elaine thinks that the DO and MD match is becoming one soon. She works with DOs and she thinks the bias is slowly fading away. She adds that if the match merges, she thinks this is the right way moving forward. There will still be some inherent bias, she thinks, but she really doesn't think this is a big thing in where she's at or in her residency programs.
After residency training, there's also fellowships in Emergency Medicine like Toxicology, Global Health, Admin, Education, Ultrasound. Elaine did Wilderness Medicine with little Global Health.
For those EM doctors who do fellowships, a lot of them end up in academics. So if you do an education fellowship, you end up doing education work. For Toxicology, they end up being a consult service. With her diploma in Tropical Medicine and Hygiene, she works part-time at a travel clinic and does pre-travel advising coordination. She basically works with a pediatric infectious disease doctor where they work together to provide care for the whole family.
[20:00] Working with Primary Care and Other Specialties
Elaine thinks that if you want to send a patient to the emergency room, communication is key. They won't always know why primary care doctors would send their patients but she thinks the most important thing here is coordination, which must work both ways. Coordination is very important since they won't get to manage the patient long term and this provides the best care for the patient.
Other specialties they work the closest with include trauma, cardiology, intensive care units, etc. Special opportunities outside clinical medicine for EM doctors available would be education, research, ED doctors, full time researchers, administrative work, EMS directors.
[23:18] What She Wished She Knew that She Knows Now
Elaine wished she knew how much it would have affected her sleep having brutal rotating schedules which could be brutal on your circadian rhythm. She would have still chosen the same specialty. But she could have started taking melatonin earlier.
What she likes the most about being an EM doctor is the variety. And the least thing she likes is the circadian rhythm disruption.
[24:45] Major Changes in the Future of Emergency Medicine
Elaine personally thinks there's a greater goal of keeping patients out of the hospital. So they train with their social worker, physical therapists, mental health counsellors, case managers. They talk about what they can do to keep patients at home.
Right now, there is that protest against discharging diagnosis to deny payments. So if you're discharged diagnosis from the ER, they feel it's not an acute, life-threatening emergency and they'll deny payment. And this is something she's really advocating against. She thinks this is very unfair to patients. In an ideal situation, everyone has a great primary care doctor that they can trust and they can call and get access to the continuity of care.
Ultimately, if she had to do it all over again, she would still have chosen Emergency Medicine. Finally, her last words of wisdom for premed students and medical students out there is that medicine is a great profession but it has to be what you want to do. Make sure it's what you want, and not familial pressure or peer pressure. At the end of the day, you're the one doing this so make sure you're pursuing something you want to do. And if you don't know or are not ready yet, don't apply and just take the year off. Travel, work.
Links:
PMY 02: What Is Emergency Medicine?
Get the Podcast Free!
Listen to Other Episodes
Leave us a Review and Rating!
Just like Yelp reviews or IMDB ratings help you choose your next restaurant or movie, leaving a 5 star rating and/or a written review is very valuable to The Premed Years. It allows us to be able to share our information with more people than ever before.
I am so incredibly thankful to those who have recently gone into our listing in iTunes to provide a five start rating and a written review of The Premed Years.
Subscribe and Download
iOS/Mac/Windows – You can subscribe to the show in iTunes. Or you could manually add the RSS feed to your aggregator.
Android/Mac/Windows – You can download DoubleTwist and use that to manage all of our past and future episodes
Please help us spread the word!
If you like the show, will you please take a moment to leave a comment on iTunes? This really helps us get the word out!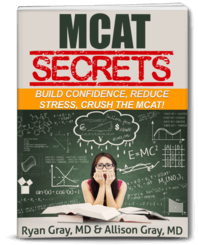 DOWNLOAD FREE - Crush the MCAT with our MCAT Secrets eBook