Session 89
Dr. Erica Sneider is a colorectal surgeon who's been out of training now for five years. She shares her story as a community-based physician. Back in Episode 36 of this podcast, I interviewed a colorectal surgeon based in an academic center. So now, you get to see the other side of what it's like to be out in the community. Find out why Erica chose to be in the community as well as some of the differences between the two settings.
[01:12] Interest in Colorectal Surgery
Erica first got interested in surgery back in college when she took part in a summer research program. So she had the opportunity to rotate through the different specialties in a hospital. She had her first exposure to general surgery and fell in love with it at that point. She observed a laparoscopic cholecystectomy and was just fascinated by it.
As she went through medical school, she developed her interest in colorectal surgery. She shadowed one of her partners back when she was in medical school. From the disease standpoint, she was most interested in diseases of the GI tract – colon cancer, rectal cancer, diverticulitis, inflammatory bowel disease, Crohn's disease, and ulcerative colitis.
Being the only doctor in her immediate family, Erica thinks her interest in this field just grew as she went through all the coursework in medical school. Then she realized in residency that she really liked those cases when she was doing general surgery. She did briefly consider plastic surgery but ultimately, she realized colorectal surgery was right for her because she liked all aspects of it. With colorectal surgery, Erica admits that there's really not one aspect of it that she doesn't like. She likes how the field encompasses everything.
'You have to look at both the things glorious and great with the specialty and the other things that may not be great, and figure out which specialty you want to go into based on that.'
Click To Tweet
[05:50] Traits That Lead to Being a Colorectal Surgeon
To be a great general surgeon, you have to be good at doing procedures. Although you won't know this in medical school, that's okay as long as you already have that interest in surgery and think you're more of a procedure-based person. Additionally, you should have attention to detail. Don't overlook certain things. Great organization skills are helpful too. You also have to be good with patients and their families. The patients look to their surgeon for comfort and reassurance in knowing they're having a good operation. Aftercare is another important thing. That said, you become entwined in their life and become important. In terms of technical skill sets, you have to be able to adapt and grow as new technologies come about.
'Nowadays, patients really have an expectation that their doctors take care of them and have a good bedside manner.'
Click To Tweet
[07:24] Community Setting vs. Academic Setting
Interestingly, all of Erica's training has been in an academic setting. She went to George Washington University School of Medicine. She had a very strong medical school upbringing. She then took her residency at the University of Massachusetts Medical School, where she had also stayed and done her fellowship. She recalls having spent two years in the lab doing vascular basic science research. In fact, she says that people who knew her during residency would have thought she would have stayed in academics. But the group she's in now is one that she had always wanted to join as she got to shadow one of the physicians in the group when she was a medical student. This led her to go down the path of community setting as opposed to the academic setting.
'When you're graduating fellowship, you really have to look at the jobs that are available.'
Click To Tweet
She got drawn into her group being a very well-respected colorectal surgery group on Long Island. Her three partners have been around for a long time and have established themselves in the community. As a young colorectal surgeon out of fellowship, Erica thought she'd be able to get good experience from joining the group.
In terms of the types of patients, she currently sees more of patients with anorectal diseases compared to when she was in fellowship at the academic center. That said, this can be deceiving when you're in fellowship since you're always in the operating room. You may be in the clinic once a week and just half a day, so you're limited in terms of your exposure.
[10:50] Diagnostic Percentage
If a patient is coming in to see Erica for evaluation of colon cancer, more than likely, they've already been diagnosed by their gastroenterologist. So certain procedures had already been done such as biopsies or colonoscopy. Part of the workup has already been done for her then as the patient comes in. But the other part of the workup is for her to complete a metastatic workup. She'd then order tests such as CT scans, PET CT scan, or MRI. This way, her patient is prepared to go to the operating room and make sure they don't have any metastatic disease.
Sometimes too, they'd come in with hemorrhoid, for instance, but then she'd diagnose it differently so they end up with having a treatment that's different than what treatment would be for hemorrhoid.
[12:20] Typical Week
Erica spends her time in the office on most days. This is the difference between academic and community setting where she has office hours every single day. There's also surgery added into the mix. She doesn't necessarily have a set date to operate on, but those cases just get mixed into her schedule. For instance, she may have colonoscopies in the morning, and then she starts her office hours following those. She still does procedures in the office such as when a patient comes in with a thrombosed hemorrhoid or an abscess. Other days, she may just be in the operating room or doing rounds. She describes it as a good mix. She basically finds herself doing a lot of minor procedures on people since she sees a lot of acute anorectal disease.
[14:10] Taking Calls and Work-Life Balance
Being a junior person, Erica is expected to take more calls than her senior partners. She's usually on call once or twice during the week and either every two or three weekends. They do not take calls for an emergency room. But if the patient comes to the emergency room and asks specifically for their group or if it was their patient, the patient would be directed to them.
They don't often have to do a lot of emergency operations. Their weekends mostly involve doing rounds at the hospital. They cover three hospitals while most of their patients go to one of those. Their patient volume is not particularly huge. They'd also answer phone calls during the day. Erica also has great work and family life balance.
[15:30] Training Path
First, you would have to take general surgery for 5-7 years. Erica did 7 years where she did her first 2 years of general surgery residency followed by 2 years of research in the lab and then the last 3 years of her residency. Today, most applicants for colorectal surgery have to do some research to be competitive.
'It is a very competitive field to match in. And if you want to match into a good program, it's expected that you do research.'
Click To Tweet
The fellowship takes one year, but it has its own board process. So Erica is a double-board certified both in general surgery (written and oral boards) and colorectal surgery (written and oral boards).
Now that she's in practice, Erica says that when you're graduating from colorectal surgery fellowship, there aren't a lot of physicians that are straight colorectal. She feels happy to have joined her group being 100% colorectal surgery. This is her second job out of fellowship. Her first was a general surgery job that came with promises of building a colorectal practice and she stayed there for a little under a year. She knew almost immediately that it wasn't a good fit for her. It just wasn't something she was interested in, having gone into colorectal surgery.
'A lot of people graduating from colorectal surgery fellowships want to only do colorectal surgery because it's what we like to do. It is associated with a better lifestyle.'
Click To Tweet
When Erica graduated from fellowship, there weren't a lot of colorectal jobs available. But there were a lot of general surgery jobs telling you that you can build a colorectal surgery career. Much to your dismay, you may not be able to actually build a colorectal practice for various reasons.
[18:43] Percentage of Women Colorectal Surgeons
There are several women getting into general surgery nowadays. Back in her residency, there were five women and one guy. The class ahead of theirs was the same. She also observed that a lot of women go into colorectal surgery. That being said, she thinks this is a huge sorority. There are also societies of women such as women in medicine and women in surgery. At their annual colorectal meeting, they have a luncheon meeting for women. There is strong unity among women colorectal surgeons.
'In terms of women in the field no, we are accepted. I was treated very well in residency and in fellowship.'
Click To Tweet
[20:40] How to Be Competitive for a Fellowship
Erica thinks staying involved is really important as a resident. It's really exhausting to be a resident but you have to do extra things to make yourself stand out. If you see an interesting case, try to write it up as a case report. Link up with attending physicians who are interested in research. It doesn't even have to be in the subspecialty you want to go into. Doing research in that area is good, but if you're questioning, dip into multiple pots.
Erica did research and had different side projects going with a transplant surgeon who was doing clinical research as opposed to basic science. She got involved in writing papers with the chairman of their department. He eventually relied on her to do certain presentations for him so she was making a lot of PowerPoint presentations for him.
'The better known you are throughout your program as a go-getter and just writing book chapters or case reports... all of that goes a really long way.'
Click To Tweet
[22:15] Opportunities to Subspecialize After Fellowship
As a surgeon, you really want to operate and do abdominal cases. There also aren't a lot of sub-specialties. However, there are some women in colorectal surgery who like treating pelvic floor disorders and they become experts within that field. But with regards to training to further subspecialize, Erica doesn't think there is any.
[23:10] Osteopathic Students in the Field
Erica doesn't have that much exposure to osteopathic residents in terms of them applying to fellowship and subspecialize off of general surgery. That said, she has worked with some osteopathic surgical residents but they've wanted to do general surgery.
[23:53] Working with Primary Care and Other Specialties
Erica wishes to tell primary care physicians that they're happy to see anyone they send anyone from their office. They don't have to treat hemorrhoids on their own because a lot of times, they're actually not hemorrhoids. Hence, they need further examination, and the exam they do in their office is different. First off, the positioning is different since they examine patients in a prone jackknife position instead of the lateral position. There are also diagnostic procedures they need to do prior to treatment. So it's good to refer early to your local colorectal surgeon for further evaluation and treatment.
'They don't have to treat hemorrhoids on their own because a lot of times, they're actually not hemorrhoids.'
Click To Tweet
Other specialties they work the closest with include OB/GYN, gastroenterologists, radiologists, oncologists, interventional radiologists, and primary care physicians.
[26:05] Special Opportunities Outside of Clinical Medicine
You can talk to your community and talk to your patients. Make them aware of colorectal cancer screening. This is very important especially during March since it's colon cancer awareness month since there's a lot of community outreach. There are also opportunities to work with certain companies related to laparoscopic surgery and robotic surgery training.
[26:53] Biggest Myth About Colorectal Surgery
Going out of training, learning about the nuances of insurance is something she didn't expect. You really have to learn from the bottom and figure it out. This is a challenge so students need to read about it and learn. Learn from your senior partners. Erica is currently part of a multispecialty group so they have to deal with all the insurances and stuff.
One of the biggest myths about colorectal surgery that students and residents have is that they're only dealing with the anus and rectum. Colorectal surgery encompasses a lot. From a disease process standpoint, you're treating anorectal conditions and abdominal conditions and diseases. Their field has great exposure as well as great ability to treat patients and getting them to heal.
'That's ultimately why we all went to medical school to make patients better – colorectal surgery does that.'
Click To Tweet
[29:33] Most and Least Liked About the Specialty
Erica feels very happy about the field she chose as well as in her current group, having these great partners she considers as friends. She also enjoys having her patients. She enjoys having someone come into her office to be seen for pain and knowing she can help make them feel better. She enjoys taking patients who have been unfortunately diagnosed with cancer and knowing she can help them be cancer-free.
On the flip side, what she likes the least would be the challenges that come along with medicine. Insurance companies tell you that you can't get the study because the criteria have not been met. And you know that particular study is what you need to move forward to help the patient get better.
[30:40] Major Changes in the Field
Colorectal surgery, as a field, continues to grow. The robot technology is getting big in terms of how they operate patients so they can offer more minimally invasive surgeries. In the past, their patients would undergo surgery stay in the hospital for a week. Now, they have enhanced recovery protocols that help get patients out very quickly. People are no longer having NG tubes in post-op.
[32:00] Final Words of Wisdom
If she had to do it all over again, Erica says she would have chosen the same specialty as she's very happy in this field.
Finally, she wishes to tell medicals students, premeds, and residents to study hard and work hard to achieve your goals. This will help you match into a good fellowship program and ultimately get you your dream job!
Links:
Specialty Stories Episode 36: What Does Academic Colorectal Surgery Look Like?
Listen to Other Episodes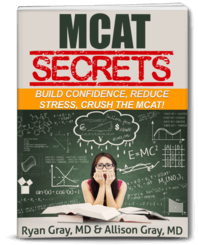 DOWNLOAD FREE - Crush the MCAT with our MCAT Secrets eBook