Congratulations! You have been invited to interview for medical school. That email popped into your inbox and you responded faster than lightning. The date is saved in your calendar and you already have your plane tickets! Now, you ask, how do I prepare for this critical part of the application process? First, you should know that medical schools have various interview styles. Some interview in groups, others individually.  Some know your grades and scores, while others just know your name.  Regardless of the types of interviews that you have, the tips listed below will help you succeed during your medical school interview.
Interview Tips
1. Be honest
I can't emphasize this enough. Medical school admissions committees want to get a sense of who you are in the short time that they spend with you. Many interviewers have already read about you and know where you're from, where you've gone to school and what volunteer work you did last summer. During your interview, they want to get a sense of WHO you are, something about your character. If they ask about why your grades slipped a little in one semester, be honest about why and use the moment as an opportunity to talk about what you learned from that experience. If they ask you what field of medicine you are interested in and you honestly don't know yet, don't make something up – just be honest and be yourself. As an applicant to medical school, you are being considered for a profession in which one's integrity is of the utmost importance.
[box type="whitestroke" pb_margin_bottom="no" width="1/1″ el_position="first last"]

Get access to our 13 video series walking you step-by-step through the medical school interview process. We'll show you what to wear, how to prepare, and more importantly, how to shine during your medical school interview! We'll show you what to do after your interview too.
[button colour="lightgrey" type="slightlyroundedarrow" size="medium" link="http://gum.co/mshqinterview" target="_self"]Get It Now![/button]
[/box]
2. Be enthusiastic
Interviewers are looking for applicants who are passionate about becoming physicians. It takes a lot of drive and dedication to become a physician over many years of hard work. You need to demonstrate this passion, drive and excitement about your chosen profession. If you keep your head down and don't make an impression, your application will most likely not either.
3. Be respectful and courteous to everyone you meet
Make sure to be kind and courteous to everyone, from the administrative staff, to students you meet, to your interviewers. As a physician, you will work as part of a team no matter what setting you are in – office practice, large academic teaching hospital, or small community hospital. On your inteview day, be gracious and demonstrate that you recognize that everyone in the admissions process plays an important part. It is not unusual for your tour guide to give feedback about you to the admissions committee; make sure the impression you give to everyone is a positive one.
4. Don't be arrogant
You may have the highest GPA in your class and the highest MCAT® score in your state, but if you come off as haughty and superior, you will likely burn bridges and destroy your chances of admission. There is a certain confidence that is required in being a physician, but don't ever mistake this for arrogance. When a physician is arrogant, he/she is more likely to make mistakes. Being a physician also requires a dedication to lifelong learning, so don't ever make the mistake of thinking that you know it all
5. Prepare answers to commonly-asked questions ahead of time
Read Medical School Interviews – 10 Commonly Asked Questions and generate answers to those questions. Ask a friend, advisor, teacher or parent to sit down with you to practice answering questions. If you have the equipment, or can borrow it, it is a great idea to record yourself answering questions. Take note of any issues with verbal pauses, anxiety, or body language.
6. Watch your body language
There is a reason everybody says "don't cross your arms." Crossing your arms communicates that you are not interested or that you are "closed off." Find something comfortable and non-distracting to do with your hands. You will typically have a portfolio with papers in it. Grabbing onto that is usually a good place to start. Just like your hands, keep your feet and legs "quiet." Nothing can be more distracting than the room shaking because you are pounding on the ground faster than Thumper. Lastly, maintain a good amount of eye contact without making your interviewer uncomfortable. Eye contact shows engagement and interest.
7. Stand out, but not with your clothes
This is a professional job interview. You Friday night dress or plaid golf pants are not appropriate for your interview. You don't have to be plain, but definitely don't go overboard. You can never be wrong with black or navy. Grey and beige are also neutral colors that are acceptable. Professional skirt suits and pant suits are both okay for women. For men, a suit presents a much more professional look than slacks and a sport coat. If you don't own a suit, there is no need to go out and buy one. There are plenty of places to rent a suit. As with women, navy blue and black are safe colors.
8. Ask questions
Make sure that you prepare a list of questions for your interviewers. You will definitely be asked whether you have any questions about the medical school you are visiting. These questions can be about anything – the curriculum, student life, research opportunities, or even the local area. This is your opportunity to show interest in this particular school. Not asking any questions makes you look disinterested.
9. Talk to current medical students
Your interview day is a one-time opportunity to get a sense of what life is like for current medical students at schools where you are applying. During the tour and your lunch break, make a point of asking students about their experiences. Don't be afraid to ask tough questions like "What don't you like about this school?" and "If you had to choose again, would you come here?" You will likely get a sense of how happy students are, and this may ultimately be a very helpful factor in your decision about where to matriculate.
10. Send thank you notes
Sending a thank you note to your interviewers is not only socially appropriate but also an opportunity to communicate with someone who may or may not choose to be your advocate on the admissions committee at a medical school where you have applied. Thanking an interviewer for his/her time and conversation regarding something unique about you, even if it's your common love of a baseball team, a rural town in the midwest, or Pomeranians, may help make you stick out in his/her mind and increase your chances of getting in. Some of the most successful interviews may consist of a 45-minute conversation about your common love for something which has nothing to do with medical school.
BONUS TIP
Leave your cell phones at home, in the hotel, in the car, or anywhere else. Just keep them out of your pockets!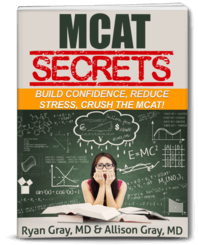 DOWNLOAD FREE - Crush the MCAT with our MCAT Secrets eBook