Session 22
What are the different types of MMI stations that you can encounter on your medical school interview day?
The MMI stands for the Multiple Mini Interview. This format is has been spreading like wildfire throughout the U.S. and Canadian medical schools. The MMI has different types of stations.
First off, did you know that our episodes in this podcast are recordings of our Facebook Live that we do at 3pm Eastern on most weekdays?
Check out our Facebook page and like the page to be notified. Also, listen to our other podcasts on MedEd Media. If you're interested in learning about different specialties, check out SpecialtyStories.com.
[00:58] The First Two Types
The Scenario Stations – You can walk into the station and read the scenario. It's usually something moral, ethical, or something where you have to communicate something to an interviewer.
Another similar type of station is where you'd be talking with an actor, who poses as a patient. The patient has issues and then you need to go in and discuss with the patient. You tell them they have cancer or you go in and discuss with an angry patient to calm them down.
The above two are both similar, but one is acting-based while the other involves discussing your thought processes with the interviewer.
[02:15] The Third Type
The third type of scenario is a very standard interview question. You encounter questions like why you want to be a physician. Or you're asked of a difficult time in your life. Or they could ask you why you want to go to this school. A lot of MMIs have this kind of station.
[03:05] The Fourth Type
This is the "teamwork" station where you're working together with another student. You'd walk in and you're given a piece of paper. You'd have to describe it to the other student who hasn't seen it or describe the picture on it. You may be reading out instructions for the other person to do it. This is to see how well how you can communicate and work together as a team.
The Lego Bricks is another popular type of station where instead of you seeing a piece of paper with a drawing on it, it's you seeing a completed Lego brick structure. Then you'd have to explain to your team mate how to put the Lego bricks together.
Links:
Medical School HQ Facebook page
Get the Podcast Free!
Listen to Other Episodes
Leave us a Review and Rating!
Just like Yelp reviews or IMDB ratings help you choose your next restaurant or movie, leaving a 5 star rating and/or a written review is very valuable to The Premed Years. It allows us to be able to share our information with more people than ever before.
I am so incredibly thankful to those who have recently gone into our listing in iTunes to provide a five start rating and a written review of The Premed Years.
Subscribe and Download
iOS/Mac/Windows – You can subscribe to the show in iTunes. Or you could manually add the RSS feed to your aggregator.
Android/Mac/Windows – You can download DoubleTwist and use that to manage all of our past and future episodes
Please help us spread the word!
If you like the show, will you please take a moment to leave a comment on iTunes? This really helps us get the word out!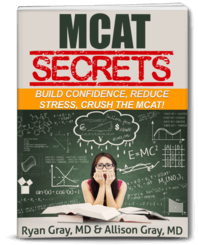 Crush the MCAT with our
MCAT Secrets eBook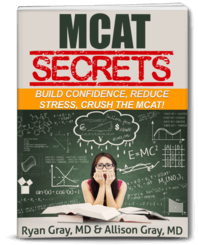 DOWNLOAD FREE - Crush the MCAT with our MCAT Secrets eBook