Session 29
Withdrawing from a class can be an easy way to get out of a bad grade. How will that W on your transcript affect your medical school application?
It's a common email I get from students asking if they can drop their classes since they're struggling with it. And they're wondering if their withdrawal will hurt their chances of getting into medical school. This is a very common concern as you're going through the process of thinking about withdrawing.
By the way, the episodes in this podcast are recordings of our Facebook Live that we do at 3pm Eastern on most weekdays. Check out our Facebook page and like the page to be notified. Also, listen to our other podcasts on MedEd Media including The MCAT Podcast.
[00:42] A C or a W?
What's going to be worse? you can get the C and then retake the class and get an A (hopefully). Then you average to a B.
Or you can take the W, retake the class and get an A and get an A average instead of the B above. You have less credits, which means your denominator is smaller. So it moves the needle a little bit more when you have more grades to add.
[01:15] Will a W Hurt You?
The answer is no, but also a yes. It's not going to hurt you if you don't have a pattern of withdrawing every semester from classes. A withdrawal is not going to hurt you. But if you have several withdrawals in your college experience (say, one during Freshmen year, one during Junior year, and Senior year), this might look fishy.
For example, you withdrew from your Organic Chemistry course at your four-year university. And then during the next semester, you took it at a community college next door. That might start to look a little fishy.
And if you did that a couple of times for all other courses that you decided to withdraw upon and take at a community college, this may also get fishy.
[02:40] Single and Multiple Withdrawals
Having a W on your application is not a huge deal unless there's a huge pattern of concern for the admissions committee members
If somebody sees a pattern, that may raise some red flags. So this may be something you want to talk about in your personal statement very briefly. If there are some health or family issues that caused you to a W and in a suspicious pattern, then talk about it.
If you have a W over a whole semester like you withdrew from every class, that may warrant talking about it in a personal statement very briefly. Maybe you have some sort of illness that caused you to withdraw.
A mono or a kissing disease is a common disease for college kids to withdraw from a semester. Or you have an issue with family? There are lots of reasons to withdraw.
[04:00] An Issue on Consistency
Having a single withdrawal, or a few or several withdrawals is not a huge deal unless you get into a consistent pattern of concern where you're withdrawing some and taking them at another school. Then there's some consistency concern of whether or not you can handle the coursework in medical school.
Ultimately, that's the biggest question. Are your transcripts showing the admissions committee members that you can handle the course work of medical school?
A single withdrawal isn't going to raise a red flag, not is a couple withdrawals. So if you're struggling with one of your classes right now, give yourself permission. Withdraw from that course. Figure out why you weren't doing well. And go back and tackle it next time and get that A.
Links:
Medical School HQ Facebook page
Get the Podcast Free!
Listen to Other Episodes
Leave us a Review and Rating!
Just like Yelp reviews or IMDB ratings help you choose your next restaurant or movie, leaving a 5 star rating and/or a written review is very valuable to The Premed Years. It allows us to be able to share our information with more people than ever before.
I am so incredibly thankful to those who have recently gone into our listing in iTunes to provide a five start rating and a written review of The Premed Years.
Subscribe and Download
iOS/Mac/Windows – You can subscribe to the show in iTunes. Or you could manually add the RSS feed to your aggregator.
Android/Mac/Windows – You can download DoubleTwist and use that to manage all of our past and future episodes
Please help us spread the word!
If you like the show, will you please take a moment to leave a comment on iTunes? This really helps us get the word out!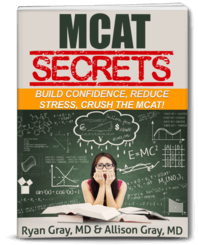 DOWNLOAD FREE - Crush the MCAT with our MCAT Secrets eBook