Session 125
The Premed Playbook: Guide to the MCAT (Kindler version) is available on Amazon. You don't have to have a Kindle to read Kindle books. If you have an iOS or Android device, Amazon makes that Kindle app for your device. Go ahead and buy the book right now for only $4.99.
The paperback version will be released soon so stay tuned! This is not a content knowledge book. But it's going to give you the information you need to know so you can better understand everything about the MCAT – when to register, how to register, getting fee assistance, how to best study for it, etc.
Questions are taken each week from the Nontrad Premed Forum. If you haven't yet, register to join in and ask away! Meanwhile, check out all our other awesome episodes on MedEd Media.
[02:00] OldPreMeds Question of the Week:
"I'm a 30-year-old community college student who's planning to transfer to UCSD (University of California San Diego). However, I'm currently doing really bad in my Calculus course, might not even pass. One option is to maybe get by with a C. Another option is to drop it and to take the W and talk to the University of California San Diego and see if they'll give me an extension. And the other option I can think of is to stay at my community college and get an A. I know I can get an A because the concepts aren't really that hard.
The reason I'm doing so poorly is that my mother just passed away and I'm taking it really hard and having trouble focusing. What should I do?"
[02:50] Take a W
Any parent passing is really hard. And I recommend that you withdraw right now. Give yourself a pass on this semester or whatever classes you're taking. Regroup, grieve, do whatever you need to do to get re-focused, however long that's going to take after your mom's passing.
With that being said, it looks like UCSD is requiring the Calculus course to transfer to UCSD. In that case, talk to them and lay everything out on the table. Then ask how they can help you. This is probably the best way to move forward with this.
"There are lots of possible options but until you figure out and talk to them what options are available, then you don't know what is."
[04:35] Getting By with a C is a Risk
Getting by with a C is just too much of a risk. If you get a D or F, that's going to hurt a lot. And UCSD might even decline you for those poor grades. So take the W. Don't worry about pushing for that C. Grieve and make sure you're okay moving forward. Make some phone calls. Talk to UCSD. Talk to the community college. Find out what your options are and move on from there.
If you're in the same situation as this student and on the verge of getting a C, D, or F, the W is always better than a very, very bad grade. One to three C's can be okay. But ideally, stay away from them. But if you have them already, it is what it is and move forward. Just try not to get it anymore.
"The W is always better than a very, very bad grade."
[05:50] When Taking a W is Good – and Bad
But if you have the option and in the middle of the course and it looks like you are going to struggle, if you have to get perfect test scores from here on out just to get a C, the most realistic scenario is you won't get perfect scores and you're not going to get that C, you're going to get a D or F. Take the W.
"Having withdrawals in your application is not a huge red flag for admissions committees."
But if you have weird withdrawals like you have a W from Organic Chemistry from your four-year university, then you take Organic Chemistry at a community college. Then you withdraw from Physics 2 from your four-year university and get Physics 2 at you community college. Then you withdraw from Biochem and so on.
So you see, if you have this pattern of withdrawing from your four-year university which medical school still considers the harder class and then you take it at an "easier' school, the community college, that is going to be questioned.
If you're home for the summer and you're taking community college courses, then that's not a problem. So take the W. It's worth it.
[07:20] Need Help with MCAT?
Again, The Premed Playbook: Guide to the MCAT is available now. This is co-written with Next Step Test Prep. And if you're looking for MCAT full-length practice exams, Next Step Test Prep is where you want to go. I've gotten feedback from students that they're the best exams after the AAMC exams. They have 10 scored exams and use the promo code MSHQ to save 10% off your full-length purchase from Next Step.
Links:
The Premed Playbook: Guide to the MCAT
Listen to Other Shows
Leave us a Review and Rating!
Just like Yelp reviews or IMDB ratings help you choose your next restaurant or movie, leaving a 5 star rating and/or a written review is very valuable to the OldPreMeds Podcast. It allows us to be able to share our information with more people than ever before.
I am so incredibly thankful to those who have recently gone into our listing in iTunes to provide a five start rating and a written review of the OldPreMeds Podcast.
Subscribe and Download
iOS/Mac/Windows – You can subscribe to the show in iTunes. Or you could manually add the RSS feed to your aggregator.
Android/Mac/Windows – You can download DoubleTwist and use that to manage all of our past and future episodes
Please help us spread the word!
If you like the show, will you please take a moment to leave a comment on iTunes? This really helps us get the word out!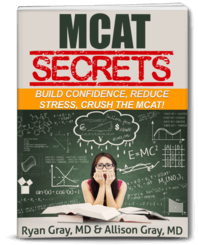 DOWNLOAD FREE - Crush the MCAT with our MCAT Secrets eBook