University of Arizona College of Medicine - Phoenix Reviews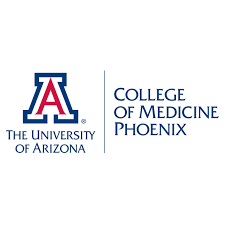 The University of Arizona College of Medicine - Phoenix is a 4-year MD-granting program that welcomed the inaugural class in 2007. The U of A College of Medicine - Phoenix is a piece of the University of Arizona Health Sciences system that leads the state in research and training of healthcare professionals. The College of Medicine emphasizes four pillars that fuel their mission and vision: education, research, clinical, and community. Students describe the school as a welcoming, friendly place of collaboration.
The University of Arizona College of Medicine – Phoenix inspires and trains exemplary physicians, scientists and leaders to optimize health and health care in Arizona and beyond. We are uniquely positioned to accelerate the biomedical and economic engines in Phoenix and the State by leveraging our vital relationships with key clinical and community partners.
- Annual High Temp: 86.7°F

- Annual Low Temp: 63.4°F

- Av. Annual Rainfall: 8.04 inch
Collaboration, Community, Diversity, Excellence, Innovation, Integrity, Servant Leadership
Overall School Ratings
Overall Experience

USMLE Step 1 Prep

Elective Rotations

Professor Support and Mentorship

Administration Responsiveness

Class Camaraderie

Research Opportunity

Residency Match Support

Diverse and Inclusive Environment

Values Balance and Wellness

Community Service Opportunity

Location and Activities in Area
How to Leave a Review
Directions: Please rank your school on the following categories with 5 being Excellent and 1 being Poor.
If you would like to add any additional comments on things such as: residency match support, early clinical exposure, accommodations for students with invisible and visible disabilities, ease of obtaining housing, clinical sites distance, resources for students with families, or other things that made your school unique, please do so below!
Comments Rating
( reviews)
OUR 5 FAVORITE MED SCHOOL APPLICATION PODCASTS