Session 93
The MSAR recently released their updated stats and it showed a big jump in average MCAT scores for matriculants and for applicants.
The data has actually been out there since December 2017. But the average MCAT score for applicants and matriculants has gone up pretty significantly from 2016-2017 application year to the last year they have the data for 2017-2018 application year.
How does this happen in just a one-year time span? Listen in as I and Bryan from Next Step Test Prep discuss this matter and dish out their theories.
But before that, The Premed Playbook: Guide to the MCAT (Kindler version) is now available on Amazon. You don't have to have a Kindle to read Kindle books. If you have an iOS or Android device, Amazon makes that Kindle app for your device. Go ahead and buy the book right now for only $4.99.
[03:00] Total MCAT Score Has Gone Up
Based on the AAMC MCAT Table A-16, the total mean MCAT score is 501.8 for 2016-2017 for all applicants. For 2017-2018, that score increased to 2.9 points to 504.7. The standard deviation is the same but how has the score gone up almost 3 points?
Bryan says it's still pretty significant for a single year when you're talking about tens and thousands of data points. But does this actually reflect an underlying improvement of students? Secondly, another thing to look at is the thing you were measuring with change. The MCAT radically changed in one year. The third possibility is statistical artifact.
Personally, I think the AAMC must be changing the scale somehow. Maybe there were passages that needed to be thrown out so they increased some scores. And that the 2018-2019 data will come back down once they've figured out those passages in this testing time period.
[05:30] Is It Just a Statistical Artifact?
Bryan points our this scenario that if an average score is 500.1 and then the next year it might be a 500.8. That would even still be a pretty big swing.
Realistically speaking, Bryan sees this as a statistical artifact. The AAMC calls this out of the bottom of Table A-16. They explicitly say that the 2016-2017 scores are not comparable to previous years. The 2017 scores are not comparable to the 2016 scores. And they call out the fact that people took the old MCAT.
Remember, MCAT scores are generally good for about three years. So if you manage to take the old MCAT in January 2015 and had a good score, surely you're not going to retake the exam.
[06:53] 510 is the New 30
So for the first couple of years, what admissions committees were looking at was that applicants with old MCAT scores that were really good. They took the old MCAT, they did great, and they held onto it and applied with it. This means that if you're going to construct an incoming class and you want their average score to be about 510. Then they're going to be taking on the old scale, the 35s, the 34s, the 37s. You're taking all the top end of the old scale. This means you're being a little more forgiving on the new test.
But now as of 2017, in this new application cycle, we've basically entirely transitioned over. The 2014's were no good anymore.
Bryan feels actually vindicated and he actually published this big blog post where 510 is the new 30. (30 on the old scale was the number everybody wanted). And he was absolutely certain that 510 was the new 30.
[08:53] Here's a Better Picture
So if an admissions committee is accepting an incoming class and you're going to take some kids with high MCAT scores (90th percentile), then those with average MCAT scores (80th percentile), and then weak MCAT scores (70th percentile). That's the typical behavior of an admissions committee.
During the two transition years, you're 90th percentile kids, were overwhelmingly kids who had good old MCAT scores. So when you took your low end of your incoming class, you were taking more new MCAT scores out of the 70s.
So for two years, the old MCAT was disproportionately represented among high scorers and the new scorers were disproportionately represented among the low scorers. And now they've made the switch. Bryan suspects the 510 is the number we see year after year.
[10:48] What Does This Tell You?
It doesn't fundamentally change the prep process. You always want to do your best and master content. Practice strategies and take practice tests. All it does is shift the calculation a bit if you feel like you're ready. So if you thought you're close to 508 so you're ready, since you're getting 506 or 507, now you might look at that and consider pushing it back and consider prepping for another few weeks.
[11:50] One More Thing to Keep in Mind!
As you go through the MSAR, the numbers that you see on each of those web pages for those schools are median numbers. That is not the average. Median means 50% of the class is above it while 50% of the class is below it. Average is different. So keep that in mind. If you are below that median number, so is 50% of the class. So it doesn't really mean much. Hence, don't look at MCAT and GPA when applying to medical schools. That goes counter to whatever every other "premed" says.
Links:
Get the Podcast Free!
Listen to Other Episodes
Leave us a Review and Rating!
Just like Yelp reviews or IMDB ratings help you choose your next restaurant or movie, leaving a 5 star rating and/or a written review is very valuable to The MCAT Podcast. It allows us to be able to share our information with more people than ever before.
I am so incredibly thankful to those who have recently gone into our listing in iTunes to provide a five start rating and a written review of The MCAT Podcast.
Subscribe and Download
iOS/Mac/Windows – You can subscribe to the show in iTunes. Or you could manually add the RSS feed to your aggregator.
Android/Mac/Windows – You can download DoubleTwist and use that to manage all of our past and future episodes
Please help us spread the word!
If you like the show, will you please take a moment to leave a comment on iTunes? This really helps us get the word out!
Don't forget to save using the promo code "MSHQ" at Next Step Test Prep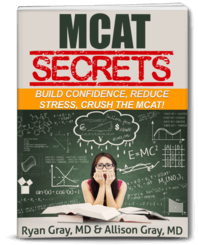 DOWNLOAD FREE - Crush the MCAT with our MCAT Secrets eBook