Session 106
The MCAT is one of the biggest beasts on the premed path. Our poster today is questioning if they should take a prep course to help them with their score.
[02:24] OldPreMeds Question of the Week:
"I just finished up my prereqs, or most anyway, going into study for Spring (April/May) MCAT while working full-time. I'm pretty overwhelmed with the course options out there and would love to hear feedback on what to invest in time and money-wise. Courses I've taken: Bio 1 and 2, Gen Chem 1 and 2, Physics 1 and 2, OChem 1 and 2, Biochem 1 semester, Cell and Molecular Bio 1 semester."
Note: One thing that I noticed missing right off the bat is Psychology and Sociology.
"I would be interested in a live online course or self-paced course. But my hesitation is the course alone will take 6-9 hours of study time out of my week, which is significant given my work and commute schedule. However, I don't know where to start making my won schedule."
[04:10] Study Time
A good course will give you the structure, the schedule, to make sure you're prepared for your test. That said, there are a couple ways to go.
First, listen to The MCAT Podcast. In one of the episodes, we covered things like you should take the course or not. We also covered study groups and how good they can be. Maybe you can find a study group to help you without a course.
The comment this poster made, specifically, "my hesitation is the course alone will take 6-9 hours of study time out of my week," seems like if you invested in a course, you're not going to really invest your time in the course because you're going to be worried about something else.
[05:10] Next Step Test Prep MCAT Course
Nevertheless, a course is a great investment if you are going to work with a course. Plan a work, work a plan. Recently, Ryan did a review of the Next Step MCAT Course, which I think is the best course available out there.
Having had a great relationship with them for the longest time, Ryan has found feedback to be overwhelmingly positive, except for their their books. Comments include typo errors and they're not very good. But they've also just updated their book. So this should no longer be a problem moving forward.
[06:10] A Study Schedule Planning Tool
Next Step Test Prep has built into their course a study schedule planning tool. Simply log in when you want to start studying for the MCAT and which days you can't study for the MCAT. You may also indicate the days you want to take your practice tests. This is the amount of time you have to study each day. And all this will allow you to generate a study schedule that you can follow.
If you fall behind one day, simply click and drag the assignment you can't complete to the next day. Then go on from there.
[07:02] Other Amazing Things You Get from Next Step's Online Course
With Next Step's online course, you also get a 100+ hours of recorded videos. You also get access to all the AAMC materials as well as Next Step's books and practice tests.
Plus, you get access to two hours of live office hours, five days a week. They will usually cover a particular subject. Sometimes it's just open Q&A and you get to ask questions. Get the benefit of having a tutor there, five days a week, two-hours blocks, everyday. Not only will you get access, but it's also a self-paced course. Hence, you get the best of both worlds.
It's also cheaper than any of the other companies. It costs $1599. Comparing it to other courses, Kaplan for instance, their base-level course is almost $2500. What's more, you get $50 off by using the promo code MSHQ.
[09:25] Final Thoughts
It sounds like this poster's plan is good. April/May for the MCAT is great. Working full-time is going to be hard. Just understand that during these several months, you're going to also need to write your personal statement, extracurriculars. You need to get your letters of recommendation done. So make sure you carve out some time for that.
If you have questions related to the MCAT or your old premed journey to becoming a physician, go to OldPreMeds.org forums. And ask away!
Links:
Next Step Test Prep (Use the promo code MSHQ to get $50 off.)
Listen to Other Shows
Leave us a Review and Rating!
Just like Yelp reviews or IMDB ratings help you choose your next restaurant or movie, leaving a 5 star rating and/or a written review is very valuable to the OldPreMeds Podcast. It allows us to be able to share our information with more people than ever before.
I am so incredibly thankful to those who have recently gone into our listing in iTunes to provide a five start rating and a written review of the OldPreMeds Podcast.
Subscribe and Download
iOS/Mac/Windows – You can subscribe to the show in iTunes. Or you could manually add the RSS feed to your aggregator.
Android/Mac/Windows – You can download DoubleTwist and use that to manage all of our past and future episodes
Please help us spread the word!
If you like the show, will you please take a moment to leave a comment on iTunes? This really helps us get the word out!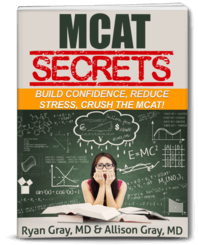 DOWNLOAD FREE - Crush the MCAT with our MCAT Secrets eBook