Session 18
In today's episode, Ryan talks with TSgt Stephanie Satinsky to discuss about the Health Professions Scholarship Program (HPSP). Stephanie is the Air Force HPSP recruiter for the New England area. Ryan could have gone through this topic by himself but he wanted to bring in someone who can discuss the program as it is at the present moment.
Today, she talks about what the HPSP is all aobut, what the Air Force is looking for during the application process, the minimum scores involved, the maximum age, money involved, and everything in between.
And by the way, know that the three services – Air Force, Army, and Navy – all offer scholarship under the same Department of Defense (DOD) guidance with some variations on what each service offers for the scholarship.  If you are interested in the scholarship, or even just starting to gather some information, please take a listen.
Here are the highlights of the conversation with Stephanie:
What is HPSP?
Two-fold benefits:
To the Air Force – growing their own physicians and forecast their healthcare network
To medical students – Relieves them of the financial burden of medical school
What the scholarship covers:
Tuition
Monthly stipend
Books and fees
Insurance
Obligations:
4 year scholarship = 4 years of active duty after residency
2-year or 3-year scholarship = 3 years of active duty after residency
1-year scholarship not offered
Internship year: General Medical Officer (GMO)
No residency
1-year internship = 4 years of active duty
Paying back your time once you start working
Going beyond normal residency length:
Internship year + additional four years (total of 5 years)
Incurring a year for year obligation
Ex. 7-year residency = additional 2 years obligation on the end of your contract
The application process:
350-450 scholarships a year (Air Force)
Rolling admissions process
Benefits of the scholarship program:
Signing bonus ($20,000) for a 4-year scholarship
When to apply:
Apply early but not so early that you still don't have your MCAT score yet and running the risk of your physical exams getting expired
It takes 3 months to get a physical exam completed and cleared
Health restrictions:
Google 48-123. Go to chapter 5 and see all the restrictions.
Once you take and accept the scholarship:
Being commissioned as 2nd Lt. right away.
What's next?
Commissioned Officers Training (COT)
Commissioned Officers Training (COT)
A 45-day basic training in a leadership school (Ryan calls it bootcamp with maids)
An opportunity to introduce yourself to the Air Force
Gaining a better understanding what you're wearing the uniform for and what you're doing this for
Age requirement:
Prior to 35th birthday (although they can sign a waiver)
Finishing medical school by 39 years old
Minimum grade requirements:
Minimum GPA – 3.0
Minimum MCAT – 22
Residency matching:
Applying to military matching before the civilian MD/DO matches and applying concurrently as well
Once accepted into a military facility, you need to pull out of the civilian match
Applying for 1-2 specialties
80-85% of people will match (Specialty and location)
15% who don't match do internship year and reapply on the match
Reapplying the 2nd time and not matching results to a GMO tour (flight surgeon)
Some pieces of advice for premed students:
Don't do it for the money. At the end of the day, if you're not interested in being a member of the Air Force, you're going to be unhappy.
It might not be for everyone, but you won't know until you start looking into it and ask questions. This could open up a whole different career for you as you're touching lives not only in the US but around the world.
Links and Other Resources:
Listen to Ryan on the Lost in PreMed Podcast as he talks a little about this topic
Health Restrictions on Chapter 5 of 48-123
Air Force Commissioned Officer Training
Medical Requirements – Air Force Instruction 48-123 (Search for "5.3. Standards")
If you need any help with the medical school interview, go to medschoolinterviewbook.com. Sign up and you will receive parts of the book so you can help shape the future of the book. This book will include over 500 questions that may be asked during interview day as well as real-life questions, answers, and feedback from all of the mock interviews Ryan has been doing with students.
Are you a nontraditional student? Go check out oldpremeds.org.
For more great content, check out www.mededmedia.com for more of the shows produced by the Medical School Headquarters including the OldPremeds Podcast and watch out for more shows in the future!
Free MCAT Gift: Free 30+ page guide with tips to help you maximize your MCAT score and which includes discount codes for MCAT prep as well.
Hang out with us over at medicalschoolhq.net/group. Click join and we'll add you up to our private Facebook group. Share your successes and miseries with the rest of us.
Check out our partner magazine, www.premedlife.com to learn more about awesome premed information.
Next Step Test Prep: Get one-on-one tutoring for the MCAT and maximize your score. Get $50 off their tutoring program when you mention that you heard about this on the podcast or through the MSHQ website. Check out their 10-full length practice tests and save 10% using the code "MSHQ".
Listen to our podcast for free at iTunes: medicalschoolhq.net/itunes and leave us a review there!
Email Ryan at ryan@medicalschoolhq.net or connect with him on Twitter @medicalschoolhq
Subscribe for Free
Listen to Other Episodes
Leave us a Review and Rating!
Just like Yelp reviews or IMDB ratings help you choose your next restaurant or movie, leaving a 5 star rating and/or a written review is very valuable to The Premed Years. It allows us to be able to share our information with more people than ever before.
I am so incredibly thankful to those who have recently gone into our listing in iTunes to provide a five start rating and a written review of The Premed Years.
Subscribe and Download
iOS/Mac/Windows – You can subscribe to the show in iTunes. Or you could manually add the RSS feed to your aggregator.
Android/Mac/Windows – You can download DoubleTwist and use that to manage all of our past and future episodes
Please help us spread the word!
If you like the show, will you please take a moment to leave a comment on iTunes? This really helps us get the word out!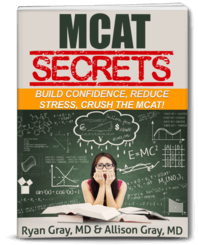 Crush the MCAT with our
MCAT Secrets eBook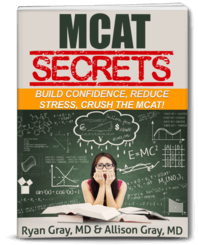 DOWNLOAD FREE - Crush the MCAT with our MCAT Secrets eBook