Session 26
In today's episode, Ryan talks with Patrick and Jonathan, both 3rd year DO medical students at Touro College of Osteopathic Medicine. They wrote A Brief Guide to Osteopathic Medicine – For Students, By Students, which is published on AACOM. They wrote this guide to provide valuable information about osteopathic medicine, about what it is, and the different myths of osteopathic medicine that are currently circulating around, which they will discuss on the show today.
Here are the highlights of the conversation with Jonathan and Patrick:
Jonathan's path to medicine:
Applying to both MD and DO schools
Choosing the schools to apply to based on location and price
Patrick's path to medicine:
Majoring in microbiology
Applying to both MD and DO schools
Doing a dual degree in MD/MPH
Reactions among friends and families about going to osteopathic medical school:
Jonathan's family recommending he go to medical school overseas or wait a year
Patrick's family was supportive
Reasons for writing the guide:
To be a tangible, accessible, user-friendly resource to educate people about what DO is and osteopathic medical school in general after seeing the gap they've experienced
Resources they used to help them with the application:
Patrick getting help from his sister (already in medical school)
Friends
Premedical fraternities
Their experience with SDN:
Getting into the forums related to the medical field
A diversity that its greatest strength becomes its greatest weakness
Coming with a lot of misinformation, rumors, and myths especially about the DO profession
A lot of putting down and animosity because of the anonymity (people hiding behind their nicknames)
The negative mentality about DO schools:
The DO schools as second choice
What makes the DO different from MD schools:
OMT (Osteopathic Manipulative Therapy)
Philosophical distinction
*But there is an overlap between MD and DO
The 6 Myths of Osteopathic Medicine:
DOs are not real doctors.
DOs have limited practice rights.
Osteopathic medicine is a drugless form of medicine.
DOs are similar to chiropractors.
DOs are just doctors who couldn't get into MD schools.
"Osteopaths" are the same thing as "osteopathic physicians."
A push to change the degree name in 2010 to MD/DO
Ryan's opinion is for DO sticking to primary care specialty while Patrick respectfully disagreeing with it
Jonathan says compartmentalizing each aspect of medicine id difficult because it's necessary to integrate everything
Being an MD wanting to learn OMM:
Schools like Harvard have integrated medicine course that teaches OMM to MDs
OMM is not meant to be the best kept secret of medicine
Merging MD and DO residency programs for dual accreditation:
All residency programs being held to the same standard
Some pieces of advice for premed students:
Just by adding a little force here and there, keeping certain parts of the body in certain position, you can actually change someone's physiology, pain, range of motion, and local functioning. That's how powerful the body's self-healing capability is. One of the tenets of osteopathic philosophy is that the body heals itself.
Education is key. Make an informed decision for yourself.
Links and Other Resources:
Touro College of Osteopathic Medicine
California of Family Practitioners
Brief Guide to Osteopathic Medicine
Name Change Push of DO to MD, DO
Harvard Medical School OMT Course – As of 2016-03-25 – It doesn't look like this course is offered
Patrick also gave us a list of other OMT courses:
Training Opportunities in Physical Medicine
If you need any help with the medical school interview, go to medschoolinterviewbook.com. Sign up and you will receive parts of the book so you can help shape the future of the book. This book will include over 500 questions that may be asked during interview day as well as real-life questions, answers, and feedback from all of the mock interviews Ryan has been doing with students.
Are you a nontraditional student? Go check out oldpremeds.org.
For more great content, check out www.mededmedia.com for more of the shows produced by the Medical School Headquarters including the OldPremeds Podcast and watch out for more shows in the future!
Free MCAT Gift: Free 30+ page guide with tips to help you maximize your MCAT score and which includes discount codes for MCAT prep as well.
Hang out with us over at medicalschoolhq.net/group. Click join and we'll add you up to our private Facebook group. Share your successes and miseries with the rest of us.
Check out our partner magazine, www.premedlife.com to learn more about awesome premed information.
Next Step Test Prep: Get one-on-one tutoring for the MCAT and maximize your score. Get $50 off their tutoring program when you mention that you heard about this on the podcast or through the MSHQ website. Check out their 10-full length practice tests and save 10% using the code "MSHQ".
Listen to our podcast for free at iTunes: medicalschoolhq.net/itunes and leave us a review there!
Email Ryan at ryan@medicalschoolhq.net or connect with him on Twitter @medicalschoolhq
Subscribe for Free
Listen to Other Episodes
Leave us a Review and Rating!
Just like Yelp reviews or IMDB ratings help you choose your next restaurant or movie, leaving a 5 star rating and/or a written review is very valuable to The Premed Years. It allows us to be able to share our information with more people than ever before.
I am so incredibly thankful to those who have recently gone into our listing in iTunes to provide a five start rating and a written review of The Premed Years.
Subscribe and Download
iOS/Mac/Windows – You can subscribe to the show in iTunes. Or you could manually add the RSS feed to your aggregator.
Android/Mac/Windows – You can download DoubleTwist and use that to manage all of our past and future episodes
Please help us spread the word!
If you like the show, will you please take a moment to leave a comment on iTunes? This really helps us get the word out!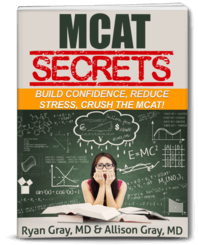 DOWNLOAD FREE - Crush the MCAT with our MCAT Secrets eBook