Session 27
In today's episode, Ryan talks Liza Thompson, a former director of the postbac programs at both Goucher College and Johns Hopkins with over 20 years of experience. She currently runs Thompson Advising, an advising company for medical school applicants and postbac applicants.
Liza is an expert when it comes to nontraditional students and postbac programs which are the points of discussion for today's episode, specifically what exactly is a postbac program, the different types of postbac programs, and do-it-yourself (DIY) postbac programs, and most importantly, why highlighting your nontraditional path in your application is key to your success.
Here are the highlights of the conversation with Liza:
Liza's background in postbac premed programs:
Started working with nontraditional premed students 20 years ago
Coming across older students who are the typical career-changers back then
In the last 7-10 years, the applicant pool to postbac programs have shifted to younger students
What is a postbac program?
A program designed for people who are either in the later part of college but later decide to go to medical school or people who are premeds that stumbled through undergrad and need more courses to build up their resume
Formal postbac programs offer students the coursework needed to get into medical school
Some programs have "linkage" agreements with various medical schools so they can fast-track their way to medical school.
Who is the typical postbac student?
Career-changer who didn't know they wanted to be a physician in their undergrad career
Premed student who stumbled through undergrad and needs more courses to build up their resume
Who is a nontraditional medical school applicant?
Coming from many different fields and many undergrad disciplines
Usually older than a typical medical school applicant
Mostly humanities majors who have degrees in arts, history, English, psychology, economics, religion, etc.
Career-changers who have been in their previous careers for 10 or more years
For some various reasons (experiencing a friend's or family member's illness or death or witnessing a world event such as the 9/11), they decide to go to medical school
3 Traits of Non-Trads:
Typically Older
Typically Non-Science Majors
Typically Prior Successful Career
How medical schools view nontraditional students:
Those who have been successful in their previous careers are viewed very favorably
Those trying to find the correct path for them can be just as successful
They have to get experience in medicine to prove to themselves that they are suited to the profession, they're comfortable with patients, and dedicated
The need for motivation to help them get through really different coursework and serious clinical work
Getting shadowing/volunteering experience as a nontrad:
Contact your local hospital and volunteer office.
Find a place that will give you an option to shadow outside business hours so you can do it at night.  (Hospitals are open 24/7 versus clinics)
You need a shadowing/volunteering experience to really find out if this is something that you like.
Where do you get the information or advising you need?
Contact the premed advising office at your undergraduate institution.
Types of postbac programs:
Formal postbac programs
Structured curriculum where you get everything you need to get into medical school
Usually one-year intensive program
Advising and MCAT prep
Many have linkages to medical schools
Record-enhancing postbac program/ Career-changer postbac program
DIY postbac programs
Certificate Granting postbac Programs
They give you a certificate once you finish a coursework (Doesn't matter whether you get a certificate or not. Medical schools don't care.)
The biggest goals of postbac programs:
Challenge you in the sciences to prove that you can handle medical school coursework and get the prerequisites you need
To prepare you for the MCAT
The downside of spreading out your postbac over a period of years:
One-year intensive program proves to medical schools that you can handle it
Spreading it out over a number of years might not prove to medical schools that you can handle a heavy load of classes
What postbac programs are looking for in applicants:
Strong academic record in the undergrad level
Whether you're a fit to their environment
Passion and dedication (need not be related to medicine)
Strong history of community service
Highlighting the non-traditional path:
Medical schools look for diversity. Whatever you did before sets you apart in the medical school application process
Think about the skills you learned from your prior career that you can transfer to medicine
Pull everything together in a personal statement
Links and Other Resources:
University of Maryland Science in the Evening Program
Session 11 – Kate (56-year-old MS3)
If you need any help with the medical school interview, go to medschoolinterviewbook.com. Sign up and you will receive parts of the book so you can help shape the future of the book. This book will include over 500 questions that may be asked during interview day as well as real-life questions, answers, and feedback from all of the mock interviews Ryan has been doing with students.
Are you a nontraditional student? Go check out oldpremeds.org.
For more great content, check out www.mededmedia.com for more of the shows produced by the Medical School Headquarters including the OldPremeds Podcast and watch out for more shows in the future!
Free MCAT Gift: Free 30+ page guide with tips to help you maximize your MCAT score and which includes discount codes for MCAT prep as well.
Hang out with us over at medicalschoolhq.net/group. Click join and we'll add you up to our private Facebook group. Share your successes and miseries with the rest of us.
Check out our partner magazine, www.premedlife.com to learn more about awesome premed information.
Next Step Test Prep: Get one-on-one tutoring for the MCAT and maximize your score. Get $50 off their tutoring program when you mention that you heard about this on the podcast or through the MSHQ website. Check out their 10-full length practice tests and save 10% using the code "MSHQ".
Listen to our podcast for free at iTunes: medicalschoolhq.net/itunes and leave us a review there!
Email Ryan at [email protected] or connect with him on Twitter @medicalschoolhq
Subscribe for Free
Listen to Other Episodes
Leave us a Review and Rating!
Just like Yelp reviews or IMDB ratings help you choose your next restaurant or movie, leaving a 5 star rating and/or a written review is very valuable to The Premed Years. It allows us to be able to share our information with more people than ever before.
I am so incredibly thankful to those who have recently gone into our listing in iTunes to provide a five start rating and a written review of The Premed Years.
Subscribe and Download
iOS/Mac/Windows – You can subscribe to the show in iTunes. Or you could manually add the RSS feed to your aggregator.
Android/Mac/Windows – You can download DoubleTwist and use that to manage all of our past and future episodes
Please help us spread the word!
If you like the show, will you please take a moment to leave a comment on iTunes? This really helps us get the word out!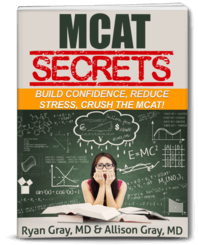 DOWNLOAD FREE - Crush the MCAT with our MCAT Secrets eBook