Session 44
In today's episode, Ryan talks with Tony Sozzo for the second time on the show as they shed light on paying back medical school loans specifically about different options for loan repayments, what it means to your bottom line and your bank account at the end of the day, the pros and cons, and some things you need to consider.
You may not appreciate the topic for now but this can come handy eventually. You need to understand what it's like on the other side of medical school as you're paying back several hundred thousand dollars worth of student loans.
Ultimately, Tony strongly advises that no matter what you do, allow yourself to have as many options possible at the end of the day.
Here are the highlights of the conversation with Tony:
The average debt medical students have:
$170,000 for medical schools as a whole
$185,000 – 190,000 for private schools
Average residency salary:
$50,000-$55,000 (depending on location)
Why is it so expensive to go to medical school?
Equipment
Simulated patients (Harvey)
Pay for good instructors/professors
2/3 of the money goes to educational instruction
Choosing medical schools based on tuition:
You have to go deeper than that. A $10,000-difference over the course of your lifetime isn't going to make that much of a difference.
Instead, look into these considerations:
Match list
Safety
Comfort
The school's philosophy and culture
For any type of repayment plan you choose, have a lot of options. Options make it work!
Repayment plan options:
First three are time-driven:
How much debt do you have?
How long are you going to repay it back?
We'll figure out the monthly payment.
For example, you have a debt of $170,000 and you want to pay it over a period of 10 years (120 months), you will have a very high monthly payment. Extend that to 25-30 years, you have lower the monthly payment because it's stretched out.
Here's a better picture:
If you choose a 10 year repayment plan for $170,000 @ 6.8%, you'll pay:
$1,956.37 – Monthly Principal & Interest
$234,763.87 – Total of 120 Payments
$64,763.87 – Total Interest Paid
If you choose a 25 year repayment plan for the same $170,000 @ 6.8%, you'll pay:
$1,179.92 – Monthly Principal & Interest
$353,976.77 – Total of 300 Payments
$183,976.77 – Total Interest Paid
The pro of a 10-year plan:
Cheapest plan where you're leaving your money out there only for 10 years with compounded interest
With the 25-year plan, more interest is added even if you have lower monthly payment
Now, picture this scenario:
Medical school debt: $170,000
Period: 10 years
Monthly principal and interest: Around $2,000/month payment
Consider your income:
The average residency salary: $50,000
After withholdings: $3,400/month
Subtract that with rent, utility bills, insurance, food, cars, gasoline…
How much do you have left?
Other existing, older repayment plans
Graduated plans
Graduated plan is when you're paying so much for months or a year, it goes up a little next two years and then the next. (Balloon Mortgage)
Standard/graduated plans are more challenging for you live off of
ICR (Income Contingent)
Private loans: Ask your lender what options you have for deferment after you graduate
Newer payment plans:
Income-based repayment plans/Income-driven plans/Pay-As-You-Earn
They look at your discretionary income assuming only small percentages of that and deriving your monthly payment
Major qualification: Partial financial hardship (if your loan amount far exceeds 10%-20% of your income
So how much do you have to pay for per month if you opt for the income-derived plans?
20% plan: $642/month
15% plan: $410/month
Pay-As-You-Earn: $273/month
*Remember, this is based on your income so if your income increases, the exact amount may vary.
Benefits of the newer repayment plans:
Gives you breathing room with modest loan repayments
*These are all U.S. Government plans and only apply to the government or federal student loans
Loan forgiveness:
With some of the plans, the government will forgive your debt after a certain number of payments, which is great! However, you might be taxed on the difference though.
Benefits of Federal loans:
They are better because of the safety and protection
They don't capitalize the interest while you're in school
They have loan forgiveness plans
The "public service loan forgiveness" plan:
Doesn't have to be consecutive
At least 30 hours a week in the not-for-profit
When preparing to go on your interviews, ask two questions:
Are you a not-for-profit?
Who will pay me?
*Around 80%-90% of hospitals are not-for-profit
What happens to U.S. medical school graduates not getting residency spots?
They have protections.
In-school deferments
Forbearance (doesn't hurt your credit and buys you time for about 6 months)
Employment deferment
Tony recommends to go into one of these income plans. You would have no income so they would give you a zero payment and the months would still count.
Some pieces of advice for premed students:
Allow yourself to have as many options at the end of the day.
Stay with federal student loans over private loans to have more flexibility.
Be more mindful of your credit card debt. Use credit cards wisely. Use them for emergencies. They are not a lifestyle!
Talk to a tax expert and a financial planner to determine what's best for you.
Links and Other Resources:
Session 21: Medical School Financial Planning Expert Interview
Federal Student Aid – Understanding Repayment Plans
Federal Student Aid – Repay Your Loans
Save $225 on the Princeton Review's MCAT Ultimate or MCAT Self-Paced Prep Course through March 30th 2016 by going to www.princetonreview.com/podcast
If you need any help with the medical school interview, go to medschoolinterviewbook.com. Sign up and you will receive parts of the book so you can help shape the future of the book. This book will include over 500 questions that may be asked during interview day as well as real-life questions, answers, and feedback from all of the mock interviews Ryan has been doing with students.
Are you a nontraditional student? Go check out oldpremeds.org.
For more great content, check out www.mededmedia.com for more of the shows produced by the Medical School Headquarters including the OldPremeds Podcast and watch out for more shows in the future!
Free MCAT Gift: Free 30+ page guide with tips to help you maximize your MCAT score and which includes discount codes for MCAT prep as well.
Hang out with us over at medicalschoolhq.net/group. Click join and we'll add you up to our private Facebook group. Share your successes and miseries with the rest of us.
Check out our partner magazine, www.premedlife.com to learn more about awesome premed information.
Next Step Test Prep: Get one-on-one tutoring for the MCAT and maximize your score. Get $50 off their tutoring program when you mention that you heard about this on the podcast or through the MSHQ website.
Listen to our podcast for free at iTunes: medicalschoolhq.net/itunes and leave us a review there!
Email Ryan at ryan@medicalschoolhq.net or connect with him on Twitter @medicalschoolhq
Subscribe for Free
Listen to Other Episodes
Leave us a Review and Rating!
Just like Yelp reviews or IMDB ratings help you choose your next restaurant or movie, leaving a 5 star rating and/or a written review is very valuable to The Premed Years. It allows us to be able to share our information with more people than ever before.
I am so incredibly thankful to those who have recently gone into our listing in iTunes to provide a five start rating and a written review of The Premed Years.
Subscribe and Download
iOS/Mac/Windows – You can subscribe to the show in iTunes. Or you could manually add the RSS feed to your aggregator.
Android/Mac/Windows – You can download DoubleTwist and use that to manage all of our past and future episodes
Please help us spread the word!
If you like the show, will you please take a moment to leave a comment on iTunes? This really helps us get the word out!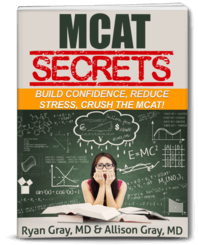 Crush the MCAT with our
MCAT Secrets eBook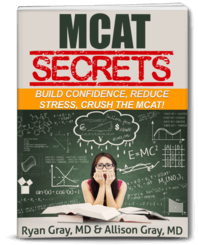 DOWNLOAD FREE - Crush the MCAT with our MCAT Secrets eBook