Session 63
In today's episode, Ryan talks with Dr. Mark Kauffman, the Assistant Dean of Graduate Studies at Lake Erie College of Osteopathic Medicine (LECOM), who was previously a PA. If you're a student struggling with the decision of whether you should be a doctor, go to medical school and give up 4 years of your life, 3 years of residency, plus the debt that comes with it versus taking a PA program and then going straight out in the workforce with less debt, then this episode is surely worth listening to.
Learn from Mark as he made his leap from being a PA to going to medical school and now working at LECOM where they offer an impressive 3-year medical school program LECOM for current PA's who want to go back to medical school.
Here are the highlights of the conversation with Mark:
Mark's initial path to medicine:
Wanted to become a doctor since he was a kid
Having doubts and fears about going to medical school
His dad finding the PA profession for him
His thought that he can always do more later even if he does the PA route
Mark's PA journey and his switch to medical school route:
Working as a PA in pediatric transplant surgery at the Children's Hospital in Pittsburgh
Having the desire to fully accept the challenges and disappointments and to be recognized for the services he was providing
Contacting the schools and scheduling his interviews
Getting his acceptance in Lake Erie College so he canceled his other interviews
The PA practice versus physician practice:
Lack of pathophysiology in PA
Full autonomy as a physician
When to consider being a PA:
If you don't want to have the expense of medical school
If you want less commitment at the end of the day
If you want more flexible responsibilities
Specialty limitations of a PA:
You can do anything under the scope of your practicing physician
Your residency is like a work in training
3 common reasons for PA's to go back to medical school:
Increase depth of knowledge
Autonomy
Ability to do more for their patients
2 things that stop PA's from going back to medical school:
Expense
Time away from clinical practice
Lake Erie's special program for PA's:
Mark took a Master's in Medical Education course
Part of his curriculum was a thesis in developing curriculum
Brought his knowledge in both PA curriculum and medical school curriculum together
Mark's proposal of a 3-year accelerated pathway where PA gets to keep their DO degrees in 3 years instead of 4
In PA curriculum, only 50% of colleges require organic chemistry while 7% of colleges require physics
Developing the curriculum in a 3-year format:
Shortening their clinical rotations
No need for electives and selectives
No vacation
Accelerating their clinical years to allow them to do it in a 3-year format
A brief overview of their 3-year program:
12 seats per year (6 seats reserved for primary care applicants while the other 6 seats are undeclared which means you can do any osteopathic residency)
Some pieces of advice for premed students:
The PA career is a career as a mid-level practitioner. Do not use a PA program just as a stepping stone. But if you want get the medical knowledge before you come in as a premed program, go for it.
Have a knowledge of patient care in clinical setting. Get exposed to shadowing and find a place where you can become a scribe.
Links and Other Resources:
If you are currently a PA, check out LECOMs Accelerated Physician Assistant Pathway.
Lake Erie College of Osteopathic Medicine
LECOM Accelerated Physician Assistant Pathway (APAP)
If you need any help with the medical school interview, go to medschoolinterviewbook.com. Sign up and you will receive parts of the book so you can help shape the future of the book. This book will include over 500 questions that may be asked during interview day as well as real-life questions, answers, and feedback from all of the mock interviews Ryan has been doing with students.
Are you a nontraditional student? Go check out oldpremeds.org.
For more great content, check out www.mededmedia.com for more of the shows produced by the Medical School Headquarters including the OldPremeds Podcast and watch out for more shows in the future!
Free MCAT Gift: Free 30+ page guide with tips to help you maximize your MCAT score and which includes discount codes for MCAT prep as well.
Hang out with us over at medicalschoolhq.net/group. Click join and we'll add you up to our private Facebook group. Share your successes and miseries with the rest of us.
Check out our partner magazine, www.premedlife.com to learn more about awesome premed information.
Next Step Test Prep: Get one-on-one tutoring for the MCAT and maximize your score. Get $50 off their tutoring program when you mention that you heard about this on the podcast or through the MSHQ website.
Listen to our podcast for free at iTunes: medicalschoolhq.net/itunes and leave us a review there!
Email Ryan at ryan@medicalschoolhq.net or connect with him on Twitter @medicalschoolhq
Subscribe for Free
Listen to Other Episodes
Leave us a Review and Rating!
Just like Yelp reviews or IMDB ratings help you choose your next restaurant or movie, leaving a 5 star rating and/or a written review is very valuable to The Premed Years. It allows us to be able to share our information with more people than ever before.
I am so incredibly thankful to those who have recently gone into our listing in iTunes to provide a five start rating and a written review of The Premed Years.
Subscribe and Download
iOS/Mac/Windows – You can subscribe to the show in iTunes. Or you could manually add the RSS feed to your aggregator.
Android/Mac/Windows – You can download DoubleTwist and use that to manage all of our past and future episodes
Please help us spread the word!
If you like the show, will you please take a moment to leave a comment on iTunes? This really helps us get the word out!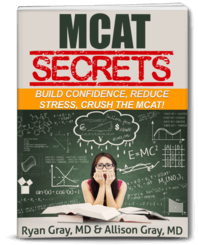 Crush the MCAT with our
MCAT Secrets eBook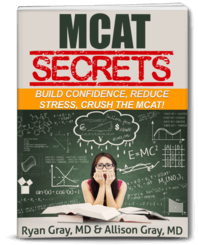 DOWNLOAD FREE - Crush the MCAT with our MCAT Secrets eBook