Session 136
Our guest today is Bailey, a medical scribe recruiter at Elite Medical Scribes. Bailey is in-charge of finding students to feel scribe positions. In this episode, we talk about what a scribe is, what they do, who makes a successful scribe, what this company is looking for, and all that jazz. Based in Bloomington, Minnesota, Elite Medical Scribes is located in 27 states where they focus more regionally.
Now perhaps you will find out from this episode why being a scribe is one of the best premed experiences that you can have. Not only will you get paid, but you get exposure to the medical field and some physicians as well as start building relationships and finding mentors.
Here are the highlights of the conversation with Bailey:
Working with Elite Medical Scribes:
Hiring individuals looking to get into healthcare field and get more hands-on experience
Works closely with college advisers
What is a scribe?
A doctor assistant working closely with medical providers to maintain and create the patient's medical record and documenting them.
Keeping track of labs and radiology
Allows physicians to focus solely on the patient with less distractions of the EMR (electronic medical record) system
What makes a good scribe?
Passion for the medical field
Can handle stressful situations well
Eager to learn
Highly motivated, attentive, and paying attention to detail
Very confident
Other qualifications they're looking for:
Past experience (volunteering)
Membership in organizations and status
Classes they're taking
Candidates for a scribe:
Premed college students
All candidates who want to get their foot in the door (including adults)
On flexibility:
Depending on the setting of the scribe program
Possible scribe settings:
ER
Orthopedic location
Outpatient locations
Operating rooms
Training involved:
11 online modules (discussion calls with trainors)
5 onsite one-on-one progressive training
The hardest part of being a scribe:
Big learning curve and the ability to handle stress
The opportunity to get shadowing opportunities
Success stories of scribes that have helped them to get into medical school
Building a network of medical providers early
Gaining mentors you can have for a lifetime
Advancement opportunities:
T-scribe position (full time)
Implementation specialist (entails traveling across the country; with paid travel and accommodation)
What makes being a scribe better than volunteering or shadowing
Interacting with premed clubs at universities so they can set up at your college!
If you want to find out how to become a scribe, visit their website www.elitemedicalscribes.com or email them at jobs@elitemedicalscribes.com and see if they have a location and reach out to them!
Links and Other Resources:
Check out Old Premeds at www.oldpremeds.org and join a community of like-minded, non-traditional students
Free MCAT Gift: Free 30+ page guide with tips to help you maximize your MCAT score and which includes discount codes for MCAT prep as well.
Get us free on your device. Subscribe and listen to new episodes each week. Visit www.medicalschoolhq.net/listen
Hang out with us over at medicalschoolhq.net/group. Click join and we'll add you up to our private Facebook group. Share your successes and miseries with the rest of us.
Listen to our podcast for free at iTunes: medicalschoolhq.net/itunes and leave us a review there!
We are also on Android! Listen to us using your Android device clicking on the Android icon right in our homepage. https://medicalschoolhq.net/
Email me at ryan@medicalschoolhq.net or connect with me on Twitter @medicalschoolhq
Subscribe for Free
Listen to Other Episodes
Leave us a Review and Rating!
Just like Yelp reviews or IMDB ratings help you choose your next restaurant or movie, leaving a 5 star rating and/or a written review is very valuable to The Premed Years. It allows us to be able to share our information with more people than ever before.
I am so incredibly thankful to those who have recently gone into our listing in iTunes to provide a five start rating and a written review of The Premed Years.
Subscribe and Download
iOS/Mac/Windows – You can subscribe to the show in iTunes. Or you could manually add the RSS feed to your aggregator.
Android/Mac/Windows – You can download DoubleTwist and use that to manage all of our past and future episodes
Please help us spread the word!
If you like the show, will you please take a moment to leave a comment on iTunes? This really helps us get the word out!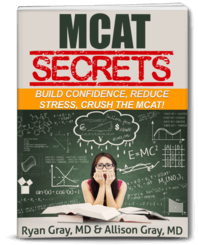 Crush the MCAT with our
MCAT Secrets eBook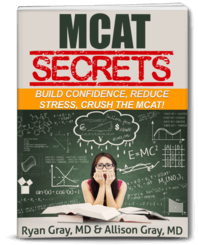 DOWNLOAD FREE - Crush the MCAT with our MCAT Secrets eBook