Session 170
In this episode, Ryan talks with Brad, a nontraditional student who comes from the PA world and is now a first year medical student. Today, Brad shares about his amazing journey, why he decided to take the PA route and then finally decide to switch his path to medical school.
Here are the highlights of the conversation with Brad:
When Brad decided to become a physician:
Wanting to be a physician as a young boy
In undergrad, he took the Emergency Medicine Program
A year after college. he went to PA school
Realizing he was not fulfilled so decided to go to medical school
Brad worked as PA for 5 years
Take the PA route if you:
Enjoy clinical medicine
Are okay not always being a top dog
Are okay not having the physiological and pathological "why's" to what's going on with your patient
Why the switch to take the medical school route:
Having the desire to know more "why" about what's going on with the patients
Having the full experience
When he wanted to start a system-based program, it requires a physician champion to get it going and spearhead it
Factors that got Brad derailed from the premed:
Realizing he had to take classes or a semester in Physics and organic chemistry
Getting a D in organic chemistry the first time, a F the 2nd time, and A the 3rd time
Getting a C- in physics the first time, W the 2nd time, and A the 3rd time
Working at night while going to school in 2007
One question asked when applying to PA school is why you want to be a PA and not a nurse, a nurse practitioner, or physician.
The differences between PA and physician:
In the urgent care center, no physician on site but has electronic communication with them. The PA takes care of the patients
If you want to come up with a treatment plan, you need to be a physician in order to back up your point of view.
Autonomous service for the patients but as a PA, you're not the one leading the surgery or making final decisions on rounds in the ICU.
If you want to be heavily involved in patient care, procedures, and being clinically confident, and more in charge, go to medical school.
The supervising physician is the overarching leader at the end of the day.
On the PA side of things:
Exposure to the whole gamut of patients
No limitation on patient care depending on the kind of job you seek out
2 years of school
Strategies Brad took to be successful in the medical school application:
Having a mentor
Contacting the admissions office occasionally
Forming relationships
How broadly did Brad apply:
Applying within the New York, New Jersey, Pennsylvania, Connecticut area and Pittsburgh
Applying to 25-30 medical schools
How Brad got his acceptance:
Doing well in the boards and classes
Applying early decision and getting nothing
Applying to DO school
Getting placed on the waitlist
Sending a letter of intent every two months to send an update
Getting a call by the end of June
Can you tell a medical school you're applying to that you got an acceptance from a different school?
Yes. Let them know that you're in demand so they will take another look at you.
Some pieces of advice for premed students:
If you truly, in your heart, want to be a physician and that is your path, that is your destiny, you will always want to be a physician no matter what you do. It's not going to go away.
Form relationships. Meet everybody. There are thousands of people applying to medical school. Unless you make yourself known, you're a number.
Stay persistent if you really want to be a physician. Send update letters moderately. Have a person to talk to and form relationships with them.
Links and Other Resources:
Session 11: Interview with a 56-Year Old Medical Student
Session 74: 1st Year of Medical School For A Non-Trad Premed
If you need any help with the medical school interview, go to medschoolinterviewbook.com. Sign up and you will receive parts of the book so you can help shape the future of the book. This book will include over 500 questions that may be asked during interview day as well as real-life questions, answers, and feedback from all of the mock interviews Ryan has been doing with students.
Are you a nontraditional student? Go check out oldpremeds.org.
For more great content, check out www.mededmedia.com for more of the shows produced by the Medical School Headquarters including the OldPremeds Podcast and watch out for more shows in the future!
Next Step Test Prep: Get one-on-one tutoring for the MCAT and maximize your score. Get $50 off their tutoring program when you mention that you heard about this on the podcast or through the MSHQ website.
Free MCAT Gift: Free 30+ page guide with tips to help you maximize your MCAT score and which includes discount codes for MCAT prep as well.
Hang out with us over at medicalschoolhq.net/group. Click join and we'll add you up to our private Facebook group. Share your successes and miseries with the rest of us.
Check out our partner magazine, www.premedlife.com to learn more about awesome premed information.
Listen to our podcast for free at iTunes: medicalschoolhq.net/itunes and leave us a review there!
Email Ryan at ryan@medicalschoolhq.net or connect with him on Twitter @medicalschoolhq
Subscribe for Free
Listen to Other Episodes
Leave us a Review and Rating!
Just like Yelp reviews or IMDB ratings help you choose your next restaurant or movie, leaving a 5 star rating and/or a written review is very valuable to The Premed Years. It allows us to be able to share our information with more people than ever before.
I am so incredibly thankful to those who have recently gone into our listing in iTunes to provide a five start rating and a written review of The Premed Years.
Subscribe and Download
iOS/Mac/Windows – You can subscribe to the show in iTunes. Or you could manually add the RSS feed to your aggregator.
Android/Mac/Windows – You can download DoubleTwist and use that to manage all of our past and future episodes
Please help us spread the word!
If you like the show, will you please take a moment to leave a comment on iTunes? This really helps us get the word out!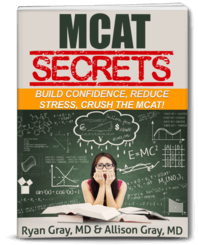 Crush the MCAT with our
MCAT Secrets eBook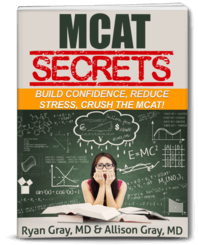 DOWNLOAD FREE - Crush the MCAT with our MCAT Secrets eBook