Session 135
Today's guest is somebody who has overcome a lot to get into medical school and now he finally has an acceptance at Touro College of Osteopathic Medicine in New York City.
35-year old Brian shares with us the number of times he took the MCAT, the times he applied to medical school, and finally what kept him to persevere and figure out what were the missing things along the way.
This episode seeks to help you realize how critical course correction is – figuring out what you're doing wrong, where you are now, what you need to be, and what you need to do to change your habits to get to where you need to go.
Here are the highlights of the conversation with :
4th time's a charm: Brian's 4th attempt to apply for medical school
Brian's premed path:
When Brian decided to be a physician from being a hockey player in college
Being exposed to medical care as a patient
Being a freshman in college going to tech school
How he sought information to start plotting his path to medical school
Went to a local school's premed office and got some brochures
Developing his study skills and test-taking skills
Leaving community college completing almost all the premed requirements
Taking the MCAT for the first time: Find out what his score was!
Getting advice for taking the MCAT:
Had a summer job at the library tutoring chemistry
Didn't get any advice and no other premed students he was close with
Lack of focus contributed to his MCAT score
Taking the MCAT the second time: Took a Kaplan course but he still got distracted with a slight improvement in his score
Brian took the MCAT nine times! Find out what his best score was.
Things that worked for him to do well in the test:
Determination
Study, study, study!
Practice, practice, practice!
His next best score at 30!
Where he fell short in his 3 prior applications:
He waited and applied way too late
Half-hearted, poor essays and description
The importance of spreading out applying to a broader range of schools
Applying to school the fourth time:
Worked on MCAT
Worked on coursework
Solid application getting advice from the Medical School Headquarters podcast
As a result, he got 6 interviews and one acceptance
Preparing for his interviews:
Getting resources from MSHQ
Mock interviews
Used his interviews in the past trying to not make the same mistakes
The hardest thing about his journey:
Learning from his mistakes
Some pieces of advice for premed students:
Decide if this is what you really want to do.
Look at the big picture. Look at all aspects of your grades, MCAT, clinical experience, and how you put together your application. Figure out what things could be the problem.
Get feedback from the schools and advice.
Determine what you need to improve on and develop a strategy on how to improve that.
Links and Other Resources:
Subscribe for Free
Listen to Other Episodes
Leave us a Review and Rating!
Just like Yelp reviews or IMDB ratings help you choose your next restaurant or movie, leaving a 5 star rating and/or a written review is very valuable to The Premed Years. It allows us to be able to share our information with more people than ever before.
I am so incredibly thankful to those who have recently gone into our listing in iTunes to provide a five start rating and a written review of The Premed Years.
Subscribe and Download
iOS/Mac/Windows – You can subscribe to the show in iTunes. Or you could manually add the RSS feed to your aggregator.
Android/Mac/Windows – You can download DoubleTwist and use that to manage all of our past and future episodes
Please help us spread the word!
If you like the show, will you please take a moment to leave a comment on iTunes? This really helps us get the word out!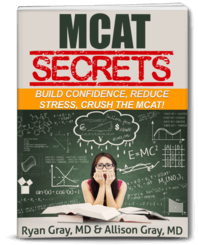 DOWNLOAD FREE - Crush the MCAT with our MCAT Secrets eBook