Session 136
Does paid clinical experience matter for it to count in your medical school application? What kinds of activities would count as clinical or not? Listen in to find out!
If you haven't yet, please register for an account at the Nontrad Premed Forum so you can post your questions there. This podcast is part of the MedEd Media Network, host of all other podcasts such as The Premed Years Podcast, Specialty Stories, The MCAT Podcast, Ask Dr. Gray: Premed Q&A, and more coming soon!
[01:05] OldPreMeds Question of the Week:
"I'm finishing up a postbac program in the Fall and just taking a few classes. I received two job offers and I don't know which is the better choice. The first is a scribe job that play $12 an hour and requires 20-30 hours a week. The second is a surgery scheduler job that pays $16 an hour and is full time. First off, is a surgery scheduler paid clinical experience? The scribe job has a lot of intangible benefits like personal statement review and application assistance. Is paid clinical experience necessary?
I would not be able to do the direct research class if I took this scheduler job, which would lead me with zero research on my application. Just not really sure what to do."
[02:00] A Wrong Question
A student is faced with the dilemma of which clinical experience to take – research, clinical experience, volunteering, etc. And the question typically comes down to, what is going to look better on my application?
Unfortunately, this is a wrong question. When you do that, you are hurting your ability to follow your path – that which you're meant to go down or meant to be exposed to because you're following the things you're interested in.
[03:20] Is Surgical Scheduler Job a Clinical Experience? What About a Scribe?
No, it isn't. Instead, it's administrative in nature. You're calling and talking to patients, calling and setting schedules. Yes, you're interacting with patients but in an administrative role. So it's not clinical experience.
A scribe job is clinical experience since you're interacting with the patients and interacting with the physicians. However, there are some schools out there that don't think scribing is not clinical. But go be a scribe since this is an amazing experience. You get to learn a ton and if fits in with the rest of the schedule, then go for it.
[04:40] Does Paid Experience Count?
No, it doesn't matter if it's paid or not. Especially if you're a nontrad and you need to make some money then paid clinical experience is just perfect. You can do some volunteer stuff on the side but if you don't have time for it, then that's part of your application. Hopefully, the admissions committee will see and understand that being a nontrad.
Again, paid clinical experience is fine. It doesn't mean that volunteering is not important. It just means that it's not the most important thing. If you try to avoid getting paid because you think it's better, don't do that.
Links:
Listen to Other Shows
Leave us a Review and Rating!
Just like Yelp reviews or IMDB ratings help you choose your next restaurant or movie, leaving a 5 star rating and/or a written review is very valuable to the OldPreMeds Podcast. It allows us to be able to share our information with more people than ever before.
I am so incredibly thankful to those who have recently gone into our listing in iTunes to provide a five start rating and a written review of the OldPreMeds Podcast.
Subscribe and Download
iOS/Mac/Windows – You can subscribe to the show in iTunes. Or you could manually add the RSS feed to your aggregator.
Android/Mac/Windows – You can download DoubleTwist and use that to manage all of our past and future episodes
Please help us spread the word!
If you like the show, will you please take a moment to leave a comment on iTunes? This really helps us get the word out!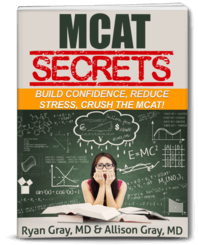 DOWNLOAD FREE - Crush the MCAT with our MCAT Secrets eBook