Session 158
This week, our poster is from Canada planning to apply to medical school who is curious whether there the U.S. has got some affirmative action policies in place to help support underrepresented applicants get into medical schools.
All our questions are taken directly from the Nontrad Premed Forum. If you haven't yet, register for a free account to join our collaborative community and ask away!
Are you new to podcasting? Go check out all out podcasts on MedEd Media Network. We have The Premed Years, The MCAT Podcast, The MCAT CARS Podcast, Ask Dr. Gray: Premed Q&A, Specialty Stories, and soon — Board Rounds for the first and second-year medical students.
[01:40] OldPreMeds Question of the Week:
"I'm writing from Canada. I'm a medice woman and I'm planning to apply to medicine this year. I'm a nontraditional applicant as I have a Bachelor's of Psychiatric Nursing, which in and of itself, adds some complexity to my application both positive and negative. In Canada, there are affirmative action policies in place in many universities to address the underrepresentation of indigenous doctors. Personally, I am very glad this is in place as I see this great need for indigenous representation in medicine. I haven't seen any forums on this topic. Is this the same case in the states? I'm hoping to gain some perspective on applying as an indigenous applicant. Any other indigenous applicants on this forum? Any knowledge that can be gleaned from Dr. Gray?"
[02:40] Affirmative Action
As of this recording, it's December 2018. Affirmative action is in the news, especially in the states, because of Harvard and their policy seems to be towards Asian applicants to Harvard. Affirmative action seems to be coming up and down and all around in legal channels. In 2017, this was challenged a bit through a case and it was upheld.
Yes, affirmative action happens in the United States and this is a good thing. We need laws that would accept students that would represent the U.S. as a whole, that means more races, from every walk of life.
[03:57] Diversity in Classes
It's great to see how the University of Colorado where I teach that they're showing diversity among the LGBT community, African-Americans, etc. So they're really trying to bring diversity into their class – people with diverse backgrounds and diverse thinking. What that brings to the class helps the class and helps the educational environment of everybody.
There was U.S. medical school that recently got in trouble because of the lack of diversity. Their classes were lacking that. And so they kind of got slapped on the wrist because of that. So schools are really trying out there to bring diversity in. At the core of it all, humans have their own biases and that comes into play with admissions. However, we try to constantly get better with that that's why we need these policies in place to force some people into that sort of thinking even if they don't like it.
In fact, the first time ever, women applicants and matriculants outnumbered male applicants and matriculants. So now, we're starting to get that balance between male and female. We just have to continue to work on the different ethnicities, races, socio-economic, etc.
Links:
Listen to Other Shows
Leave us a Review and Rating!
Just like Yelp reviews or IMDB ratings help you choose your next restaurant or movie, leaving a 5 star rating and/or a written review is very valuable to the OldPreMeds Podcast. It allows us to be able to share our information with more people than ever before.
I am so incredibly thankful to those who have recently gone into our listing in iTunes to provide a five start rating and a written review of the OldPreMeds Podcast.
Subscribe and Download
iOS/Mac/Windows – You can subscribe to the show in iTunes. Or you could manually add the RSS feed to your aggregator.
Android/Mac/Windows – You can download DoubleTwist and use that to manage all of our past and future episodes
Please help us spread the word!
If you like the show, will you please take a moment to leave a comment on iTunes? This really helps us get the word out!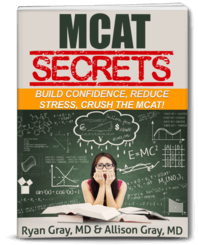 DOWNLOAD FREE - Crush the MCAT with our MCAT Secrets eBook