Session 159
Today, our student is a former OPM who has matched into a pediatric residency. Just a reminder that it is completely possible, so what is stopping you?
If you haven't yet, please register for an account at the Nontrad Premed Forum so you can join a collaborative community of students and ask away! Be sure to always check out all our other podcasts on MedEd Media Network as we give you some resources to help you along your path towards becoming a physician.
We don't have a question today but a success story from a student sharing that he/she has successfully matched into a pediatric residency, which has always been his dream.
"My old premed story was basically that I was a super nontrad, not so much in age but my background was in arts, who started med school, DO, which I love at 30. And my graduating class there, actually quite a few students older than 30 now, and a few in their 40s and 50s. On top of all the usual med school nonsense, I actually also had a baby during my third year, which was amazing and I'm so glad I did it. I just wanted to drop by and let you know that it is possible. I was definitely not the best student. My scores were not amazing. And I had to build my science knowledge from nothing. But I've had a phenomenal experience over the past four years in med school and I am so glad I found this site all those years ago. I wish you all well as you start and continue on this journey and hope to see you all on the floors someday."
[02:14] Share Your Story with Us!
If you've had the same success, come back and share it with us so that students on the forums don't just see all the questions and struggles but also the successes. That's why we started the MedDiaries Podcast so students can share their struggles and triumphs.
Links:
Listen to Other Shows
Leave us a Review and Rating!
Just like Yelp reviews or IMDB ratings help you choose your next restaurant or movie, leaving a 5 star rating and/or a written review is very valuable to the OldPreMeds Podcast. It allows us to be able to share our information with more people than ever before.
I am so incredibly thankful to those who have recently gone into our listing in iTunes to provide a five start rating and a written review of the OldPreMeds Podcast.
Subscribe and Download
iOS/Mac/Windows – You can subscribe to the show in iTunes. Or you could manually add the RSS feed to your aggregator.
Android/Mac/Windows – You can download DoubleTwist and use that to manage all of our past and future episodes
Please help us spread the word!
If you like the show, will you please take a moment to leave a comment on iTunes? This really helps us get the word out!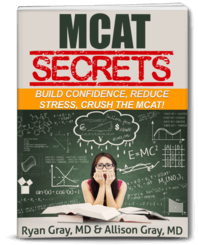 DOWNLOAD FREE - Crush the MCAT with our MCAT Secrets eBook