Session 170
Volunteer hours are a must, however, volunteer applications can take months. I will give you some tips and tricks on securing volunteering as well as a timeline!
All questions from this podcast are taken from the Nontrad Premed Forum. For more resources, be sure to check out all our other podcasts on the MedEd Media Network.
[01:05] OldPreMeds Question of the Week:
"I work FT and my son just graduated and off to college. I started looking for volunteering opportunities early this year after all the college application drama passed and he was accepted. Figured it would be easy and quick to find a volunteer position at a hospital. WRONG!
I live in the NYC and sent volunteer applications to all the NYP hospitals and one of the summer clinics at Einstein – maybe 9-10 applications.
Only one place accepted me as a language ambassador for Spanish speaking patients! And even then that took a long time for me to actually start because the volunteer training, medical exams, they lost my health clearance but they found it, then shadowing one of the current ambassadors.
Took nearly 4 months for me to actually start the gig! I am pretty happy so far as I get to help Spanish speaking patients and the schedule is very flexible. I will have plenty of hours accumulated from now until I apply next year but if I had known it would be this long and tedious I would have started last fall.
Just like Dr. Gray always says – apply early and apply broadly. Happy volunteering!"
[02:13] Assume Things Aren't Easy
When you're going through any process, don't think it's going to be easy. Assume it's going to be hard and it's going to take a long time. Assume that things are going to go wrong. That way, if they go right then great! But expect things are going to get longer than you want.
Hence, you need to start this process early. If you're trying to squeeze in volunteering or shadowing right before the application cycle because you need a couple more hours to fit in to pad your application, assume you're going to be able to fit it in by the time the application comes around. Assume it takes a while to get there. Also, assume that you're going to ask a lot more people than you think.
[04:05] Next Step Test Prep
If you need some help on your application, check out Next Step Test Prep. They now offer Medical School Admissions Consulting services to help you with your application to medical school. Jump on a free consultation with them! Mention this podcast and save some money.
Links:
Next Step Test Prep Medical School Admissions Consulting
Listen to Other Shows
Leave us a Review and Rating!
Just like Yelp reviews or IMDB ratings help you choose your next restaurant or movie, leaving a 5 star rating and/or a written review is very valuable to the OldPreMeds Podcast. It allows us to be able to share our information with more people than ever before.
I am so incredibly thankful to those who have recently gone into our listing in iTunes to provide a five start rating and a written review of the OldPreMeds Podcast.
Subscribe and Download
iOS/Mac/Windows – You can subscribe to the show in iTunes. Or you could manually add the RSS feed to your aggregator.
Android/Mac/Windows – You can download DoubleTwist and use that to manage all of our past and future episodes
Please help us spread the word!
If you like the show, will you please take a moment to leave a comment on iTunes? This really helps us get the word out!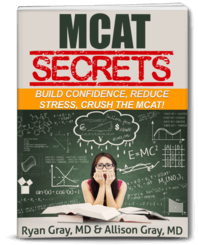 DOWNLOAD FREE - Crush the MCAT with our MCAT Secrets eBook