Session 184
The decision of when to take the MCAT is a difficult one that depends on each student. Today, we look into how to determine what is the right time for you.
Your questions are taken directly from the Nontrad Premed Forum. If you haven't yet, please register for an account for free and ask away!
If you need some help with the MCAT, go check out Next Step Test Prep. Use the promo code MSHQ to save some money on their full-length exams, course, and tutoring, and much more! If you qualify for FAP, get the course for 50% off.
Also, be sure to check out our free resources at The MCAT Podcast and The MCAT CARS Podcast. Also, be sure to check out all our other resources on Meded Media so you can get as much help as you need on this journey to medical school.
[01:08] OldPreMeds Question of the Week
"I'm taking my prerequisites over the course of 3 years at a community college rather than two years, after which I will transfer to finish my bachelors at a 4 year university. I know most schools have a 3 year eligibility for the MCAT score which is where some of the worry comes from in terms of my situation.
By spring 2020, I will have finished my 3rd year at community college and will have all prerequisites completed (including biochemistry which I'm taking online). Ideally I'll apply in 2021 for medical school.
My spring 2020 schedule looks relatively light in terms of course load and am wondering if I should take the MCAT spring of 2020, a year before applying. While the prerequisites are more fresh in my mind, I have more time to study, not rushed by applying to school, but this will only allow me to use that MCAT score for two cycles.
Whereas if I took it my junior year at a 4 year I would have a harder load of upper division coursework, not as much time to study, but I would be able to use the MCAT for 3 cycles?"
[02:45] Better Earlier Than Later
Having a pros and cons list is great. Take the MCAT when you are most prepared for it. So plan on taking it earlier rather than later. If you're preparing for it and find that you're not getting near the score you want, then take it later.
Two cycles for most students is plenty of time to get into medical school. You may need three cycles if you're taking it later and you're bombarded with your other coursework from your four-year university. Then you don't get a good MCAT score because you need to do well in your classes. So you might not get the score you want. And to be able to reapply, you're going to have to take the MCAT.
Again, take the MCAT when you're ready. This is your #1 goal.
'Do not rush the MCAT. You have to take it when you are ready.'
Click To Tweet
[04:50] The Downside of Taking It Early
You can only use it for two cycles. That's the downside.
'One of the biggest mistakes students make with reapplying to medical school is reapplying too soon.'
Click To Tweet
If the MCAT isn't your issue with applying to medical school and getting in the first time, you shouldn't reapply quickly anyway. You need to take your time to fix your application before applying again. So you might only get to actually use it one time.
Take the MCAT earlier when you have less commitments outside of the MCAT. But make sure you're ready for it!
The MCAT is a beast. You have to respect the MCAT.
If you need some help, go check out Next Step Test Prep. Use the promo code MSHQ to save some money on their full-length exams, course, and tutoring, and much more! If you qualify for FAP, get the course for 50% off.
Links:
Next Step Test Prep (Use the promo code MSHQ to save some money)
Listen to Other Shows
Leave us a Review and Rating!
Just like Yelp reviews or IMDB ratings help you choose your next restaurant or movie, leaving a 5 star rating and/or a written review is very valuable to the OldPreMeds Podcast. It allows us to be able to share our information with more people than ever before.
I am so incredibly thankful to those who have recently gone into our listing in iTunes to provide a five start rating and a written review of the OldPreMeds Podcast.
Subscribe and Download
iOS/Mac/Windows – You can subscribe to the show in iTunes. Or you could manually add the RSS feed to your aggregator.
Android/Mac/Windows – You can download DoubleTwist and use that to manage all of our past and future episodes
Please help us spread the word!
If you like the show, will you please take a moment to leave a comment on iTunes? This really helps us get the word out!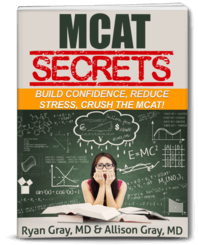 DOWNLOAD FREE - Crush the MCAT with our MCAT Secrets eBook