Session 292
Dr. Yousuf is starting his Emergency Medicine residency after failing to match. Learn from his failures and triumphs and how you can avoid similar mistakes.
If you're listening to this before June 30, 2018 and you're in or around the DC area, come to our meetup. I'm in town for the National Association of Advisors for the Health Professions meeting. It's a national meeting for the health professional advisors. And I'm having a meetup on Saturday, June 30, 2018. Go to the Premed Hangout for an RSVP or email me at [email protected] to get all the details.
Last week, we had Dr. Buck Parker on the podcast talking about being an IMG, struggling with his studying, going to the Caribbean, and learning how to fix it. He's now offering his Secret Study Hacks course which you can sign up for and get a discount. If you want to know more about it, listen to Session 291, where I talked about it at the end.
Back to this week's episode, we have another IMG, a Caribbean graduate. Dr.  Ibbad Yousuf who is @dr.bad_md on Instagram.
Ibbad when to AUA after struggling in his undergrad and he thrived in that environment. He still struggled with classes every now and then and still picked himself back up. But he was class president. He didn't match the first time and he talks about that today as well as what he did during his time off, until how he figured out how to match.
[02:40] Going to a Caribbean School
A lot of people think I am anti-Caribbean when I tell students you shouldn't go to a Caribbean school. I am not anti-Caribbean schools, but I'm anti-non transparency coming from Caribbean schools. They tell you a lot of things, similar to the military recruiters. They tell you what you want to hear, when in reality it's probably a lot different. This is why I'm bringing on Caribbean grads because they can talk about their experiences.
There are a lot of issues with going to a Caribbean school. But you can go to a Caribbean school and be a great physician.
[04:00] Interest in Becoming a Physician
Ibbad began having interest in becoming a Physician at 13-14 years old when he started taking an introductory to a science research course. Obviously, he likes science. But the human part of taking care of people came into the story when his mom got sick. He took care of her in and out of the hospital and the doctor's office. He realized he wanted to be able to scale helping people. By this, it means, he seeks to be able to help more than one patient at a time. His goal is to be able to help millions and billions of people. And for him, medicine was his way for him to get there – the influence and the ability to work with patients and having that clinical background is more applicable for the science he likes. And he once he got to  that, he wants to scale that to possibly a biotech startup or a wellness startup.
[07:00] Undergrad Years and Premed Struggles
Ibbad thought that if he had to learn all this in med school so why would he have to take premed now. So he was trying to figure out how to get the most value from education. He started with Business and then shifted to Journalism, until he changed to Sociology and Health Sciences for his major. And ended up getting a Women's Studies for minor.
The biggest thing he struggled with as a premed student, he admits, was studying. He graduated from high school early and got into college. But he didn't know how to put together the volume of information. His undergrad courses were very large in the premed sciences. And this didn't help him with his own focus.
So he failed out after his Sophomore year after a combination of life and not knowing how to study. Plus, he was working at that time and partying. So he failed but got back in that same semester with the stipulation that he was going to have to do well until he graduated. He actually got that wake up call after receiving a snail mail telling him about the failing and dismissal. And he realized the process was getting in touch with the dean.
His parents didn't get mad but they were startled knowing how Ibbad used to do so well back in undergrad. Being asked by the dean about what happened and why his grades were low, Ibbad admits it took a lot of self-awareness in figuring out what he needs to balance better and focus more on.
And he remembers there was an organization that votes on your ability to come back and your maturity level. Again, being self-aware is critical here. You have to be able to acknowledge your mistakes.
From that point forward, he got a 4.0, a huge turnaround from failing. Ibbad accounts focus for this. He realized there needed to be certain levels and certain areas of focus.
[11:50] Taking the MCAT and Going to the Caribbean
Applying to medical school, he still had to show his grades and that he had that academic dismissal and overcoming that. Not having a lot of guidance, he just studied for the MCAT like he would have normally done in college. Study for three weeks and take it. Because that's what he learned to do in college. He didn't realize he still sucked at taking standard exams. This is aside from the fact, that the MCAT is a whole another beast. So he took the MCAT and didn't do well obviously.
As a result, he went the route of going to the Caribbean. As he went through the application process, Ibbad recalls receiving news about a new Caribbean medical school expanding. So he took a couple different applications and then he went from interviewing to getting admitted, almost within a month and then he moved to the island.
[15:00] The Course Correction
Ibbad says self-awareness is the key. He knows his weaknesses and he failed a bunch f his block exams in medical school. He realized he didn't know how to study properly. And medical school taught him how to do that. So every time he had to level up, he taught himself something new to bring up that weakness. So it's that self-awareness, determination, and drive are key. It's important to know this is where you want to get to, where you are right now, and how you can get there.
Having known many people who have given up, he sees things as passing anyway. So what can you be doing in the mean time to allow you to get to where you want to be next? He adds that sometimes you need to take a step back from what you're doing to get a more wholistic picture of it. And this is what got him to course correct through time.
[17:50] The Caribbean Environment: Dealing with High Attrition
Ibbad describes the diversity in the Caribbean. A lot of people had careers before wanting to get into medicine. A lot of them didn't have the direction or physicians in the family. And he saw strength in this diversity.
The attrition rate for Caribbean schools is much higher than U.S. schools, and Ibbad explains there are two ways you can take that. You can see it and realize this isn't for everyone. And then you can also see how this is a survival thing and this, he used to drive himself. He saw the attrition was high, and part of what he was working on as a class president was working with the dean and administration to reduce the attrition rate. Their discussions involved troubleshooting, figuring out why their students aren't doing well.
In fact, he remembers looking at a roster of a few hundred people and within the first two weeks, there were some who didn't show up to the island. Some may have been accepted or off of the waitlist to a U.S. school. So he realized that a large chunk was taken out that way. Then after the first two weeks to a month, they had their first lab exams. This was another reality check if this is going to work for you.
[22:45] The Hidden Number System
Many Caribbean schools boast their USMLE pass rate. But it's not really a real number because there are exams the schools give to see how well you're potentially going to do when you sit for the exam. And if you don't do well on those comprehensive exams, they'd tell you you're not ready to take Step 1 yet so they're not going to let you take Step 1. And they may never let you take it because you may never get to that point where you're going to pass.
The way Ibbad sees is like the quote, "Statisticians are just liars with data." That said, he thinks there are numbers that get moved around in their individual ways. Even premed offices do it. So for them, Ibbad admits having to take comprehensive exams before they were allowed to sit for the Step exams. But he didn't think it was a way to weed you out. Ibbad did pretty well in his exams at 90 percentile above.
[26:10] Not Matching the First Time and Realizing It's a Number's Game
For Ibbad, not getting a match was tough knowing he had dedicated his summers while he was 15 years old to doing good research and having leadership skills. He got the grades he needed to get on the boards. But this said, it gave him a different perspective of the overall process.
He explains that applying to Emergency Medicine is very competitive and he was aware of that. But he was also the kind of guy that's focused on one thing. The match rate for IMG in 2018 was 1.6%, which means there's a chance.
As to why he didn't match the first time he applied, Ibbad says one of the reasons is that it's a number's game. He didn't have enough interviews. He only applied to Emergency Medicine, with 170 plus programs. He also understands his limitations coming from the Caribbean. It was a matter of understanding those red flags. The optimum number to match was 13 as they say, and it's supposed to be higher for IMGs, but he only had a third of that.
So this year, he did something differently, He applied to other programs. After all, his goal was to become a practicing physician. He also had to put his ego aside, telling himself it doesn't matter what specialty you get into. And the numbers just worked out.
[30:10] Opportunities Available If You Don't Match
Ibbad says there's different opportunities when you don't match. But you have to be realistic enough to create your own timeline and realize what you did wrong and what you can improve on. Otherwise, there are investment banks that love MDs on board, even without a business background. There are also a lot of educational companies out there where they need MDs to help create content and courses. So you can do this to either pass your time or make it your full time career.
Ibbad was one of the medical scholars at Techmonic. Having not matched, he was looking for jobs with pharma and business end. Good thing, a research opportunity opened up and he took that opportunity. But he knew he needed money to live.
If you aren't in a program and you have student loans, you still have to start paying them back. It also depends on the loans. Ibbad explains that a handful of Caribbean schools have federal loan. He didn't have some leeways with the private loans but the schools have to be around for at least ten years to get that U.S. federal loan process in place. So his first few semesters were private loans. These were the ones that needed repayment. All this being said, the loan companies and the bank work with you, so it's not a massive hit that you'll be paying. Fortunately, it's doable.
[33:05] Reapplying for the Next Match
Being asked what he has been doing in the last year he didn't match, Ibbad was creating medical content so it was related. He was teaching students how to learn and how to troubleshoot and change paths like what he had done. And he was also working on some research. Currently, Ibbad is now transitioning and starting residency. He's also getting back into the study more a few hours of the day.
[34:55] Ibbad's Advice to Those Going to the Caribbean
Try to reach out to other people who have been through the process (like Ibbad). He believes having that first person perspective is very important. Secondly, be extremely self-aware. Thirdly, know that your timeline may not work out the first time around for what you want to do. You can take a gap year for research. You don't necessarily get the first residency you want on the first try. Just know that and keep doing what you have to be doing for yourself. It's not bad on the other side when you finally get there.
Ibbad would usually tell people that it's easy to get into the Caribbean but it's harder to stay in. He lived in the beach ten feet away from him but that was also his study break. Nevertheless, preparation and self-awareness are huge.
Links:
National Association of Advisors for the Health Professions
The Premed Years Session 291: Dr. Buck Parker: Academic Struggles to an 'A' Student
Get the Podcast Free!
Listen to Other Episodes
Leave us a Review and Rating!
Just like Yelp reviews or IMDB ratings help you choose your next restaurant or movie, leaving a 5 star rating and/or a written review is very valuable to The Premed Years. It allows us to be able to share our information with more people than ever before.
I am so incredibly thankful to those who have recently gone into our listing in iTunes to provide a five start rating and a written review of The Premed Years.
Subscribe and Download
iOS/Mac/Windows – You can subscribe to the show in iTunes. Or you could manually add the RSS feed to your aggregator.
Android/Mac/Windows – You can download DoubleTwist and use that to manage all of our past and future episodes
Please help us spread the word!
If you like the show, will you please take a moment to leave a comment on iTunes? This really helps us get the word out!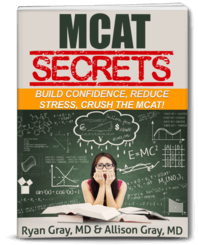 DOWNLOAD FREE - Crush the MCAT with our MCAT Secrets eBook