Session 324
SHPEP, or the Summer Health Professions Education Program, is a free summer program for underrepresented premed students at twelve locations throughout the U.S.
Today, we have Chantez Bailey and Dr. Norma Poll-Hunter. from SHPEP to share knowledge about this program, why it was started, and so much more. If you're interested in applying to this program, visit their site.
[02:15] About the SHPEP
Chantez serves as the team lead for the Communications and Outreach access of the initiative. She makes sure she increases the visibility and overall awareness of the SHPEP initiative, serving as the voice of the program.
Norma serves as the Deputy Director of the SHPEP, funded by the Robert Wood Johnson Foundation (RWJF), AAMC, and the American Dental Education Association as the National Program Office. They help provide technical direction and assistance. As a deputy director, she's responsible for the oversight of the national program, implemented at 12 institutions across the United States.
Started 30 years ago, RWJF conducted a study to understand the lack of diversity within the physician workforce. They found that they were qualified applicants from minority communities, many of the students didn't know exactly what to do. They weren't socialized in the process of applying to medical school, the interview process — basically a lot of unknown for students who came from underrepresented communities.
Based on the research, they decided to develop the program in 1989 that started as a minority medical education program to provide students from underserved communities, particularly, at that time, African-Americans, Mexican-Americans, American Indian, and mainland Puerto Ricans — to be able to support their interest in pursuing medicine as a career.
[05:20] An Increase in Diversity
The SHPEP has robust data demonstrating that the program has been significant in increasing the diversity of the applicant's pool as well as the matriculants and graduates from medical school.
Their data shows that about 67% of those who participate in the program actually applied to medical school and of that group of applicants, about 66-68% got into medical school. To date, they have a little over 7,000 individuals who participated in the program who are physicians and dentists (which they expanded in 2006).
'The program has evolved over the 30 years to really broadly define diversity and who is underrepresented in medicine.'
Click To Tweet
AAMC does a lot of great work into the research and data. It shows that the overall majority of medical students semi-income are at the top 5th quintiles of U.S. income. So basically, it's a lot of rich people going to medical schools.
[07:00] Defining Underserved
When you say serving the underserved, that's very broadly defined as individuals who come from an economically disadvantaged background, not only those that are historically underrepresented in medicine, but also students who come from rural communities, urban communities, individuals who are not well-represented in medicine.
'The program has evolved to think about representation much more broadly beyond just race and ethnicity.'
Click To Tweet
[08:10] Students the Program Caters To
The program considers high school students, upperclassmen, junior, and seniors to consider during their first or second year of college to get ready for the SHPEP application process. This way, you can keep the ground running as soon as they become a freshman. The program caters to freshmen and sophomore college students and/or students who have 60 college credits or less. This is important for students who might be attending community college.
As to why they're starting it early, they found that sometimes getting to the junior or senior year is that there a lot of missed opportunities to build a strong profile to be competitive to a medical school, graduate school, and other graduate programs. And so the research found that getting students earlier was the most beneficial.
'The focus is to build their strength and to focus on academic enrichment.'
Click To Tweet
[10:24] What is SHPEP? (And The Benefits Students Get)
SHPEP is a free program for freshmen and sophomore college students interested in one of eight health professions — with medicine, dentistry, pharmacy, public health, nursing, physical therapy, optometry, and physician assistants.
For the residentially based program in the summer, students get to stay at the academic health center on their campus where they get everything they need to know about that profession.
In medicine, for instance, the students live on campus with other students, usually about 80 students per site. They have an opportunity to participate in academic enrichment so they get to the basic sciences, math, and studying and learning skills. They also get to shadow (which makes up 5% of the program) and get to see surgery or baby being born or working at the lab.
'Students have a very well-rounded view of what it would be like in the future, but also prepare them for what they need to do now as a student to prepare for that pathway.'
Click To Tweet
Not only will students understand how to study, but they will also understand how to use money because financial literacy is key. It's a significant investment of money in the future, but it's definitely doable.
It really tries to capture the students' experience holistically to prepare them for that pathway.
The six weeks is really a lot about career enrichment. It's also the time for applicants to get that shadowing experience and realize whether it's the career for them. So a lot of students may leave the actual program afterward they decide to transition or go to another career field or another health career track.
Moreover, students also get to establish relationships with other students since they're all together for six weeks going through this unique experience together. And for students who can't afford to travel to a site, they have a travel scholarship and a stipend. All that being said, other aspects will also be integrated into the program.
'It's meant to provide a fully acceptable program for students.'
Click To Tweet
On weekends, students get free field trips. Depending on what program site they're located, they'll get to explore that state and within that particular city and around that campus. This allows them to network with other healthcare professionals.
[16:05] Forming Relationships
What's great about the program is being able to get close with your peers. you also get a sense of what it's like to be in a medical school, or a dental school, or a pharmacy school. You're not only surrounded by your peers but also, individuals who truly invested in seeing you grow and be successful.
'That's what really makes the difference for SHPEP is the environment and the culture that is embedded within the program experience.'
Click To Tweet
Through SHPEP students are able to build their social capital because sometimes students really never have someone they can call to come shadow with. But through the program, they're able to shadow a physician who is really invested in their development. And that makes a huge difference!
[18:00] Is It Really Free?
Yes, it's free! There are travel scholarships and some students may have to travel in advance, but they will be reimbursed. There's no cost to participate but students may have to pay their travel upfront depending on how the site manages that process. But there's no application fee and no fee to participate. Students also get a stipend of $600 which will hopefully offset other costs.
[19:32] SHPEP Locations and How to Apply
SHPEP program is available in 12 sites across the country including Columbia University, Howard University, University of Alabama, Rutgers, UCLA, University of Florida, University of Iowa, University of Louisville, University of Nebraska, University of Texas University of Washington, and Western University in California.
Some of the schools have undergraduate campuses while others don't. So they're always found within the academic health centers. Some of the classes may be in the medical school, the nursing school, or the pharmacy school. It just depends because each program offers different health professions but they will be in the same environment setting where the medicals and other health profession students are in.
Visit their site and find a list where you can choose what career track you're interested in and they'll show you the link of that program site. But all sites have medicine and dentistry tracks.
Students can take charge in terms of which site they want to choose so they get to pick up to three program sites across the country. They encourage students to get outside of their residency so they can get out of their comfort zone and take a leap to another program site that's out of your state. They also encourage them to choose up to three health career tracks because they encourage students to learn other health career tracks as well. And then it depends now on what program site they get selected. Sometimes, they're selected in all three and they have to make a decision on what program site they like to choose.
[23:09] The Application Timeline
For 2019, the application deadline is February 15. If you're interested, the first thing you should do is get your transcripts sent in. One recommendation is also required. The application to the program is similar to a college application. Plus, you only need to do one essay.
Here's how to apply!
[25:00] How Is This Valuable in Your Medical School Application Process
The program is grounded in the many years of experience around what works. They're going to get a really good inside view of what they need to do to be successful along the pathway.
As a freshman/sophomore college student, this is a prime time to really understand if this is a pathway for you. Their data also shows that individuals are more likely to get accepted to medical school and dental school as a result of participating in this program.
'It's really a good investment because you're investing in yourself, in your own knowledge and opportunity.'
Click To Tweet
[27:10] Opportunities for an Alumnus to Stay Involved in the Program
SHPEP is working hard to reconnect with their alumni. They have alumni-based events to celebrate the 30th anniversary throughout the year. They encourage all of their alumni (now estimated at 27,000) to touch base with them and email [email protected]. Send your contact information and they will connect with you and keep you informed of all the great alumni based resources they have available.
"It's a summer opportunity that lasts a lifetime."
Click To Tweet
[29:20] The Admissions Process
They have a little over a thousand slots across the U.S. It's actually the program site that makes the admissions decisions. At their national program office, they just help facilitate the process. They would look at your essay What is it about your experiences tell them that you need this program? The GPA is 2.5 because they recognize that students sometimes need support and the GPA doesn't always reflect their talents or their skills. So it's really about the holistic view of the students and how that fits with the program's objective.
Out of the thousand spots, they would usually get completed applications of about 3,500-3,700 on average.
They encourage students that if you apply as a freshman and you don't get in, you can actually reapply again as a sophomore.
[31:05] Final Words of Wisdom
There are so many programs out there that support students. It's important you know about them as students don't have access to information. Many medical schools have similar programs so they encourage students that if they have medical schools in their space or region, to reach out to those institutions to find out what programs are available. AAMC has a great list of programs and resources on their website. And if you're beyond the point of applying, please do share this information with others!
Links:
Summer Health Professions Education Program
Listen to Other Episodes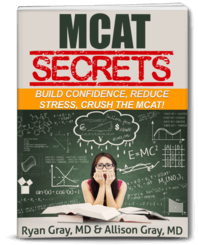 DOWNLOAD FREE - Crush the MCAT with our MCAT Secrets eBook