Session 106
Pediatric rheumatology is for doctors who are good at teamwork, problem-solving and becoming experts in nebulous problems. Dr. Jay Mehta joins me to explain. Jay is actually the fellowship director at Children's Hospital of Philadelphia (CHOP) for pediatric rheumatology and out of training now for 10 years.
Jay actually didn't know about this specialty until he rotated during residency. This is exactly the goal of this podcast is to expose you to specialties out there that you may or may not know about. So listen every week and take some notes. Figure out what you want to be
Meanwhile, check out all our resources on Meded Media as you go along this journey towards becoming a physician.
Listen to this podcast episode with the player above, or keep reading for the highlights and takeaway points.
[02:04] Interest in Pediatric Rheumatology
Jay remembers liking every rotation he was on but he just kept coming back to pediatrics. He loves the people he gets to work with both patients and the other residents and faculty.
He went through a small medical school and they didn't have real exposure to pediatric rheumatology. The only exposure he had was at an adult room when he took an elective in medical school. He initially thought it was interesting but didn't have any sense that kids actually got rheumatic diseases.
When Jay started his residency, he wanted to do pediatric hematology-oncology because he loved the elective for this subspecialty that he also did back in medical school. Particularly, he loved the diagnostic aspect of it.
So he assumed he would like Pediatric Oncology because the diseases are interesting, the kids are sick, and you get to create great relationships with families. He thought it was something he would enjoy.
Then after doing an oncology rotation on his second year of residency, he realized he didn't love the practice of oncology for various reasons.
A lot of the biopsies were made through biopsies or imaging. The oncologists themselves weren't making the diagnosis and the treatments were protocolized. This is great since the mortality from childhood cancers dropped incredibly since treatments have become protocolized.
As an oncologist, you're not making a lot of decisions about treatments. So he decided this wasn't what he wanted to do.
Meanwhile, Jay had a couple of interesting patients who were kids with autoimmune disease. He loved the problem-solving aspect of rheumatology. This was also when the biologic era was starting in the mid-2000s when biologics were coming into the scene.
'The combination of being able to make these very cool diagnoses putting on a puzzle solver hat and then being able to have really cool treatments for these patients just fit.'
Click To Tweet
[Related episode: Discussing Pediatric Oncology with an Academic Doc]
[08:00] Traits that Lead to Being a Good Pediatric Rheumatologist
Collegiality is one of the biggest things. Just by the very nature of autoimmune diseases, all organs can be affected. So they end up working with every specialist in the hospital.
'Being able to work all the specialists is so fundamental to how we take care of our patients.'
Click To Tweet
You must want to think about your patients. There are a lot of things they see in a day that they're able to put a name on in terms of the specific diagnosis.
So you have to reach back to your knowledge of immunology to think about what might be going on in the disease. Then you use that to try and come up with targeted treatments.
You must love to form relationships with families. Jay has been seeing patients for years and watching them grow up. So you have to be that kind of person that wants to have a long-term relationship with families. You need to work with them through a lot of things that are going on because autoimmune diseases are systemic.
[10:55] Types of Patients
"Rheum" is Latin for flex. A lot of these diseases can affect the joints that why a lot of people associate rheumatology with joint diseases. They get referred for a lot of things for kids with musculoskeletal pain or joint pains. But rheumatology deals with the systemic autoimmune diseases, where the immune system goes haywire and starts attacking the body.
'Rheumatology diseases are systemic autoimmune diseases.'
Click To Tweet
Rheumatologists get to be the experts in a nebulous field. Most patients that come to them don't have a defined diagnosis. Also, several patients that come to see them are also getting referred to infectious diseases and oncology at the same time.
'Knowing when to refer someone to us is important.'
Click To Tweet
Because these diseases are rare and primary care physicians can miss them, a lot of patients can come to them with benign joint pain but with concern for arthritis. They would then differentiate mechanical joint pain (benign and short-term) from actual inflammatory joint pain which needs to be treated with immunodepressants.
[14:55] Typical Day
Jay wears different hats. He is involved with the fellowship and residency programs as well as education research. He has an interest in how people make career decisions, specifically how fellows navigate through career transitions through fellowship into attending life.
He does clinic a couple of days of the week and sees about a couple of new patients and 4-6 follow-up patients. The latter patients have been referred to him for things like childhood chronic arthritis. Or he might see patients that are stable on their biologic therapies.
A few weeks in a year, he does inpatient or consult service where he sees patients with established autoimmune disease. Most of the time, these patients have fevers or some multi-system diseases that are being evaluated for biologic causes.
He likes how he's able to work with trainees all day long. They have a pediatric fellowship program so he works with the fellow or students most of the time.
'It's fun to get to teach all these people about rheumatology because it is something that's nebulous to most people.'
Click To Tweet
[17:35] Doing Procedures, Taking Calls, and Work-Life Balance
Jay describes procedures in pediatric rheumatology as not being too heavy. But they do joint injections. Ultrasound has been emerging in their field as well either for the purpose of diagnosis or milder response to therapy.
'There are very few pediatric rheumatology emergencies that require the rheumatologists to actually see the patient at that moment.'
Click To Tweet
In terms of taking calls, a lot of what they do is taking home calls and working with folks inside the hospital. So it's all home call then they just see the patients in the morning.
All this being said, Jay thinks he has great work-family life balance. His wife is in finance and her schedule is crazy with frequent travels. The good thing about rheumatology is that it's primarily an outpatient field. So when in clinic, he gets done by 530-6pm and goes home and spends time with his kids.
When he's on call for the weekend, he could go in for a couple of hours and spend the rest of the day at home with his family.
Conversely, the one downside he sees is the burden of the EMR. After his kids go to bed, he would have to spend time on the EMR charting.
[20:47] The Training Path
Pediatrics is three years and fellowship is another three years. Presently, there's a debate on whether the three-year fellowship is necessary. But for now, it's kept at three.
'The first year is primarily clinical while the other two years are more tailored to the individual's academic interest.'
Click To Tweet
The American Board of Pediatrics requires people to do some scholarly product for your second and third year.
This can be in the form of an education research project, a basic science project, or a clinical research project. QI (quality improvement) is being increasingly accepted as a scholarly project as well.
Pediatric rheumatology is not a very competitive field. There are about 30-40 fellowship slots a year and about 20 of them get filled. So about 50%-60% of slots get filled every year.
There are lots of different reasons why it's less competitive. One reason is the lack of awareness. There's not a lot of exposure to it.
Also, because it's not a procedure-heavy field and visits take a long time, they don't generate revenue in terms of procedure or volume as much as other fields can. The compensation is not at par with general pediatrics. You will still be comfortable, just that it's not as much as the procedure-heavy fields.
"When people get exposed to it, they begin to realize how awesome of a field it is."
Click To Tweet
They have a pretty huge program at CHOP. In order to be competitive at these big programs, there are a couple of things that they look for.
There must be evidence of collegiality. What have you done to show you can work well within a team?
One must be able to show a level of intellectual curiosity. You have to improve your knowledge every time.
'Every year, two or three more diseases get described and characterized in the pathophysiology so you have to be constantly reading and to stay on top of the field.'
Click To Tweet
Lastly, you must have curiosity in the field. What have you done to show you have an interest in the field? Have you spent enough time with a rheumatologist? Be able to show that drive to get things done and know about the field.
[27:00] Advice to Osteopathic Students
The American College of Rheumatology estimates that they need about half of the pediatric rheumatologists in the country to fill the demand. In this regard, they were thinking about reaching out to DO schools.
'There are still around 6-7 states that don't have a single pediatric rheumatologist so there's a huge demand for it.'
Click To Tweet
The practice of osteopathic medicine is very hands-on and embedded with the musculoskeletal system. And in rheumatology, they do a full joint exam on every patient that comes in. They have noticed that fellows who have been trained in osteopathic schools have amazing physical exam skills. So they want to reach out better to osteopathic schools to sell them on the joy of pediatric rheumatology.
[Related episode: Let's Talk About Osteopathic Docs and What You Need to Know]
[28:35] Opportunities for Subspecialty
There are not any official fellowships beyond your three years unless you want to do postdoctoral training in the lab.
But the field is changing now. With more and more diseases now being characterized, there's an increasing area of interest in immune dysregulation syndromes.
Because of this, there are places dedicated to lupus clinics. You can spend time in those clinics getting more expertise in lupus. There are some opportunities more than an official capacity.
[30:20] Working with Primary Care and Other Specialties
'Kids get arthritis too.'
Click To Tweet
They see a lot of kids who would have joint swelling and get sent to orthopedists who would cast the kid. They take the cast off. The kid's joint is still swollen. Then they'd come to them. But by that time, the kid could already develop some joint damage.
This is happening a lot less now. Primary care providers and orthopedists are now doing a great job at recognizing that kids get arthritis.
That being said, primary care providers must understand that arthritis can happen to kids Know the questions to ask to be able to differentiate arthritis pain from mechanical symptoms. Time of the day is a big predictor of inflammatory vs mechanical pain. Inflammatory pain tends to happen in the morning.
There is a screening test for arthritis in kids and most of them don't have abnormal labs. Don't rely on negative labs to make the diagnose for arthritis.
In the evaluation process, when the kids are developing their systems, they have this immune dysregulation team that consists of rheumatologist, oncologist, immunologist, and infectious disease.
The team will often get consulted when a patient comes in with an unknown disease. And they all work closely together to develop an evaluation and management plan.
[33:50] Special Opportunities Outside of Clinical Medicine
The biologic era was starting when Jay came into rheumatology. Back then, there were only three drugs for the treatment of autoimmune disease. Now, there are about 20-25 different biologic drugs that he might prescribe in any given month.
'The pipeline is crazy for what's coming through in terms of the different pathways that can be targeted.'
Click To Tweet
The pathways are getting more and more specific so there are lots of opportunity within the industry.
There are lots of opportunities for teaching within residencies and medical schools. As diagnosticians, they're often asked to help teach the physical exams to medical students and residents.
[35:30] The Most and Least Liked Things
What he likes the most about his specialty is a tie between his colleagues and their patients. They have a large relatively large group with 9 attendings and 6 fellows. He describes his colleagues as really nice, smart, hardworking, and love to take care of patients. He is constantly learning from them.
Additionally, he gets to see kids from close to birth until they graduate from college. He loves seeing each stage of their childhood. Plus, the families are very appreciative and great people.
Conversely, what he likes the least about the field is the EMR burn. Their evaluations are so complex. They're doing full exams and complicated assessments, balancing large amounts of data. It's fun initially, but only until you put that into the computer as it takes a really long time. Currently, they might explore the assistance of scribes in the future.
[39:55] Major Changes in the Field of Pediatric Rheumatology
More and more ultrasound is being utilized so more and more people are getting trained. The drug development pipeline is going to be amazing in the next few years. He has also heard rumors of a move towards compensating cognitive fields with cognitive diagnosis codes.
If he had to do it all over again, he would still have chosen the same. He loves to tell people about how much he loves what he does.
'I can't imagine doing anything else.'
Click To Tweet
[42:05] Final Words of Wisdom
If you love to be around nice people and think about interesting diseases and make great relationships with patients, Jay says this is a fantastic field. And it's going to continue to get better.
Seek out opportunities. If you have one at your institution, spend an afternoon shadowing them and spending time at their clinic. The American College of Rheumatology has great opportunities to get paid for and travel to annual meetings.
Links:
American College of Rheumatology
Listen to Other Episodes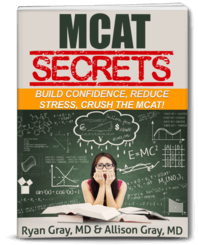 DOWNLOAD FREE - Crush the MCAT with our MCAT Secrets eBook