Session 57
Dr. Tom Bice is an academic Pulm Critical Care physician in North Carolina. We talk about his specialty and what you should be doing if you're interested in it. Tom has been out of fellowship for four years now.
By the way, check out all our other podcasts on the MedEd Media Network.
[01:03] His Interest in Critical Care Medicine
Not being able to decide on one topic, Tom knew he wanted to do a little bit of everything. And he has mild to moderate ADD. He also considered Emergency Medicine early on but he found he didn't enjoy people showing up at 3 am with significantly non-emergent problems.
So when he focused more on internal medicine, he was doing his rotations in surgery and medicine. Then he realized that all of the patients and disease processes that were cool ended up in the ICU. What cemented his decision was his OB rotation with a young 26-year-old lade with sickle cell anemia came in at 29 weeks and went to the emergency section. She ended up in the unit for several days and intubated, septic shock. He was a third year medical student at that time and he was the one from their team surrounding the patient. And he realized he loved every minute of it. In fact, the attending OB was one of those who wrote letters for his residency. Since then, he got hooked.
In short, it was the acuity that actually drew him towards what he's doing now. He had this notion that patients are going to need you when they come see you. But that's not always the case in the emergency medicine.
[04:55] Types of Patients
Being part of a large academic medical center, they have different ICUs for all the different patient types. As with Tom, he works predominantly in the medical ICU. But they also have the cardiac ICU, neuro ICU, surgical ICU, and cardiothoracic ICU (where he spent the first two years out of fellowship).
At medical ICU, they see patients with sepsis and septic shock of some kind. You also have those with liver failure, drug overdoses, and problems which you can't figure out what's wrong but they look real bad. What identifies all those patients is the need for fixing a deranged physiology.
Neuro intensivists tend to go through neurology or emergency medicine and then do neuro critical care. The cardiothoracic ICU uses a bit of everyone including anesthesia and critical care. Cardiac ICU does cardiology and pulmonary critical care too.
Tom explains that you get training during fellowship because your'e required to do so many months of ICU, that you can go and work in any kind of ICU necessary. Having done a lot of moonlighting during fellowship, and he saw that at the bigger community-based academic programs, intensivists rounds on all those ICU patients providing critical care.
[09:15] Typical Week
When Tom is o service, his typical week would be nighttime covered by the different intensivists where he is on from 7am to 7pm for seven days. And for the weekends, the ICUs have to have two attendings on so they split it between the two of them every other day.
Tom tries to keep his rounds short. And there's a lot of work that need to be done, procedures, consults, and activities for patients. Then before he leaves for the day, he ensures he has followed up everything and whatever action plans that needed to happen should have happened.
[10:35] Is It Procedure-Heavy?
Tom says it's a lot of procedures, with a caveat. To some extent, you can do as many or as few procedures as you want depending on how hands-on you want to be. But if you don't like procedures then it's not the specialty for you. Especially for the pulmonary side of things, they do thoracentesis and chest tubes as well as intubation, lumbar punctures, etc.
[12:00] Work-Life Balance
Tom says he has a lot of work-life balance, and this is the reason he chose academic over private practice. He probably would have enjoyed private practice critical care for 2-3 years. But he enjoys about 12 weeks of ICU time a year. And the rest of his time is non-clinical, doing research. His focus is clinical research so it's still patient-focused. But the 24/7 grind is not constant.
Nevertheless, when he's home, then he's really home. He likes the advantage of shift work. In fact, most of critical care is moving that direction around the country. In their state, what he notices is very much a day group and a night group. You're on when you're on and you're not when you're not. So it's easy to maintain balance that way.
[13:45] The Training Path
Tom cites a few options available now. When he started his fellowship, he knew he was going to keep doing research and stay in academics, he did his three-year internal medicine residency and then a  two-year critical care fellowship only.
Another options is for one extra year, you do pulmonary. This is mostly determined on whether you like clinic or not. People who do critical care only, tend not to have clinic obviously because there's no ICU followup per se. But if you want some of that longitudinal relationship with patients then you get to a little bit of both. That's why Tom also has a pulmonary clinic. This is three year after internal medicine residency, totaling to 6 years after medical school.
In terms of competition, Tom thinks it's getting more competitive, but it's not cardiology, or GI, or oncology. They get very competitive applicants every year at their program. He describes it as being competitive enough that requires some degree of forethought. He also thinks you have to have some research exposure if you go to an academic-type program.
[17:24] Negative Bias Towards DO Physicians and Special Opportunities
Tom has not seen any bias against DO doctors. In fact, a couple of his absolute famous attendings from residency were DOs that did pulmonary critical care. They've interviewed plenty of DOs. To them, it seems another way of getting the same training.
There are further subspecialization both in the pulmonary care side and the critical care side. Under pulmonary, there's interventional pulmonology which is more procedure-based. There are no formal NRMP matching programs for lung transplants but there are a few places that offer fellowship and subspecialty training in that. There are not set training programs, but they are niches within pulmonary medicine.
[20:10] Working with Primary Care and Other Specialties
Tom explains they do have interaction with primary care doctors in the pulmonary side. One of the balances they often run with primary care is the shortness of breath consultations, which cardiology and pulmonary like to point the finger at the other direction. His advice to primary care is to accept that both are probably wrong. And it's probably a little both of the lungs and the heart causing the shortness of breath.
Other specialties he works with include Nephrology. One-third of patients through the ICU require dialysis at some point. Tom also underlines the importance of having a good relationship with critical care trained surgeons, which are different from your general surgeons. Sometimes, it's knowing when not to take the patient to the operating room. And sometimes, it's knowing that you need to take a patient to the operating room, no matter what. He may also work with GI/Hepatology.
Outside of critical care, there are other opportunities that are available. Pulmonary gets involved with high altitude medicine which also includes diving (low altitude medicine). Personally, he has had some experience traveling and training in resource-poor environments. Knowing how to provide critical care in those environments can be very handy.
You can also do research. Critical care is relatively a new specialty. So there's still a ton that we don't know about how to do things right, according to Tom. You can also do quality and leadership initiatives through that.
[23:40] What He Wished He Knew that He Knows Now
The one thing he didn't know as much early on about critical care is how much time spent with families of dying patients. He's glad though that it's something he enjoys having those conversations about end of life care and the expectations of what is going to happen.
Tom stresses that unlike what they're taught during training to find the problem and fix it, there are times they just can't. And being able to have that conversation with patients or their families is really important.
This is a good message he wishes to send out to primary care doctors as well is to have those conversations in clinic early. But recognize that they're flexible and people change right up until the last minute.
[25:20] What He Likes Most and the Least and Major Changes in the Future
What Tom likes the most about critical care is that there's always something to do. It's always a busy specialty. There's always going to be sick patients. And the acuity never stops because if you're going to get one patient better. And there's going to be three waiting in line.
On the flip side, what he likes the least is that the ICU never closes. So you have to know that you're going to work in the ICU on Christmas and all the other holidays at some point.  Know that going in.
Although this has been growing over the last several years, you still see the inclusion of advanced practice providers like PAs and NPs in the ICU. This is primarily because of the shortage of critical care providers. It's a numbers problem that a number solution can help with.
Ultimately, if he had to do it all over again, he still would have chosen the same specialty. Tom wishes to tell students who might be interested to explore this field that they'd love to have you. Contact your local critical care doctor for rotation. It's a good time even if it's busy.
[29:30] Personal Takeaways
Most students that love a little bit of everything go to emergency medicine. Yet, there's also this subsection of students who love the high acuity stuff.
Go back and listen to Episode 2 of Specialty Stories where I interviewed an emergency medicine doctor where he revealed that the high acuity stuff only comprises a small percentage of an emergency physician's job. So if you like the high acuity stuff, and you like a little bit of everything, pulm critical care might be the specialty for you.
If you have a physician you want to be interviewed here on the podcast, shoot me an email at [email protected].
Links:
Episode 2 of Specialty Stories
Get the Podcast Free!
Listen to Other Episodes
Leave us a Review and Rating!
Just like Yelp reviews or IMDB ratings help you choose your next restaurant or movie, leaving a 5 star rating and/or a written review is very valuable to The Premed Years. It allows us to be able to share our information with more people than ever before.
I am so incredibly thankful to those who have recently gone into our listing in iTunes to provide a five start rating and a written review of The Premed Years.
Subscribe and Download
iOS/Mac/Windows – You can subscribe to the show in iTunes. Or you could manually add the RSS feed to your aggregator.
Android/Mac/Windows – You can download DoubleTwist and use that to manage all of our past and future episodes
Please help us spread the word!
If you like the show, will you please take a moment to leave a comment on iTunes? This really helps us get the word out!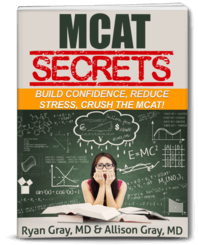 DOWNLOAD FREE - Crush the MCAT with our MCAT Secrets eBook