Original Article: Pets in Medical School
Is having a pet while you're in medical school a good idea?
Dave's gotten a few requests over the years from folks who want to know: is it a good idea to have pets while you're in medical school?  And Dave also has co-hosts who wanted to talk about their pets on The Short Coat Podcast.  Now, Dave isn't a pet kinda guy, but luckily he went out of town and Kylie Miller was able to take over the mic.  Which means that finally, after all this time, some med student pet owners–Kaci McCleary, Vic Hatcher, Tim Maxwell, and Lisa Wehr–were able to get together with Kylie to talk about the challenges and rewards of having a fur baby while working through medical school.
Subscribe for Free
Listen to Other Episodes
Leave us a Review and Rating!
Just like Yelp reviews or IMDB ratings help you choose your next restaurant or movie, leaving a 5 star rating and/or a written review is very valuable to The Premed Years. It allows us to be able to share our information with more people than ever before.
I am so incredibly thankful to those who have recently gone into our listing in iTunes to provide a five start rating and a written review of The Premed Years.
Subscribe and Download
iOS/Mac/Windows – You can subscribe to the show in iTunes. Or you could manually add the RSS feed to your aggregator. Android/Mac/Windows – You can download DoubleTwist and use that to manage all of our past and future episodes
Please help us spread the word!
If you like the show, will you please take a moment to leave a comment on iTunes? This really helps us get the word out!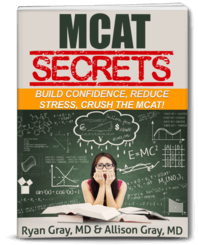 DOWNLOAD FREE - Crush the MCAT with our MCAT Secrets eBook