Session 27
If you've been a great premed student, you likely will have the chance to choose between multiple acceptances. How should you do choose between schools?
This is a terrible yet awesome problem to have.
[01:00] Financial Factor
What is the most important part of going to medical school for you? Is it to come out with less debt? Then find the cheapest school. Or find one that is going to give you the biggest scholarship.
Yes, medical schools give scholarships. A student I worked with the past year had multiple acceptances. So she called one school and voiced out her concerns. And they bumped up their scholarship, afraid they would lose her. Obviously, she was a good enough student who had that diversity they wanted. That's $75k and that's a lot!
So when you're at that point of having multiple acceptances, you can tell a school that another school is offering you this much. And if they can match that, well then good.
[02:42] Take Notes
What other factors may be important to you? Is it weather? It is to a lot of people. If you're coming from sunny California and you're accepted to Buffalo, really make sure you want to go there since they have bad winters up there.
As you're going through the process of interviewing at multiple schools, take note. What did you like about the school? What didn't you like? What questions do you still have about the school? Feel the vibes of the students. Check out the facilities. Take note of a lot of these things so when you come back and the rush of the interview day is over, you can then subjectively look at what you wrote down. And you're not trying to remember on the fly and get confused.
What was it about the facilities? The location? Do they have housing for students? How expensive is the area? Where's the nearest airport? Do you have to fly and drive for four more hours? These things can be important to other people, especially if you're leaving family and your family is going to visit you a lot.
[03:55] Academic Factors
How big are the classes? What's the type of curriculum they have? What do they do during the summers? What kinds of research do they have going on there? What sort of academic hospital do they have there?
Do you have to do your rotations scattered throughout the country or around a region? Or do they have a lot of academic hospitals in one concentrated area? This way you won't have a ton if you're with family.
There are so many different things to think about as you're going through this process of trying to decide between multiple acceptances.
[04:45] MD versus DO
One of the things you should not be concerned about is MD versus DO. I was emailing with a student and the student said they had the best time at this school which had everything he wanted but it's a DO school. So he asked whether he should be concerned.
If you got the best vibe at that school, then go there. If in all of your interview, you got the best vibes and feelings at a DO school, then go to a DO school.
Nothing's going to happen to you. You're going to be a DO. And at the end of the day, you're a physician.
By the way, the episodes in this podcast are recordings of our Facebook Live that we do at 3pm Eastern on most weekdays. Check out our Facebook page and like the page to be notified. Also, listen to our other podcasts on MedEd Media including The Premed Years Podcast.
Links:
The Premed Playbook Guide to the Medical School Interview
Medical School HQ Facebook page
Get the Podcast Free!
Listen to Other Episodes
Leave us a Review and Rating!
Just like Yelp reviews or IMDB ratings help you choose your next restaurant or movie, leaving a 5 star rating and/or a written review is very valuable to The Premed Years. It allows us to be able to share our information with more people than ever before.
I am so incredibly thankful to those who have recently gone into our listing in iTunes to provide a five start rating and a written review of The Premed Years.
Subscribe and Download
iOS/Mac/Windows – You can subscribe to the show in iTunes. Or you could manually add the RSS feed to your aggregator.
Android/Mac/Windows – You can download DoubleTwist and use that to manage all of our past and future episodes
Please help us spread the word!
If you like the show, will you please take a moment to leave a comment on iTunes? This really helps us get the word out!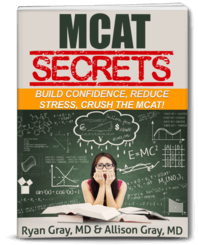 Crush the MCAT with our
MCAT Secrets eBook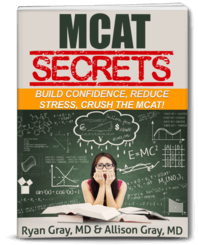 DOWNLOAD FREE - Crush the MCAT with our MCAT Secrets eBook