Session 28
In this episode, Ryan talks with Dr. Mike McInnis, Chief Educator at Doctors in Training, a small company that focuses mainly on test prep specifically USMLE (United States Medical Licensing Exam) and COMLEX (Comprehensive Osteopathic Medical Licensing Examination) to help prepare medical students pass the boards.
Today, he talks about the USMLE Step 1 and Step 2 board exams, their importance on your path to residency, and studying strategies you can employ. COMLEX will be covered in a different podcast.
Here are the highlights of the conversation with Mike:
What is a USMLE Exam?
A three-part test designed to test whether a medical student is knowledgeable enough to be licensed as a physician.
USMLE Step 1
A long, computerized, multiple choice test based on basic sciences
Usually taken at the end of the second year of medical school
Used as a determining factor in residency application
Doing well gives you better chances to the kind of residency you want
Similar to the MCAT where you need to do well to get as many offers from the top residency programs you want to get into
Changing from knowledge-based test to a more clinical/patient-centered exam
From NRMP Charting Outcomes 2011[/caption]
USMLE Step 2 CK (Clinical Knowledge)
Computer-based, multiple choice test moving away from the basic sciences and more toward actual patient care such
How to make diagnosis, what diagnostic tests should you order for a patient based on clinical data and history, lab findings to expect,  and the beginnings of treatment
Mostly taken at the tail-end of 3rd year or beginning of your 4th year where at this point you've already been exposed to patient care during clinical years
Designed to test a medical student whether they're able to function at a level appropriate for a senior level medical student
USMLE Step 2 CS (Clinical Skills)
Setting you up with mock patients (actors paid to act as patients)
Expensive test as you will be flying to the site since they are only offered in 5-6 testing locations throughout the country
Taking histories, doing physical exams, writing a SOAP note that integrates it all with a good assessment and plan
Total of 12 patient encounters
Is Step 2 important for residency?
Yes, residency programs directors still look at your Step 2 scores and it may affect your chances to match
Average Step 2 score being considerably higher than Step 1 score
Step 3
Taken after the intern year (first year of residency training)
May be required in some residency programs before moving to 2nd or 3rd year of residency
No full medical license until you've passed all three steps
Mostly covers basic general medical conditions
About Doctors in Training:
Online USMLE Step 1 and Step 2 CK test products
Also offers COMLEX products as well as anatomy and others
Around 75 hours of video-based lectures with study guide
Helping medical students bring the stuff out of their memory review the course
Some pieces of advice for premed students:
The best way to prepare for the Step 1 exam is to do well in your coursework in medical school. Learn pharmacology and pathology as much as you can. Do not ignore
Connect with Dr. McInnis on Twitter @DrMcInnisDIT
Links and Other Resources:
USMLE Step 2 CK Question Formats
USMLE Books
First Aid for the USMLE Step 1 2013 (First Aid USMLE)
First Aid for the USMLE Step 2 CK, Eighth Edition (First Aid USMLE)
First Aid for the USMLE Step 2 CS, Fourth Edition (First Aid USMLE)
COMLEX Books
Save $225 on the Princeton Review's MCAT Ultimate or MCAT Self-Paced Prep Course through March 30th 2016 by going to www.princetonreview.com/podcast
If you need any help with the medical school interview, go to medschoolinterviewbook.com. Sign up and you will receive parts of the book so you can help shape the future of the book. This book will include over 500 questions that may be asked during interview day as well as real-life questions, answers, and feedback from all of the mock interviews Ryan has been doing with students.
Are you a nontraditional student? Go check out oldpremeds.org.
For more great content, check out www.mededmedia.com for more of the shows produced by the Medical School Headquarters including the OldPremeds Podcast and watch out for more shows in the future!
Free MCAT Gift: Free 30+ page guide with tips to help you maximize your MCAT score and which includes discount codes for MCAT prep as well.
Hang out with us over at medicalschoolhq.net/group. Click join and we'll add you up to our private Facebook group. Share your successes and miseries with the rest of us.
Check out our partner magazine, www.premedlife.com to learn more about awesome premed information.
Next Step Test Prep: Get one-on-one tutoring for the MCAT and maximize your score. Get $50 off their tutoring program when you mention that you heard about this on the podcast or through the MSHQ website.
Listen to our podcast for free at iTunes: medicalschoolhq.net/itunes and leave us a review there!
Email Ryan at ryan@medicalschoolhq.net or connect with him on Twitter @medicalschoolhq
Subscribe for Free
Listen to Other Episodes
Leave us a Review and Rating!
Just like Yelp reviews or IMDB ratings help you choose your next restaurant or movie, leaving a 5 star rating and/or a written review is very valuable to The Premed Years. It allows us to be able to share our information with more people than ever before.
I am so incredibly thankful to those who have recently gone into our listing in iTunes to provide a five start rating and a written review of The Premed Years.
Subscribe and Download
iOS/Mac/Windows – You can subscribe to the show in iTunes. Or you could manually add the RSS feed to your aggregator.
Android/Mac/Windows – You can download DoubleTwist and use that to manage all of our past and future episodes
Please help us spread the word!
If you like the show, will you please take a moment to leave a comment on iTunes? This really helps us get the word out!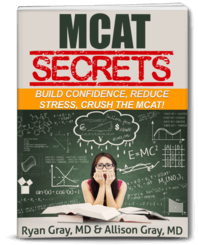 Crush the MCAT with our
MCAT Secrets eBook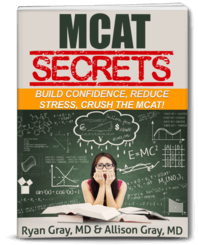 DOWNLOAD FREE - Crush the MCAT with our MCAT Secrets eBook