Session 29
In this episode, Ryan talks with Dr. Zubin Damania, a.k.a. ZDoggMD, a hospitalist, healthcare visionary and internet personality as they talk about his path to medicine, his struggles, and the exciting Downtown Project in Las Vegas, Nevada.
Here are the highlights of the conversation with ZDoggMD:
When he knew he wanted to become a doctor:
Born to parents who are doctors
Doing medicine as a rebellion to spite his parents but liking science at the same time
Having the idealism at the back of his mind to make a difference by helping people
Finding the actual practice as disconcerting
The negative side of medicine:
The stress of running your own business when you're not trained to do
His medical school years:
Going to UC Berkeley as an undergrad in 3 years
Nothing as conceptually too difficult
Not getting prepared for his first clinical year during the third year – Pass-Fail-Honor
Faking his way through the process as he was getting incredibly depressed
Finding the importance of getting support from colleagues
The haphazard system of having varying degrees of experience
His three-year undergrad experience in Berkeley:
Major in biology and minor in music
Starting to get tired of college by his second year
Spending his fourth year at Berkeley lab doing genetics research that he liked
Realizing research wasn't something he wanted to do and reaffirming that going to medical school was the right answer
Describing his Berkeley experience as the most brutal in terms of competition
The ultimate goal as better patient care
Choosing his specialty:
Being influenced by a GI doc he knew
Entered internal medicine residency with the intent of doing a GI fellowship
Realizing he didn't like GI and the primary care setup
Not having a job plan after residency, taking a time off, and going back to clinical medicine
Taking a hospitalist job at Stanford
The trends he's seeing in medicine:
The super-specialization as a reaction to high debt loads and high pay
Reimbursement, level of respect, and basic job structure as the main drivers for people staying away from primary care
His ideas of fixing primary care:
Fair compensation with a job structure where they could help people
More precision functions taken over by other entities like nurse practitioners or health coaches
Taking insurance out of primary care and basing it on a flat fee membership model
Ways to motivate patients to go to a doctor:
Taking away any transactional barrier
Paying for the relationship with the team rather than a transactional, episodic visit
Fixing the current service fees system and replace it with a more sensible one for both providers and patients
Zubin describes their exciting project in Las Vegas: A three-tiered model
Starting with a 7,000-sq.ft. clinic in downtown Las Vegas
First piece: Financial disruption – Get insurance out!
Funding through the flat-fee membership of patients
Second piece: The care team – The village-type scenario

Other community programs like yoga, meditation, and nutrition classes as part of the membership to tie all clinic members and the patients with the community they're in

Third piece: Proprietary EMR they're developing with their partner
Links and Other Resources:
Ryan's article on Tiger Woods and the pre-med gunner mentality – KevinMD.com
Free Will – Book by Sam Harris
Save $225 on the Princeton Review's MCAT Ultimate or MCAT Self-Paced Prep Course through March 30th 2016 by going to www.princetonreview.com/podcast
If you need any help with the medical school interview, go to medschoolinterviewbook.com. Sign up and you will receive parts of the book so you can help shape the future of the book. This book will include over 500 questions that may be asked during interview day as well as real-life questions, answers, and feedback from all of the mock interviews Ryan has been doing with students.
Are you a nontraditional student? Go check out oldpremeds.org.
For more great content, check out www.mededmedia.com for more of the shows produced by the Medical School Headquarters including the OldPremeds Podcast and watch out for more shows in the future!
Free MCAT Gift: Free 30+ page guide with tips to help you maximize your MCAT score and which includes discount codes for MCAT prep as well.
Hang out with us over at medicalschoolhq.net/group. Click join and we'll add you up to our private Facebook group. Share your successes and miseries with the rest of us.
Check out our partner magazine, www.premedlife.com to learn more about awesome premed information.
Next Step Test Prep: Get one-on-one tutoring for the MCAT and maximize your score. Get $50 off their tutoring program when you mention that you heard about this on the podcast or through the MSHQ website.
Listen to our podcast for free at iTunes: medicalschoolhq.net/itunes and leave us a review there!
Email Ryan at ryan@medicalschoolhq.net or connect with him on Twitter @medicalschoolhq
Tweet Allison @allison_mshq or send her an email at allison@medicalschoolhq.net.
Subscribe for Free
Listen to Other Episodes
Leave us a Review and Rating!
Just like Yelp reviews or IMDB ratings help you choose your next restaurant or movie, leaving a 5 star rating and/or a written review is very valuable to The Premed Years. It allows us to be able to share our information with more people than ever before.
I am so incredibly thankful to those who have recently gone into our listing in iTunes to provide a five start rating and a written review of The Premed Years.
Subscribe and Download
iOS/Mac/Windows – You can subscribe to the show in iTunes. Or you could manually add the RSS feed to your aggregator.
Android/Mac/Windows – You can download DoubleTwist and use that to manage all of our past and future episodes
Please help us spread the word!
If you like the show, will you please take a moment to leave a comment on iTunes? This really helps us get the word out!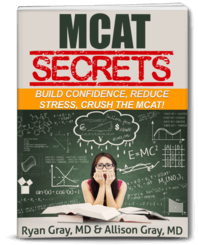 Crush the MCAT with our
MCAT Secrets eBook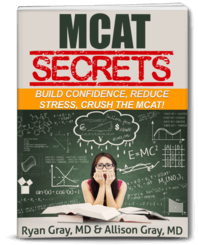 DOWNLOAD FREE - Crush the MCAT with our MCAT Secrets eBook