Session 30
In today's episode, Ryan talks with Lt. Col (Dr.) Aaron Saguil, the Assistant Dean for Recruitment and Admissions at F. Edward Hébert School of Medicine, better known to most people at USUHS (Uniformed Services University of the Health Sciences) or, in layman's term, the military medical school. It is an allopathic medical school where you apply to it just as you would to other allopathic schools through the AMCAS applications yet the only major difference for this school is you get paid to go to medical school. Your tuition is free plus you're getting paid as an active duty service member.
Today, we cover things like information about who should consider applying to this school, careers in the military as a physician, deployments, and more topics about being a military physician.
Here are the highlights of the conversation with Dr. Saguil:
His path to military medicine:
Going to Duke University in his undergrad under ROTC scholarship with the Army
Wanting to go to medical practice since high school
His decision coming down to the proximity to his family
Going to University of Florida under HPSP scholarship and had a fantastic four-year time
Having service obligation from ROTC so he was dedicated to have a career in the military
Spending his Family Medicine residency in Virginia
Different opportunities he had after residency:
Spending 2 and a half years in Germany and some traveling opportunities
Wanting to do in-patient care and teaching responsibilities
Being accepted into the Faculty Development Fellowship Program at Madigan Army Medical Center
Earning his Masters of Public Health at the University of Washington
Teaching and mentoring residents and doing in-patient care
Serving as a student coordinator for medical students rotating with them
Seeing the leadership side of medical education – taking his first deployment in Afghanistan for 15 months
Being stationed in USUHS in Washington, D.C. for 9 months now serving as the assistant dean for recruitment and admissions
About the HPSP Scholarship:
Check out Session 18
About the Military Medical School
Located in Bethesda, Maryland, 10-12 miles outside Washington, D.C.
Conceived by an Act of Congress in 1972 and has graduated 5000 physicians
An allopathic (MD) degree granting institution licensed by the ACME, the accrediting body for all medical schools in the US and Canada
Tuition is free and you're getting paid $57,000 – $60,000 (for active duty service)
Applying to the Military Medical School:
Go through the AMCAS application
They don't charge people to apply to their school
They don't charge for the secondary applications
Just because it's free doesn't mean you should go apply to their school
Go apply if you like the idea of a service-oriented lifestyle or you want to be a part of something bigger than yourself
Types of students that military medical school looks for:
1/3 of students have prior association with the military (ROTC, service academy, or previous active service)
2/3 of their class don't have prior military experience
The common thread between these two groups is SERVICE
Other things they look for:
Shadowing experience
Good, strong clinical letter of recommendation
Has devoted a good portion of their life serving others (volunteering experience)
Having the motivation
Rate of burnout is high in primary care
Having something that pulls you out of bed every morning
Medical school life at the USUHS versus 'normal' medical school:
Pre-clinic (18 months) – lectures and mandatory small groups
Clinical rotations (12 months) – opportunity to travel to their multi-treatment faciltiies in Hawaii, Washington state, Texas, and Florida
Preparing for residency applications and sub-I's (18 months)
No mandatory PT!
Living off-campus
Getting paid to go to medical school
USUHS vs. HPSP scholarship:
HPSP has a fixed stipend that adjusts with inflation each year
If you're looking for a service-oriented field within medicine, you need financial assistance to attend medical school, or the military is appealing to you, apply to both USUHS and HPSP.
Each year, USUHS only brings around 63 army physicians and 52 physicians for the navy and the air force and only 4 for the public health service.
Each year, the HPSP program brings in over 200 for each of those branches (army, navy, and air force)
Restrictions on specialty or residency training:
No restrictions
Every year, they have 800 graduating students between USHUS and HPSP program
The same number of spots in residency programs in their military graduate medical education system
Military matching – students compete for military training spots
Guaranteed internship
The GMO (General Medical Officer)/Flight Surgeon Spot:
Having done 1-year or transitional year internship and going on to serve specific cool jobs
Having the opportunity to reapplying to the residency of your choice
GMO time gives you credit towards your residency program
Having the fear of the unknown
2 Key things for you to succeed in the military:
Flexibility
Optimism
Career tracks as a military medical officer:
Clinical
Operational
Executive positions
Academic
Research
Settings for sub-specialties:
Community clinic type
Community hospital
Tertiary care facility
Deployments as a physician:
Every 3-4 years on average depending on specialty, geographic location, and seniority (during the war in Afghanistan)
Army – 9 months
Navy – 6-7 months
Air force – 3-6 months
What happens to your family during deployment especially if you're a single parent?
Family Readiness Plan (FRP)
How competitive it is to get into USUSHS:
3,000 applications
500-600 students for interview
171 seats to be admitted
Avg GPA: 3.5
Avg MCAT: 31
They will view postbac work in lieu of your time as an undergrad
Some pieces of advice for premed students:
The military is not for everyone.
Part of the military is living up to the legacy that Abraham Lincoln and John F. Kennedy about taking care of the wounded, the widow and the orphan.
Links and Other Resources:
Session 18: Air Force – HPSP Scholarship Info Interview
If you need any help with the medical school interview, go to medschoolinterviewbook.com. Sign up and you will receive parts of the book so you can help shape the future of the book. This book will include over 500 questions that may be asked during interview day as well as real-life questions, answers, and feedback from all of the mock interviews Ryan has been doing with students.
Are you a nontraditional student? Go check out oldpremeds.org.
For more great content, check out www.mededmedia.com for more of the shows produced by the Medical School Headquarters including the OldPremeds Podcast and watch out for more shows in the future!
Free MCAT Gift: Free 30+ page guide with tips to help you maximize your MCAT score and which includes discount codes for MCAT prep as well.
Hang out with us over at medicalschoolhq.net/group. Click join and we'll add you up to our private Facebook group. Share your successes and miseries with the rest of us.
Check out our partner magazine, www.premedlife.com to learn more about awesome premed information.
Next Step Test Prep: Get one-on-one tutoring for the MCAT and maximize your score. Get $50 off their tutoring program when you mention that you heard about this on the podcast or through the MSHQ website.
Listen to our podcast for free at iTunes: medicalschoolhq.net/itunes and leave us a review there!
Email Ryan at ryan@medicalschoolhq.net or connect with him on Twitter @medicalschoolhq
Subscribe for Free
Listen to Other Episodes
Leave us a Review and Rating!
Just like Yelp reviews or IMDB ratings help you choose your next restaurant or movie, leaving a 5 star rating and/or a written review is very valuable to The Premed Years. It allows us to be able to share our information with more people than ever before.
I am so incredibly thankful to those who have recently gone into our listing in iTunes to provide a five start rating and a written review of The Premed Years.
Subscribe and Download
iOS/Mac/Windows – You can subscribe to the show in iTunes. Or you could manually add the RSS feed to your aggregator.
Android/Mac/Windows – You can download DoubleTwist and use that to manage all of our past and future episodes
Please help us spread the word!
If you like the show, will you please take a moment to leave a comment on iTunes? This really helps us get the word out!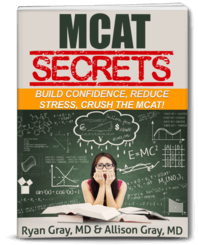 Crush the MCAT with our
MCAT Secrets eBook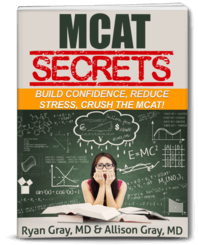 DOWNLOAD FREE - Crush the MCAT with our MCAT Secrets eBook