Session 31
In today's episode, Ryan and Allison talk about the 8 key pieces of information every premed should know as they're going through this journey..
No perfect applicant
There is no one picture of a perfect applicant that you need to fit into.
Be who you are.
Don't figure out what boxes to check because there's no such thing as a checklist.
The admissions committee is looking for what makes you unique, not a "cookie cutter" applicant
Choosing your undergrad
Ryan chose an undergrad based on an athletic program over academics
Allison chose McGill in Canada which has a European method of teaching with narrow coursework
Several Canadian universities do not inflate grades and more interested in taking students from their own provinces
If you go to a Canadian medical school, you're not considered a foreign medical graduate in the US
BS/MD programs
These are 7 or 8-year BS/MD programs wherein you apply to an undergrad program and be accepted into medical school at the same time
Broaden your coursework
FlexMed program is a 7- year program where you get to apply to medical school as a sophomore in college. If you get accepted, you no longer have to take the MCAT and you get the chance to bring in some diversity into your courses.
Respect the MCAT

The MCAT is a test like no other. One of the most common mistakes students make is underestimating the MCAT thinking you're doing well with your undergrad.
It tests your ability to take the MCAT.
You need to do practice tests under real conditions
Prep courses are great but be sure to do practice tests
Apply broadly.

The average number of medical schools to apply to is 14.5 but apply as many schools as you can
Be open to the possibility of going to a school out of your region
Find a school that is going to match with you
Apply early but not on the first day.

Delay a couple of days to a week to let the glitches in the system (if there are any) to work themselves out
The further you go along in the application cycle, the less chances of you getting an interview
Medical school application is like a game of musical chairs – the sooner you get a chair, the better
Enjoy the journey!

Take time to enjoy the ride. Take time to soak in those moments of being a college student.
Although you also need to delay gratification at times whenever appropriate.
Life is about balance.
Links and Other Resources:
Session 16 – Interview with Mount Sinai – All About FlexMed
LMU-DeBusk College of Osteopathic Medicine
Johns Hopkins School of Medicine
The George Washington University School of Medicine
Georgetown University School of Medicine
M Prep MCAT Anytime eCourse Review
If you need any help with the medical school interview, go to medschoolinterviewbook.com. Sign up and you will receive parts of the book so you can help shape the future of the book. This book will include over 500 questions that may be asked during interview day as well as real-life questions, answers, and feedback from all of the mock interviews Ryan has been doing with students.
Are you a nontraditional student? Go check out oldpremeds.org.
For more great content, check out www.mededmedia.com for more of the shows produced by the Medical School Headquarters including the OldPremeds Podcast and watch out for more shows in the future!
Free MCAT Gift: Free 30+ page guide with tips to help you maximize your MCAT score and which includes discount codes for MCAT prep as well.
Hang out with us over at medicalschoolhq.net/group. Click join and we'll add you up to our private Facebook group. Share your successes and miseries with the rest of us.
Check out our partner magazine, www.premedlife.com to learn more about awesome premed information.
Next Step Test Prep: Get one-on-one tutoring for the MCAT and maximize your score. Get $50 off their tutoring program when you mention that you heard about this on the podcast or through the MSHQ website.
Listen to our podcast for free at iTunes: medicalschoolhq.net/itunes and leave us a review there!
Email Ryan at ryan@medicalschoolhq.net or connect with him on Twitter @medicalschoolhq
Tweet Allison @allison_mshq or send her an email at allison@medicalschoolhq.net.
Subscribe for Free
Listen to Other Episodes
Leave us a Review and Rating!
Just like Yelp reviews or IMDB ratings help you choose your next restaurant or movie, leaving a 5 star rating and/or a written review is very valuable to The Premed Years. It allows us to be able to share our information with more people than ever before.
I am so incredibly thankful to those who have recently gone into our listing in iTunes to provide a five start rating and a written review of The Premed Years.
Subscribe and Download
iOS/Mac/Windows – You can subscribe to the show in iTunes. Or you could manually add the RSS feed to your aggregator.
Android/Mac/Windows – You can download DoubleTwist and use that to manage all of our past and future episodes
Please help us spread the word!
If you like the show, will you please take a moment to leave a comment on iTunes? This really helps us get the word out!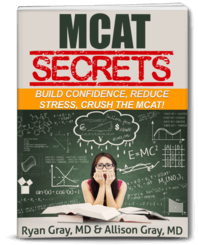 DOWNLOAD FREE - Crush the MCAT with our MCAT Secrets eBook