Session 36
In today's episode, Ryan talks with Allison, err… Allison talks with Ryan. Yep! She's going to interview him today to talk about what life is like to be a flight surgeon, his path to aerospace medicine, .
Here are the highlights of the conversation with Ryan and Allison:
What is a flight surgeon?
No, a flight surgeon does not operate on a plane. A flight surgeon is a family practice doctor for a specific population of air force members such as pilots, loadmasters, flight engineers, missile operators, space operators, drone pilots, air traffic controllers, or anybody involved in the day-to-day operations in the air force.
Ryan is the medical standards expert and he makes sure they meet all those medical standards and are able to continue their job. He has an office (on the ground) though he is required to fly once a week in order to make sure his patient is safe doing what they do in the sky and to see what their stressors are day in and day out.
Flight Medicine Course
Allows you to learn how stressful it is to be in a cockpit and fly a plane and the amount of stimuli when you get over-saturated with the tasks to be done.
Ryan's path to being a flight surgeon:
Wanting to be an orthopedic surgeon and going to medical school on the Health Professions Scholarship Program (HPSP) in the military
The military having control in his residency application
Applying to the military version of the match and cutting his postgrad education off and going through 1-year residency training to become a flight surgeon
Differences in civilian medicine vs. military medicine
Thinking about their conditions in terms of military service
No insurance difficulties (since everyone in the military is insured)
Some perks in the military:
Being called "sir' all day long
Saluting officers in higher ranks
Respect and teamwork are very evident
Jumping in the plane as an aircrew member
Things Ryan love about being a flight surgeon:
Community involvement
Unique patient population (patients avoid him because they love to work and they desperately love to get better immediately)
The other thing Ryan and Allison talk about is The MSHQ Academy, a new project that was born from talking to you. Ryan and Allison talked to dozens of students and heard the same thing over and over. You want a community of members that you can trust. A community that won't try to cut you down. A community that you can get motivation from.
Some pieces of advice for premed students:
Look into the military for a possible job or career to pay for medical school
Be flexible. Be willing to have a bit of adventure. Be willing to give up a little bit of control of your life.
Links and Other Resources:
If you need any help with the medical school interview, go to medschoolinterviewbook.com. Sign up and you will receive parts of the book so you can help shape the future of the book. This book will include over 500 questions that may be asked during interview day as well as real-life questions, answers, and feedback from all of the mock interviews Ryan has been doing with students.
Are you a nontraditional student? Go check out oldpremeds.org.
For more great content, check out www.mededmedia.com for more of the shows produced by the Medical School Headquarters including the OldPremeds Podcast and watch out for more shows in the future!
Free MCAT Gift: Free 30+ page guide with tips to help you maximize your MCAT score and which includes discount codes for MCAT prep as well.
Hang out with us over at medicalschoolhq.net/group. Click join and we'll add you up to our private Facebook group. Share your successes and miseries with the rest of us.
Check out our partner magazine, www.premedlife.com to learn more about awesome premed information.
Next Step Test Prep: Get one-on-one tutoring for the MCAT and maximize your score. Get $50 off their tutoring program when you mention that you heard about this on the podcast or through the MSHQ website.
Listen to our podcast for free at iTunes: medicalschoolhq.net/itunes and leave us a review there!
Email Ryan at [email protected] or connect with him on Twitter @medicalschoolhq
Tweet Allison @allison_mshq or send her an email at [email protected]
Subscribe for Free
Listen to Other Episodes
Leave us a Review and Rating!
Just like Yelp reviews or IMDB ratings help you choose your next restaurant or movie, leaving a 5 star rating and/or a written review is very valuable to The Premed Years. It allows us to be able to share our information with more people than ever before.
I am so incredibly thankful to those who have recently gone into our listing in iTunes to provide a five start rating and a written review of The Premed Years.
Subscribe and Download
iOS/Mac/Windows – You can subscribe to the show in iTunes. Or you could manually add the RSS feed to your aggregator.
Android/Mac/Windows – You can download DoubleTwist and use that to manage all of our past and future episodes
Please help us spread the word!
If you like the show, will you please take a moment to leave a comment on iTunes? This really helps us get the word out!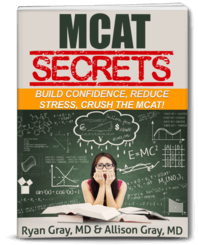 DOWNLOAD FREE - Crush the MCAT with our MCAT Secrets eBook