Session 35
If you start out as premed and don't do quite as well as you want, you have to ask yourself "How badly do I want this?" – Dr. Polites
If you've got a poor grade in any course and you think that it's all over, well, it's not. In today's episode, Ryan welcomes back Dr. Greg Polites for the second time on the show as they talk about how to fix your application after starting off poorly as a premed, the thought process, solutions to some possible scenarios, and red flags in applications and what to avoid. Also learn about the worst AMCAS application photos submitted.
Dr. Polites is affiliated with the Washington University in St. Louis where he serves as a premed advisor, an associate professor of Emergency Medicine, a member of the admissions committee, and a course master for the practice of medicine for 1st and 3rd year medical students. He also runs the premed course at Washington University called MedPrep with 90% of all premed students in WashU-St. Louis taking such course.
Here are the highlights of the conversation with Dr. Greg Polites:
Greg's path to medicine:
Not having a great start at college
Going to business school and getting bored
Taking his postbac and getting focused on medicine
Running into an emergency physician who didn't start college strongly
Correcting course:
How badly do you need this?
What do you need to do to really focus and do well?
Look at your strengths and weaknesses.
Look at your overall academic performance.
Have an organized, thoughtful plan
Make use of every resource available to you

Tutoring services
Prehealth advising system
Should you retake the course if you get a C?
Move forward and do better in a higher level course in the same discipline
Retake the course if you didn't learn the fundamentals well enough
Trying to boost up your GPA isn't the only thing you need to demonstrate
How well do you know the information?
How well did you learn what you need to learn?
How are you doing overall?
Have a more extensive plan of taking 1 or 2 years as a postbac
Factors for poor grades:
Overextending yourself early on in college
Underestimation of how difficult the coursework and exams can be
Not taking advantage of the resources and help that they can get
Greg recommends:
Be a bookworm in the first 6 months of college.
Limit what you do in that first 6 months to one activity outside of class time
Start out school slowly and ease into it
Possible scenarios:
2 years in and walking the line of a 3.0 GPA, should you move forward with taking the MCAT?
Have a very clear understanding of where you're going to be at the time you file your application
Take some gap years. Figure out when to take your MCAT and if you're ready to take the MCST
Look at a 2-year plan where you look at 2 additional postbac years of serious coursework plus 1 year of doing something while in the application process
Taking Master's program over postbac:
Master's degree: will give you strong undergrad GPA
Can be pretty costly
DIY postbac at a local community college:
Greg recommends taking it at a full four-year university
You need to demonstrate that you can handle the coursework for medical school
It's important to take a full course load
2-year structured programs are better as you get advising along the way
Taking a June MCAT and wait till they get the score back before applying:
Get your application within the first 6 weeks AMCAS opens
You should have lodged the application by mid-July (end of July the latest)
Make it as simple as possible:
Know the timeline.
Plan well.
Make sure you have all your letters of recommendation in early.
When you're ready to send it, send it.
Talk to your prehealth advisors in your junior year
A  re-applicant in the eyes of the admissions committee:
They will open your old application and compare it with the current application and see the difference
Slow down and really take an honest look of what you need to do to improve your application
The application process can tell a lot about the applicant itself:
Applying early
Picture submitted
Spelling errors
The importance of having a good profile picture to be submitted:
Greg shares the worst images submitted in the application
Showing respect for the process
Red flags in the application:
Any part that makes the application unbalanced.
Applying late
Some pieces of advice for premed students:
Medicine is a field where not everything is going to go your way all the time. You have to be somebody who stays steadfast and doesn't give up.
You want to go to medical school with a strong foundation. If you didn't do well in your courses early on, build a stronger foundation.
Links and Other Resources:
Session 23 with Dr. Polites – MSHQ 023 : Interview with Dr. Polites of MedPrep at Wash. U.
MedPrep at Washington University in St. Louis
Washington University School of Medicine in St. Loius
Save $225 on the Princeton Review's MCAT Ultimate or MCAT Self-Paced Prep Course through March 30th 2016 by going to www.princetonreview.com/podcast
If you need any help with the medical school interview, go to medschoolinterviewbook.com. Sign up and you will receive parts of the book so you can help shape the future of the book. This book will include over 500 questions that may be asked during interview day as well as real-life questions, answers, and feedback from all of the mock interviews Ryan has been doing with students.
Are you a nontraditional student? Go check out oldpremeds.org.
For more great content, check out www.mededmedia.com for more of the shows produced by the Medical School Headquarters including the OldPremeds Podcast and watch out for more shows in the future!
Free MCAT Gift: Free 30+ page guide with tips to help you maximize your MCAT score and which includes discount codes for MCAT prep as well.
Hang out with us over at medicalschoolhq.net/group. Click join and we'll add you up to our private Facebook group. Share your successes and miseries with the rest of us.
Check out our partner magazine, www.premedlife.com to learn more about awesome premed information.
Next Step Test Prep: Get one-on-one tutoring for the MCAT and maximize your score. Get $50 off their tutoring program when you mention that you heard about this on the podcast or through the MSHQ website.
Listen to our podcast for free at iTunes: medicalschoolhq.net/itunes and leave us a review there!
Email Ryan at ryan@medicalschoolhq.net or connect with him on Twitter @medicalschoolhq
Tweet Allison @allison_mshq or send her an email at allison@medicalschoolhq.net.
Subscribe for Free
Listen to Other Episodes
Leave us a Review and Rating!
Just like Yelp reviews or IMDB ratings help you choose your next restaurant or movie, leaving a 5 star rating and/or a written review is very valuable to The Premed Years. It allows us to be able to share our information with more people than ever before.
I am so incredibly thankful to those who have recently gone into our listing in iTunes to provide a five start rating and a written review of The Premed Years.
Subscribe and Download
iOS/Mac/Windows – You can subscribe to the show in iTunes. Or you could manually add the RSS feed to your aggregator.
Android/Mac/Windows – You can download DoubleTwist and use that to manage all of our past and future episodes
Please help us spread the word!
If you like the show, will you please take a moment to leave a comment on iTunes? This really helps us get the word out!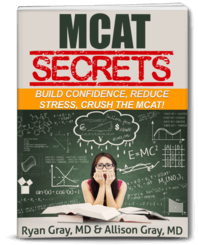 DOWNLOAD FREE - Crush the MCAT with our MCAT Secrets eBook