Session 57
In today's episode, Ryan and Allison talk about a number of relevant resources for premeds, medical students, and residents whether you're looking for books to help you prepare for your medical school applications or you simply want to take a breather and read some fun, yet insightful books. (Plus, some movie recommendations and what stethoscope to use!)
By the way, we previously rolled out a post covering some of the top books we highly recommend premeds should read while not studying.
Resources for Premeds:
Important resources when trying to figure out which medical schools to apply to:
Fun books to read:
Atul Gawande's Books – His books cover more on problems relating to healthcare as well as practice of medicine and surgery today, and some resolutions to address those issues
The Intern Blues: The Timeless Classic About the Making of a Doctor
A look into what life is like as a intern which will give you a good view of the different challenges faced
White Coat: Becoming A Doctor At Harvard Medical School
About a physician's medical school experience at Harvard
A classic and a great read for any premed or medical student about a doctor's internship journey (Most modern hospital dramas are loosely based on this book)
The Spirit Catches You and You Fall Down: A Hmong
About a little girl from Laos with severe epilepsy living in California and the book takes you through their struggles and highlights the importance of cultural understanding and appreciation of diversity
Child, Her American Doctors, and the Collision of Two Cultures
The Heartbeat of Success by Alexa Mieses
Everything I Learned in Medical School by Dr. Sujay Kansagra
MCAT Books
Next Step Test Prep Books (Recommended)
The Princeton Review MCAT Material
Practice Tests
AAMC Practice Tests (3, 4, & 5 are too easy. 9 & 11 are the most realistic)
The best thing about practice tests is the REVIEW afterwards!
Movie Recommendations:
Resources for 1st/2nd Year Medical Students:
Important things to have:
Getting your white coat

Lots of pens, highlighters, notebooks
Mobile devices like tablet and computer
More things to consider:
Have a good study buddy
Have a good study environment
Bring a change of clothes for the Anatomy Lab
Books:
Get Frank Netter's books for classic anatomy stuff
Review Guides:
For allopathic students:
First Aid for the USMLE Step 1 (get this early)
Bates' Guide to Physical Examination and History-Taking
Resources for 3rd/4th Year Medical Students:
Books:
Maxwell Quick Medical Reference
Teaches you how to write SOAP note, transfer note, admissions note, and more cheat sheets
Tarascon Pocket Pharmacopoeia 2014 Deluxe Lab-Coat Edition (Pharmacy bible for medical students and attending physicians)
Other Pocket Books:
Pocket Medicine: The Massachusetts General Hospital Handbook of Internal Medicine (Pocket Notebook)
The Washington Manual of Medical Therapeutics, Print + Online
The Sanford Guide to Antimicrobial Therapy
For Surgical Rotation:
Surgical Recall book with bullet points
iPhone Apps
Epocrates (electronic version of the Pharmacopoeia)
MedCalc (great calculator for different medical formulas)
Dynamed (clinical summaries on different medical topics)
VisualDX (diagnosis and treatment plan)
Boards & Wards for USMLE Steps 2 & 3 (Boards and Wards Series)
Stethoscope:
3M Littmann Cardiology III Stethoscope (Multiple
Ophthalmoscope & Otoscope:
(you don't really need to buy one though)
Welch Allyn Diagnostic Kit- Panoptic Plus Kit Includes PanOptic Opthalmoscopes, MacroView Otoscope, Convertible Rechargeable Handle, & Nose/Throat Illuminator In Soft Case
Other Stuff You Need to Have:
Websites:
Peer-reviewed data on diagnosis, treatment plans, etc. (you only have access to is at the hospital because they're paid for)
Shelf Prep Books:
Step-Up to Medicine (Step-Up Series)
MKSAP 16: Medical Knowledge Self-Assessment Program (ACP, MKSAP Print Version Parts A&B Pkg)
Bibles for Medicine:
Harrison's Principles of Internal Medicine: Volumes 1 and 2, 18th Edition
Andreoli and Carpenter's Cecil Essentials of Medicine: With STUDENT CONSULT Online Access, 8e (Cecil Medicine)
Resources for Residents:
Board Review Books
Sleep
Food
Family Time
Coffee
Other Links and Resources:
If you need any help with the medical school interview, go to medschoolinterviewbook.com. Sign up and you will receive parts of the book so you can help shape the future of the book. This book will include over 500 questions that may be asked during interview day as well as real-life questions, answers, and feedback from all of the mock interviews Ryan has been doing with students.
Are you a nontraditional student? Go check out oldpremeds.org.
For more great content, check out www.mededmedia.com for more of the shows produced by the Medical School Headquarters including the OldPremeds Podcast and watch out for more shows in the future!
Hang out with us over at medicalschoolhq.net/group. Click join and we'll add you up to our private Facebook group. Share your successes and miseries with the rest of us.
Check out our partner magazine, www.premedlife.com to learn more about awesome premed information.
Next Step Test Prep: Get one-on-one tutoring for the MCAT and maximize your score. Get $50 off their tutoring program when you mention that you heard about this on the podcast or through the MSHQ website.
Listen to our podcast for free at iTunes: medicalschoolhq.net/itunes and leave us a review there!
Email Ryan at ryan@medicalschoolhq.net or connect with him on Twitter @medicalschoolhq
Subscribe for Free
Listen to Other Episodes
Leave us a Review and Rating!
Just like Yelp reviews or IMDB ratings help you choose your next restaurant or movie, leaving a 5 star rating and/or a written review is very valuable to The Premed Years. It allows us to be able to share our information with more people than ever before.
I am so incredibly thankful to those who have recently gone into our listing in iTunes to provide a five start rating and a written review of The Premed Years.
Subscribe and Download
iOS/Mac/Windows – You can subscribe to the show in iTunes. Or you could manually add the RSS feed to your aggregator.
Android/Mac/Windows – You can download DoubleTwist and use that to manage all of our past and future episodes
Please help us spread the word!
If you like the show, will you please take a moment to leave a comment on iTunes? This really helps us get the word out!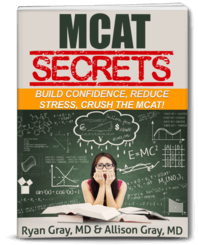 Crush the MCAT with our
MCAT Secrets eBook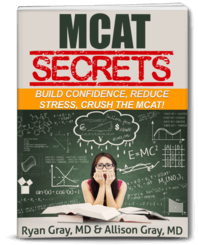 DOWNLOAD FREE - Crush the MCAT with our MCAT Secrets eBook