Session 80
In today's episode, Ryan talks with Danielle Ward as she shares about her own share of successes and failures in taking the MCAT 4 times along with 3 attempts of applying to medical school spanning over 5 years to finally get an acceptance where she is starting this Fall at the Georgia Campus of Philadelphia College of Osteopathic Medicine.
Danielle's story is a perfect example of perseverance. Probably the biggest lesson gleaned from this episode is that you don't have to wait things to happen to you. Instead, you have to go out and make things happen for you.
Here are the highlights of the conversation with Danielle:
Danielle's journey to medical school:
Volunteering for the hurricane Katrina victims during her Freshman year as her defining moment to pursue medicine at the Louisiana State University
Mapping out her four-year plan around medicine
Joining organizations centered around medicine, volunteering, and community services to show her interest in becoming a physician
Danielle's challenges along the way:
Giving birth to her daughter during Sophomore year
Low GPA
Marital issues
Studying for the MCAT – working two jobs, taking care of her toddler, and attending classes so studying went on the back burner
Danielle took the MCAT four times
Tools Danielle used to prep for the MCAT:
How she prepared for the second application:
List everything to identify all your weaknesses or something you left out.
Danielle took a research position in parasitology and immunology
Managing everything with a child:
Time management – When you don't have a choice, find a way to make it happen.
Flexible grad school experience:
Took her masters in biochemistry
Took an online grad school program at University of St. Joseph in West Hartford Connecticut
On her 3rd application to medical school:
She was previously rejected at PCOM – Georgia Campus but she already had the research, publications, hospital volunteering plus her grad school GPA (which did the magic for her!)
Retook the MCAT, didn't do as well (but got her physics up)
The benefits of online classes: Accountability
Weekly discussion boards
Weekly 5-page essays (minimum)
What helped her get a high grad school GPA:
Structure
Effort
Independent learning
Why Danielle thinks her MCAT scores never budged:
Overthinking questions and not really paying attention to them
Not doing enough practice questions
Some pieces of advice for premed students:
Don't get discouraged. Find a support system. Ask for help. And if you get rejected, find out what you did wrong and try to make it work and go back at it again.
Everybody has different learning styles. So be flexible as you progress through the ranks.
Links and Other Resources:
If you would like to follow along on Danielle's journey, please check out her blog: www.aspiringminoritydoctor.com
Free MCAT Gift: Free 30+ page guide with tips to help you maximize your MCAT score and which includes discount codes for MCAT prep as well.
Check out our partner magazine, www.premedlife.com to learn more about awesome premed information.
For more great content, check out www.mededmedia.com for more of the shows produced by the Medical School Headquarters including the OldPremeds Podcast and watch out for more shows in the future!
Hang out with us over at medicalschoolhq.net/group. Click join and we'll add you up to our private Facebook group. Share your successes and miseries with the rest of us.
Next Step Test Prep: Get one-on-one tutoring for the MCAT and maximize your score. Get $50 off their tutoring program when you mention that you heard about this on the podcast or through the MSHQ website.
Listen to our podcast for free at iTunes: medicalschoolhq.net/itunes and leave us a review there!
Email Ryan at [email protected] or connect with him on Twitter @medicalschoolhq
Subscribe for Free
Listen to Other Episodes
Leave us a Review and Rating!
Just like Yelp reviews or IMDB ratings help you choose your next restaurant or movie, leaving a 5 star rating and/or a written review is very valuable to The Premed Years. It allows us to be able to share our information with more people than ever before.
I am so incredibly thankful to those who have recently gone into our listing in iTunes to provide a five start rating and a written review of The Premed Years.
Subscribe and Download
iOS/Mac/Windows – You can subscribe to the show in iTunes. Or you could manually add the RSS feed to your aggregator.
Android/Mac/Windows – You can download DoubleTwist and use that to manage all of our past and future episodes
Please help us spread the word!
If you like the show, will you please take a moment to leave a comment on iTunes? This really helps us get the word out!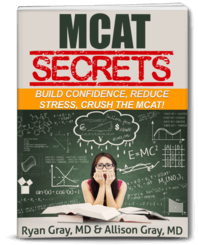 DOWNLOAD FREE - Crush the MCAT with our MCAT Secrets eBook