Session 85
In today's episode, Ryan and Allison tackle the article on KevinMD.com called Why Premedical Students Need Liberal Arts written by Armaan Rowther who also runs a blog called Medical Madrasa. Rowther wrote this article based on a commencement speech given by Fareed Zakaria at Sarah Lawrence College.
KevinMD.com is a great website which could offer great insights featuring a broad range of articles from various professions – physicians, medical students, nurses, physical therapists, patients, healthcare advocates, and more.
You actually don't have to be a "premed" major. In fact, you can major in anything and still go to medical school as long as you get the premed requirements. Listen in as Ryan and Allison weigh out the pros and cons of being a liberal arts major which are also listed below..
Here are the highlights of the conversation with Ryan and Allison:
Pros:
Skills gained
Writing skills are critical especially in writing your personal statement during medical school application. Moreover, there is so much paperwork in medicine so having this skill set is essential.
Better relationship with patients with better patient outcome
A ton of research shows that the communication between a physician and a patient drastically affects the patient's outcome. Hence, being able to bond and relate with them, makes it more beneficial to both your patient and your satisfaction. Non-traditional students have this bonus.
Social skills and understanding moral ethics
Several liberal arts classes talk about what it means to be human as well as tackle issues with your peers concerning different cultures and people. Having good exposure to this helps foster your social and communication skills. Communication is really huge when dealing with patients. In fact, MCAT is now adding the social sciences as part of their holistic medical school admissions requirements to try to understand applicants better.
The ability to have intellectual discussions with others
In liberal arts, it allows you to have better intellectual discussions where you're able to discuss your point of view with other's point of view and have the ability to listen to other's point of view.
Better environment
Being a premed student exposes you to a cutthroat environment for which a number of students stop being premeds because of the environment and the "negativity" around being a premed. And being in liberal arts saves you from being exposed to this.
The ability to tackle the more complex questions facing physicians.
As a non-science person, you get to learn more about how the world works on a personal level unlike those of the hard sciences who are more likely to learn about life on the molecular level.
Cons:
Lack of exposure to the hard sciences.
The MCAT is supposed to answer the question whether you're able to handle the hard sciences. Check out Episode 16 about Mt. Sinai's FlexMed program. You have to be prepared for the amount of culture shock. the cutthroat environment in medical school may be lessened but it's still there.
Writing skills are not really used in medical school.
You can just use these skills that you've learned for years and worked hard for to obtain. Allison recalls only to have written just one paper in her medical school years.
Lack of exposure to a collaborative environment with other premed students
Since you're only one of the very few premeds in the liberal arts world, you could be missing out on that collaborative environment to be around other premed students who are on the same path as you.
A different test-taking environment in medical school
Liberal arts tests generally involve writing and your thoughts where you're evaluated based on your thought process while in medical school, it's more constant and more on multiple choice tests. In medical school, you become a professional test taker.
Links and Other Resources:
Join the Academy – The Best Premed Advising Community
KevinMD.com Article: Why premedical students need the liberal arts
Armaan Rowther's blog: Medical Madrasa | Reflections as a Muslim Medical Student
MCAT 2015 – Everything you Need to Know about the New MCAT | The Medical School Headquarters
Holistic Review – Initiatives – AAMC
MSHQ 016 : Interview with Mount Sinai – All About FlexMed | The Medical School Headquarters
Are you a nontraditional student? Go check out oldpremeds.org.
For more great content, check out www.mededmedia.com for more of the shows produced by the Medical School Headquarters including the OldPremeds Podcast and watch out for more shows in the future!
Free MCAT Gift: Free 30+ page guide with tips to help you maximize your MCAT score and which includes discount codes for MCAT prep as well.
Check out our partner magazine, www.premedlife.com to learn more about awesome premed information.
Next Step Test Prep: Get one-on-one tutoring for the MCAT and maximize your score. Get $50 off their tutoring program when you mention that you heard about this on the podcast or through the MSHQ website.
Listen to our podcast for free at iTunes: medicalschoolhq.net/itunes and leave us a review there!
Email Ryan at ryan@medicalschoolhq.net or connect with him on Twitter @medicalschoolhq
Subscribe for Free
Listen to Other Episodes
Leave us a Review and Rating!
Just like Yelp reviews or IMDB ratings help you choose your next restaurant or movie, leaving a 5 star rating and/or a written review is very valuable to The Premed Years. It allows us to be able to share our information with more people than ever before.
I am so incredibly thankful to those who have recently gone into our listing in iTunes to provide a five start rating and a written review of The Premed Years.
Subscribe and Download
iOS/Mac/Windows – You can subscribe to the show in iTunes. Or you could manually add the RSS feed to your aggregator.
Android/Mac/Windows – You can download DoubleTwist and use that to manage all of our past and future episodes
Please help us spread the word!
If you like the show, will you please take a moment to leave a comment on iTunes? This really helps us get the word out!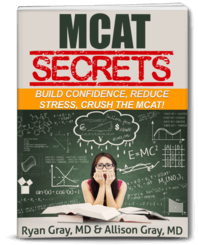 Crush the MCAT with our
MCAT Secrets eBook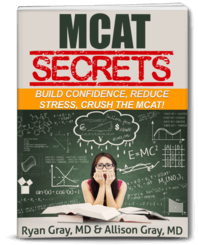 DOWNLOAD FREE - Crush the MCAT with our MCAT Secrets eBook