Session 161
In today's episode, Ryan talks about the common pitfalls in writing personal statements and how you can avoid them.
Personal statements (right behind interviews) are where students fall short in their applications. The personal statement is an essay about you as you're trying to convey to an admission committee why you want to be a physician, your motivations, what and who have shaped you, and your life experiences.
After reviewing hundreds of personal statements, Ryan has identified some common trends and pitfalls in the preparation and execution of personal statements, which he will share in this episode to help you avoid them and rather strengthen your personal statements.
The 5 Common Mistakes in Writing Personal Statements and How to Avoid Them:
Waiting too long to do it.
Premeds tend to focus more on things like the MCAT, getting together their extracurricular activities, descriptions for each of those, and letters of recommendation done. While they're all equally important, students fail to take enough time to go through writing several drafts for their personal statement.
What you need to do: Write a draft and write it again and again and again. Get feedback in between all these drafts from people who understand what the admissions committee is looking for such as your premed advisors. Set aside time to go through at least a half a dozen drafts and at least a month and a half. So plan accordingly.
Editing in your head.
Premeds tend to edit what they're trying to write in their head and so there are a lot of inhibitions while writing their message.
What you need to do: Write drunk and edit sober, which means you need to be uninhibited as you write. Don't worry about what you're typing or writing. Just get it out of your head. Don't think about what you're writing but just get your thoughts our of your head. Once you've done this then you can start massaging the message you're giving to craft it into a strong personal statement.
Failure to express your drive, motivations, and desire to be a physician.
The admissions committee wants to see your passion and desire for going to medical school. And that is the fundamental message that you need to get across the admissions committee.
What you need to do: Hand your personal statement to somebody and ask them, "When you read this, do you understand why I want to be a physician?" If they can't answer that, you need to go back to the drawing board and write it again. And do this process again to another person and as many times as you need to figure out and convey your message about why you want to be a physician.
Thinking that personal statement is the place to air all your dirty laundry.
Personal statements are a good place to mention your red flags, but don't waste all of it on your red flags because you need to be able to get your strengths and desires across. Otherwise, you're just making excuses about your red flags and selling why the admissions committee should look past those red flags.
What you need to do: Bring up a little bit of your red flags but leave an opportunity for the admissions committee member to ask you more questions about that during the interview. Just briefly mention them and move on.
Failure to use the right kind of words.
Telling yourself that you are hardworking, passionate, or empathetic means telling the admissions committee member who you are. You could tell them anything you want to tell them. The phrase "I am" is being used too much.
What you need to do:  Step away from using the language "I am" and instead share your stories, patients that have affected you, the interactions you've had with patients and whoever those people who have shaped who you are. Telling a story that depicts your sense of empathy is way more memorable than saying "I am empathetic." Tell your story.
Bonus!
Grammatical errors
Please, please don't have any grammatical errors in your personal statement.
Links and Other Resources
Join Ryan in Plant City, Florida on January 30, 2016 at the 2016 AMSA PremedFest. This is your opportunity to listen to Dr. Patch Adams and hear how he intertwines humor and health. Learn how to discuss why you want to be a doctor and explore your motivations for becoming a doctor and how to best position yourself to become the doctor that you aspire to be.
Promo Code: MSHQ16 at checkout and save $5 on the registration fee. Go to www.medicalschoolhq.net/premedfest to go to their website.
MSHQ Episode 146: Common Medical School Interview Mistakes and How to Fix Them
If you want any help with your personal statement writing, go to www.medicalschoolhq.net/personalstatement and Ryan can help you with that.
We have put up a poll in our hangout group  if you like this podcast to be named The Premed Years and cast your vote over at medicalschoolhq.net/group or simply hangout with us!
Check out the OldPremeds.org, a community focused towards nontraditional students and you will find a ton of resources.
Listen to our podcast for free at iTunes: medicalschoolhq.net/itunes and leave us a rating and/or review there!
Email me at ryan@medicalschoolhq.net or connect with me on Twitter @medicalschoolhq.
Subscribe for Free
Listen to Other Episodes
Leave us a Review and Rating!
Just like Yelp reviews or IMDB ratings help you choose your next restaurant or movie, leaving a 5 star rating and/or a written review is very valuable to The Premed Years. It allows us to be able to share our information with more people than ever before.
I am so incredibly thankful to those who have recently gone into our listing in iTunes to provide a five start rating and a written review of The Premed Years.
Subscribe and Download
iOS/Mac/Windows – You can subscribe to the show in iTunes. Or you could manually add the RSS feed to your aggregator.
Android/Mac/Windows – You can download DoubleTwist and use that to manage all of our past and future episodes
Please help us spread the word!
If you like the show, will you please take a moment to leave a comment on iTunes? This really helps us get the word out!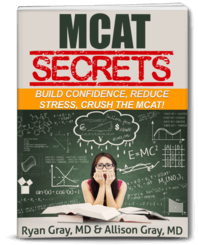 Crush the MCAT with our
MCAT Secrets eBook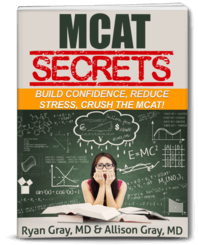 DOWNLOAD FREE - Crush the MCAT with our MCAT Secrets eBook