Session 107
Our poster today is trying to figure out what schedule will work best for them. Should they apply this year or next based on the prereqs they have remaining?
OldPreMeds.org has now been moved to MedicalSchoolHQ.net, but the community is still here and thriving.
You are not alone in this journey!
Ryan answers questions directly from the forums at MedicalSchoolHQ.net, specifically for nontrads. If you happen to be a traditional student, go check out the Premed Forum as well.
[02:47] OldPreMeds Question of the Week:
"I'm three classes away from meeting the requirement of pre-requisite classes – OChem 1. OChem 2, and BioChem. I'm contemplating applying to medical school in June of 2018. OChem 1 in the Spring of 2018, OChem 2 in the Summer of 2018, and BioChem in the Fall of 2018.
I'm planning on applying in June of 2018, possibly, which means I have to take the MCAT in the Spring of 2018. I know I'll be lacking the foundational knowledge for the MCAT without these three courses. So I'm thinking about taking an MCAT prep course in the Spring. Is it premature to apply in 2018? Should I wait another year to apply? What are the pros and cons of each decision?"
[03:40] Let's Start with the Fundamentals: Taking Your Prereqs
A common misconception about applying to medical school is having all of your prereqs before applying to medical school. You don't have to. rather, you need to have all of you prereqs done before matriculating into medical school. This means before starting medical school.
[04:15] Should You Take the MCAT Without Prereqs?
Nor do you need to have all of your prereqs done before taking the MCAT obviously. Take a good listen to The MCAT Podcast for more MCAT prep tips. But in the podcast, Ryan and Bryan from Next Step Test Prep always advise students to only try to self-study one subject as you're preparing for the MCAT. This includes whether or not you're taking a prep course.
You're still going to have to learn all of the foundational knowledge. The MCAT prep course can help organize it for you. But you can do it on your own using study tools and books for the MCAT. So that is not the biggest problem.
The biggest problem, however, is that when you're preparing for the MCAT, you need to have this foundational knowledge to make the best of the MCAT. But if you're missing three of them, then it might be hard to do well on the MCAT.
It's possible to do well. And you'll be taking a risk. So Ryan's best advice is to delay the MCAT until the Spring of 2019. Take the classes. Start preparing for the MCAT. Make sure you're doing your extracurriculars and doing things like shadowing and clinical experience. Then apply to medical school in June of 2019.
[06:30] No Cramming! Take Your Time
Don't try to cram it all in and force yourself to self-study all of these classes while still taking your prereqs. The goal is still to do well in your prereqs. And if you're cramming everything into the short period of time, something is likely going to give. It could be your application quality or your GPA because your grades are going to slip. Or it can be your MCAT score since you're not well-prepared for it. The safest bet is to wait.
Wait a year. Take the MCAT in a year. Take your classes. Make sure you're set up for those. Take the time to do some shadowing and clinical experience. And wait a year to apply.
Again, don't try to cram everything in "just because." In an ideal world, you don't have a gap year. But this is not an ideal situation to take the MCAT and still missing three courses. Take your time. Relax and prepare for 2019.
Links:
OldPreMed forums at MedicalSchoolHQ.net
Listen to Other Shows
Leave us a Review and Rating!
Just like Yelp reviews or IMDB ratings help you choose your next restaurant or movie, leaving a 5 star rating and/or a written review is very valuable to the OldPreMeds Podcast. It allows us to be able to share our information with more people than ever before.
I am so incredibly thankful to those who have recently gone into our listing in iTunes to provide a five start rating and a written review of the OldPreMeds Podcast.
Subscribe and Download
iOS/Mac/Windows – You can subscribe to the show in iTunes. Or you could manually add the RSS feed to your aggregator.
Android/Mac/Windows – You can download DoubleTwist and use that to manage all of our past and future episodes
Please help us spread the word!
If you like the show, will you please take a moment to leave a comment on iTunes? This really helps us get the word out!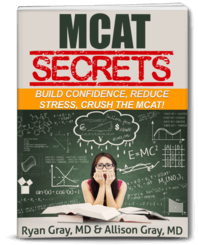 DOWNLOAD FREE - Crush the MCAT with our MCAT Secrets eBook