Session 168
In this episode, Ryan talks with Jessica, a pioneering Academy member who is a nontraditional student whose path was filled with hard work. She applied to 35 MD and DO schools, got more than 11 interview invites, and to this point, she has been on 11 interviews (with more than 11 interview invites) with 10 acceptances, while awaiting to hear back from the 11th interview.
Today, she shares with us her experiences along her journey to medical school, talking about her stats, taking a DIY postbac program, factors in choosing which school to go to, and the keys to her success.
Here are the highlights of the conversation with Jessica:
Jessica's path towards medical school:
Worked as an actress and in the restaurant industry
Got a BFA from NYU in Acting with a double major in Psychology
Acting as her forefront although she has always loved Science
Her dad being diagnosed with Stage 3 colon cancer and getting inspired by her dad's gastroenterologist
Not feeling fulfilled with the theater and watching her grandfather pass away
Doing a Yoga teacher training and volunteering at Hollywood Arts
Choosing a DIY postback program:
Attended UCLA Premed Extension offering nights and weekends
Took a DIY postbac program (you get to sign up for classes based on your own schedule)
No access to a premed advisor
No resources that a typical postbac program has
Looked at school's website and mapped out all the classes she thought she needed to take
Let's talk about stats:
Jessica got more than 11 interview invites
MCAT – 31
Science GPA – 4.0
Undergrad GPA – 3.74
Choosing the schools based on:
Jessica looked at her geographic regions where she's got a family and applying to every school in the area
Applied to 35 MD and DO schools
Looking at the school itself and the school's philosophy regardless of MD or DO
Taking her secondaries:
Cranking out one secondary per day in mid-July
Jessica wished she had pre-written some essays beforehand
Going through the interview:
Most of the interviews were conversational
If you have it listed on you application, be prepared to talk about it and do it.
The keys to her success during the interview:
Having a clear through-line of her passion in acting that ties into medicine
The importance of having fun
Be honest about everything.
Choosing which medical school to go to:
Gut feeling while she was visiting the school
Being near family (where his husband was comfortable to move into)
Some pieces of advice for premed students:
If it's really something you want to do, explore it. Volunteer. Shadow. Make sure you love science because you're going to be spending a lot of time with science. And just jump in.
Stay dedicated and stay passionate about it.
There are sacrifices that have to be made. Are you willing to sacrifice for this? How much are you willing to sacrifice? What are you willing to sacrifice?
Links and Other Resources:
Ryan offers one-on-one mock interviews so go to medicalschoolhq.net/mockinterview and find out how you can crush the medical school interview.
If you need any help with the medical school interview, go to medschoolinterviewbook.com. Sign up and you will receive parts of the book so you can help shape the future of the book. This book will include over 500 questions that may be asked during interview day as well as real-life questions, answers, and feedback from all of the mock interviews Ryan has been doing with students.
For more great content, check out www.mededmedia.com for more of the shows that produced by the Medical School Headquarters including the OldPremeds Podcast and watch out for more shows in the future!
Free MCAT Gift: Free 30+ page guide with tips to help you maximize your MCAT score and which includes discount codes for MCAT prep as well.
Hang out with us over at medicalschoolhq.net/group. Click join and we'll add you up to our private Facebook group. Share your successes and miseries with the rest of us.
Check out our partner magazine, www.premedlife.com to learn more about awesome premed information.
Next Step Test Prep: Get one-on-one tutoring for the MCAT and maximize your score. Get $50 off their tutoring program when you mention that you heard about this on the podcast or through the MSHQ website.
Listen to our podcast for free at iTunes: medicalschoolhq.net/itunes and leave us a review there!
Email Ryan at ryan@medicalschoolhq.net or connect with him on Twitter @medicalschoolhq
Subscribe for Free
Listen to Other Episodes
Leave us a Review and Rating!
Just like Yelp reviews or IMDB ratings help you choose your next restaurant or movie, leaving a 5 star rating and/or a written review is very valuable to The Premed Years. It allows us to be able to share our information with more people than ever before.
I am so incredibly thankful to those who have recently gone into our listing in iTunes to provide a five start rating and a written review of The Premed Years.
Subscribe and Download
iOS/Mac/Windows – You can subscribe to the show in iTunes. Or you could manually add the RSS feed to your aggregator.
Android/Mac/Windows – You can download DoubleTwist and use that to manage all of our past and future episodes
Please help us spread the word!
If you like the show, will you please take a moment to leave a comment on iTunes? This really helps us get the word out!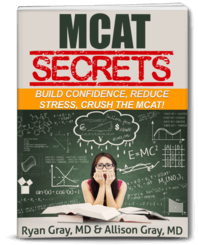 Crush the MCAT with our
MCAT Secrets eBook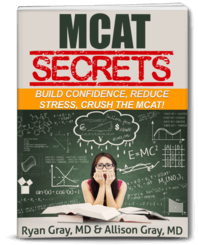 DOWNLOAD FREE - Crush the MCAT with our MCAT Secrets eBook